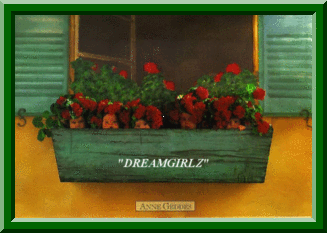 ~~An individual by himself is only half; the other half are his friends~~
I have been truly blessed in my life with great friends. Below are the awards and gifts that I have had the pleasure of being honored with. I thank you for visiting. Below you will find a link to my guestbook. I would be very honored if you would sign and let me know how you liked your visit. Bless you all!!
This was my very first gift that was given to me on 10/27/98 and I just love it. Thank you Trish~~you are a true sweetheart!
This is a very special award to me that I received for being honored as DreamGirl of the week (11/10-11/17/98). I would like to thank Mistye and all the DreamGirlz for this honor! They are one great group of ladies and friends!!
This is from my close *friend in crime*~Linda! Thank you so much Linda....you are a true buddy and I love ya sis!!
PAGE 2
BACK
My Christmas Gifts Page