Rev. T. J. Campo
Senior Pastor, St Andrews Presbyterian Church
There are times when God reaches down and knocks us flat on our back so that we will turn our attention toward Him. This is exactly what happened to T. J. Campo.
He was 19 years old when a construction accident left him paralyzed from the waist down. It was while he was recovering in a Colorado hospital that he turned to the Lord. Today he serves as the Senior Pastor of St Andrews Presbyterian Church, preaching from his wheelchair to 350 worshipers on a typical Sunday morning.
Growing up in Stuart as the eldest of five children of Pentecostal parents, T.J. (Short for Theodore Joseph) would hitchhike to the beach instead of going to church. He describes himself as having been "a selfish, self-centered kid, leading a party life in a punk-rock stage, a rebel son."
On July 14, 1981, while working with the brother of his teen girlfriend and lifting plywood sheets on the roof of a shopping center project in Port St. Lucie, Campo fell 14 feet, landing on a sawhorse. His spinal cord was snapped. His girlfriend, Missy, who had just graduated from high school, joined him at the Craig Hospital's Rocky Mountain Spinal Cord Center in Colorado. "I was worrying about dying and began to believe that God was really tired of my shenanigans and was going to put an end to my misdeeds." Then one night when he couldn't sleep, he called his parents and they came and shared with him the gospel; how Jesus Christ had died for sins and how he could be assured of eternal life through faith in Christ.
T.J.'s conversion resulted in his breaking up with Missy. "His life had changed a lot and mine had not. His Christian experience was more dramatic than the physical changes that had taken place. It changed him in a different way. I still knew who he was when he lost the use of his legs, but I didn't know who he was when he was talking about God."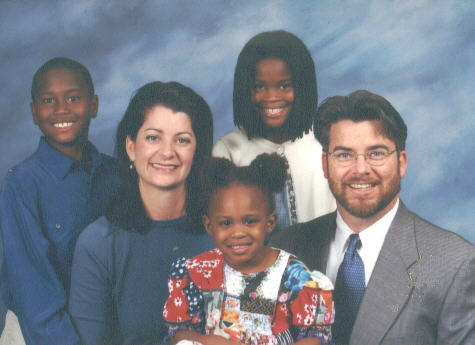 Missy came to Christ two years later and the couple were reunited and married just before he had graduated from Southeastern College in Lakeland where he was studying for a Pre-seminary degree. They then attended Columbia Biblical Seminary in South Carolina. After graduation, he was hired as the assistant pastor of St Andrews and several years later was chosen to become the senior pastor.
Over the past several years, the Campos have adopted three children: Hannah, a girl of Cuban-African ancestry; Theo, a Haitian boy; and Madeline, a Bahamian girl. Penny Campbell, who served as the St Andrews' church secretary for 20 years, says of T.J., "Nothing stops him. He's amazing. He just doesn't let anything get in his way. He's able to do anything."
[Reprinted from an article by Staff Writer Kathy Bushouse in the Fort Lauderdale Sun-Sentinel, October 12, 1998]
If you have Realplayer, you can hear one of T.J. Campo's sermons by clicking here.