Last updated 31st January. 2021
In 1951, the Swedes were given three weeks' statutory holiday and already in 1953, the Swedish Bus Travel Service had begun to arrange so-called group flights - with regular flights to Hamburg or Marseille and a bus to the destination. Now a few travel agencies are starting to arrange bus trips further south, but the travel companies realized that it is a bit far to travel by bus to Italy,
On 22 April 1955 at 10 am, the first charterlane of the type Vickers Viking takes off from Bromma with destination Mallorca. With this 10 hours and with 4 stopovers long journey, there were 26 travelers who paid SEK 1,095 for 16 days in the sun.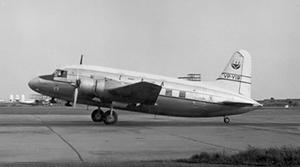 In 1956, about 10,000 Swedes went on charter flights, primarily to the Mediterranean. The first long-distance charter flight to Tenerife with overnight stay in Tangier. Morocco and on arrival in Tenerife the first charter travelers were greeted by two mayors with musical years. In 1962, about 135,000 Swedes traveled on charter flights with Transair Sweden, and two Danish smaller charter airlines, Flying Entreprise, Denmark and Nordair.
*****
In the end of the fifties several charter carriesbegan to operate from Sweden to the more southerly latitudes. During 1961 an investigation was made by Scandinavian Airlines, SAS to find out the possibilities to utilize the their equipment and fleet for a new charter carrier. A consortium between the SAS parent company and some Scandinsvian companieswere the foundation of Scanair. The fleet consisted of two Douglas DC7C from SAS.
Douglas DC-7C, OY-KNC Scandinavian Airlines System Photo: T Edlind
History
The first Douglas DC-7C flight took off 4th of September 1961from Stockholm to Athens. Six month later Scanair took the step into the jet-age and introduced the modern DC-8-33.
In June 1966 the company had to be reconstructed. Scanair like SAS became a syndicate like SAS 2/7 Denmark, 2/7 Norway and 3/7 Sweden as SAS parent company in countries respec-tively.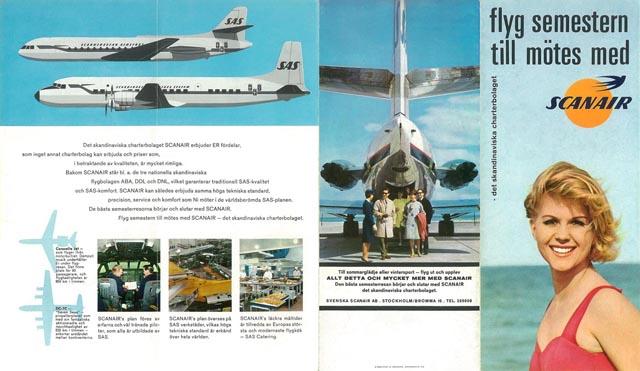 From a seatpocket in Scanair DC-7 1966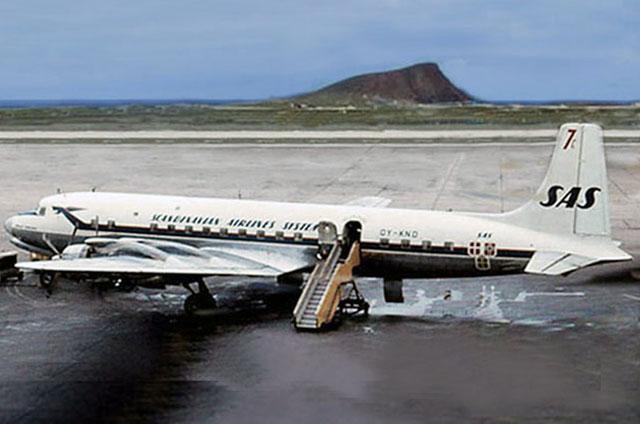 Douglas DC-7C OY-KND was one of the first SAS DC-7C in Scanair figuration, at Gando Las Palmas airport, Gran Canaria 1966.
In1964 I flew for the first time to Las Palmas with Scanair DC-7, OY-KND. The flight time from Kastrup - Copenhagen - Las Palmas took almost 10 hours. Despite quite comfortable armchairs with good legroom, it was a minimal sleep. Shortly after take-off, dinner and a few hours before landing a small breakfast (open sandwiches) was served as we started from Copenhagen.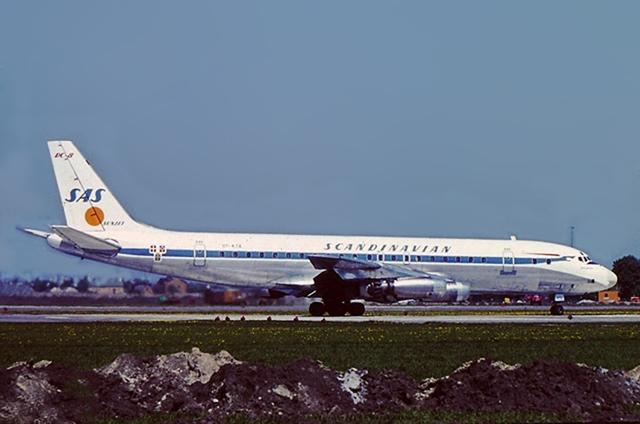 Douglas DC-8-33 OY-KTA was one of the first SAS DC-8-33 in Scanair figuration at Kastrup-Copenhagen, DK 269 cleared for taxiing, with destination to Naples, 1967. Photo: Erik Oxtorp.
On 11 th of February 1967 the first DC-8 took off from Arlanda, Stockholm bound for Palma with 130 passengers onboard. The final count down for the propeller era was now decided. The last propeller flight was made on 23 of October 1967, Scanair introduced three DC-8-33. The new fleet of DC-8-33 was designed for 165 passengers compared with 92 seats in the DC-7C layout.
The jointventure Scanair/Transair TSA Sweden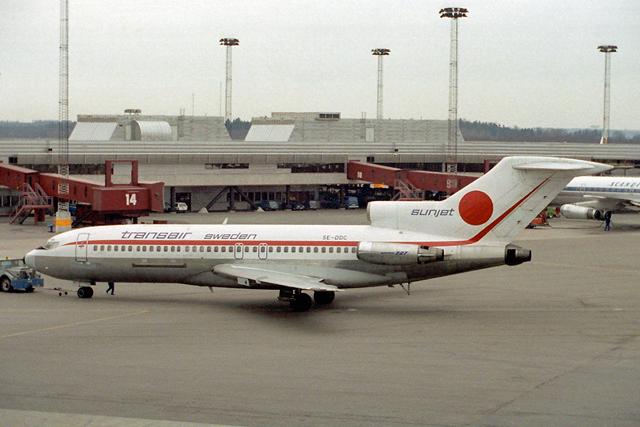 Transair TSA Sweden Boeing 727-134 SE.DDC at Arlanda-Stockholnm
Boeing 727 the aircraft for 14 years. Svenska Handelsbanken owned Transair through the management company Trident, but the aircraft belonged to Eriksberg Mekansika Verkstad.
In 1969, Scanair takes over sales responsibility for Transair's three Boeing 727s flown by Trans-air's crew on behalf of Scanair. Scanair's Swedish organization is now moving its operations from Stockholm to Malmö, which is Transair's home base. SAS accuired the company. Until 1971 about 3 milions passengers flew by Scanair now with the Transair striking "Sunjet" logo on the fin
Due to the unecconomical operation costs it was decided to take all DC-8-33 out from service. Instead SAS sat aside DC-8-55`s for Scanair operations with a higher density of seats.
Due to increasing popularity of charter traveling Scanair decided to lease a Boeing 747 with 474 seats from SAS on the high density routes to Gran Canaria and Rhodes in early 1971.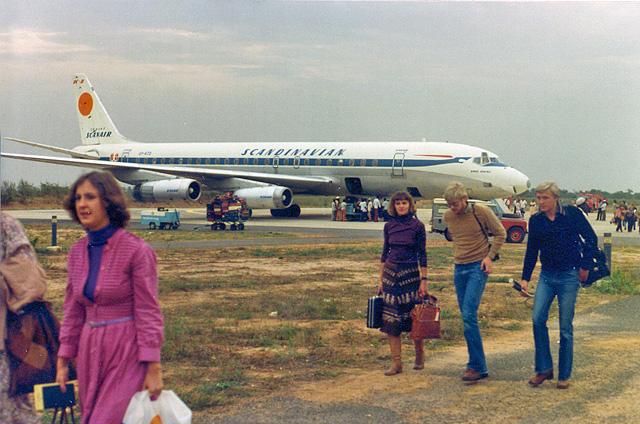 Scanair DC-8-62, OYT-KTD, Knud Viking. Banjul Airport Gambia 1978. Photo: TonyEdlind
On 1st of April 1978 Scanair received its first DC-8-62 and at the same time the fleet was named infeminine Viking names, the first DC-8-62 was named Ylva Viking. At the same time the DC-8-55 were faced out. The DC-8-62 was configurated in one class with 252 seats and Scanair was now able to furnish their cabins. The fins were painted in the orange Transair Scanair "Sunjet" logo.
In 1977 Scanair had a fleet of 2 no DC-8-55, 1 no DC-8-62 (OY-KTG) and 3 Boeing 727-134´s. Scanair also utlilized SAS and Linjeflyg, F-28 and DC-9´s. During the following years further one DC-8-62 was added to the fleet.1983 Scanair´s fleet consisted mainly of DC-8-62 for 189/195 passengers and DC-8-63 for 241/248 passengers.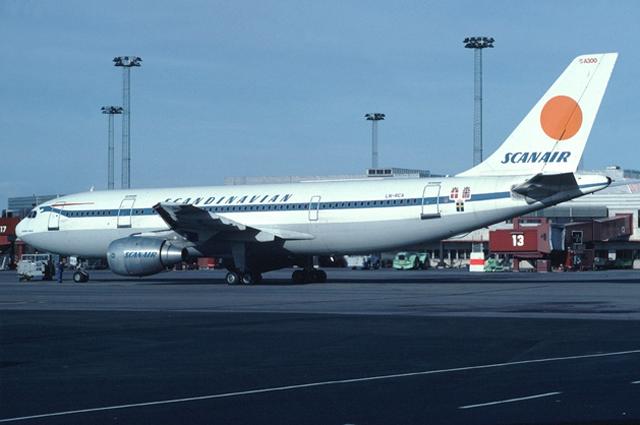 Airbus A300-B4 LN-RCA, Snorre Viking Photo: Tony Edlind collection.
During 1981 one to carry 383 passengers in the shape of Scanair. One year later the fleet was expanded with further 3 no Airbus A300-B4.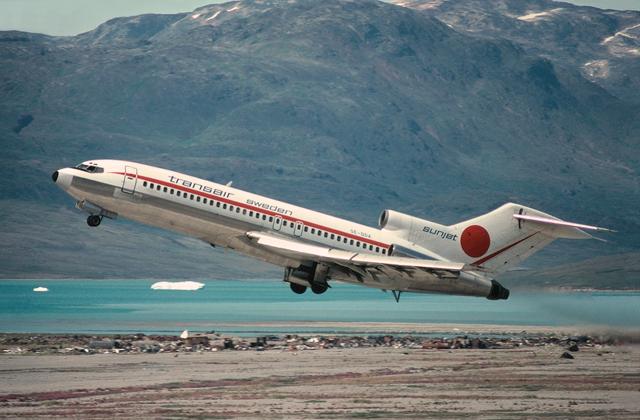 Transair Sweden Boeing 727-134 SE-DDA, Narsarsuaq. Greenland 1981. Bild Kjell Nilsson
An era goes by when Transair makes its last flight on September 6, 1981 from Rhodes to Gothenburg. Since 1962, Transair Sweden has been connected to SAS or Scanair, but now the owner has decided to add Transair, which also flew for SAS. Boeing during the year. 727 aircraft are sold to the United States and the Philippines.
The New Era!

In 1984 Scanair introduced like SAS a new upto dated image, new paint-scheme, beautiful uniforms and super service. These were the contents in the "new" Scanair programme.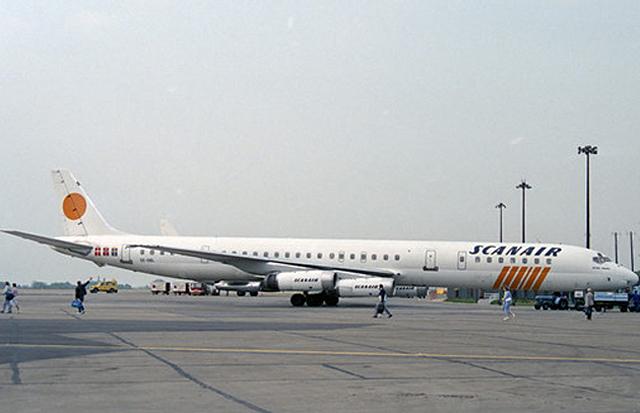 McDonnell Douglas DC-8-63 SE-DBL.Photo: Simon Barker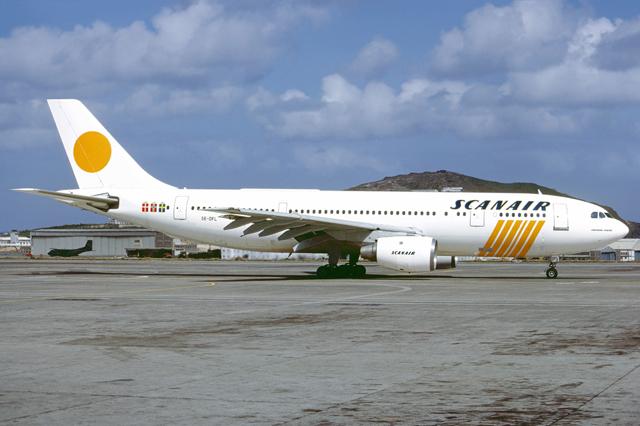 Scanair Airbus A300 SE-DFL at Gando, Las Palmas airport; Gran Canaria 1986. Photo: Perry Hoppe
All Airbus A300s will be phased out of the fleet for delivery to Conair of Scandinavia.SE-DFL will be the first to leave the fleet and flew the last flight as DK202 Las Palmas to Stockholm.
LN-RCA last turn will be DK524 Rhodes to Arlanda and last SE-DFK with captain Nils Benker at the controls as DK502 also it flies Rhodes to Stockholm.
Scanair's management is looking for a successor to the DC-8-63 fleet. The ambition is to renew the fleet with 9 new aircraft before in the 1990s.To cope with the competition, Scanair must be- must become come more cost-effective.
The Boeing 757 and 767 are interesting, as are the Airbus A300-600 and A310. In the first ins- tance, the B757 is considered to meet Scanair's requirements but falls on the financing.
In Sweden, Scanair has 57% of the market, in Norway 29% and in total in Scandinavia 31%. Following the decision to replace the DC-8 fleet with DC-10, Scanair has sold all aircraft to Aerolease International.
Together with SJ Resebyrå and Travel Management Group, Scanair forms the travel agency Always. The working name of the new travel agency company is Solresor and the head office is located in Gothenburg.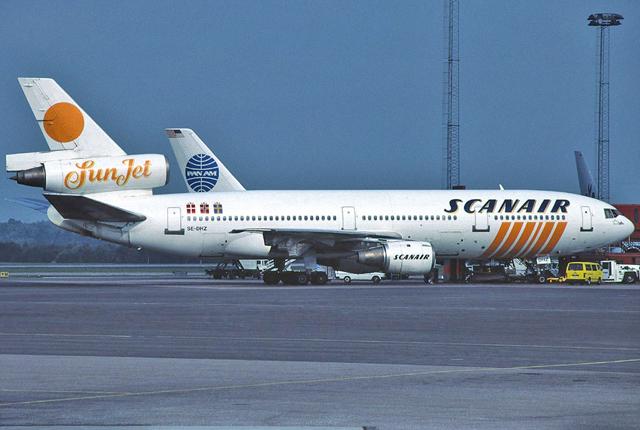 Scanair DC-10-10 SE-DHZ at gate Arlanda Stockholm 1990, Photo: Anders Nilsson
During 1987 Scanair leased the first McDonnell DC-10-10, SE-DHT from SAS. Scanair´s first own DC-10-10 started to operate during 1988. Sharp economic downturn is expected through-out Europe in 1989 and Scanair prepares for declining profitability.As part of becoming more cost-effective, Scanair takes over the technical and operational responsibility for its operations from SAS. The base in Copenhagen will be closed and moved to Arlanda.
During the year, Scanair had 42 percent of the charter market in Sweden and Norway. 56 per-cent of the traffic originates from Arlanda, 20 percent from Gothenburg, 10 percent from Malmö, 12percent from Oslo Gardemoen and 2 percent from Copenhagen.
In 1990 Scanair begins secret negotiations with Conair of Scandinavia on cooperation, but it leads nowhere.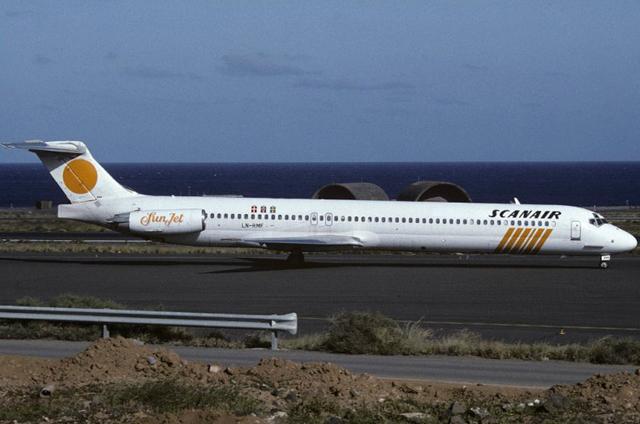 McDonnell MD-82, LN-RMB Photo: Wolfgang Zeitsler
Scanair is adapting its fleet and renting the MD-82 and MD-83 from SAS, now in Scanair's colors. Scanair is now selling the first DC-10 SE-DHZ.
Thomas Rosengren will be the new CEO of Scanair with a good reputation as a former sales manager at Scanair. Scanair's organization in Spain will be separated from SAS. Scanair traffic to Spain is 20 times larger than SAS. The reorganization will be more efficient with the economy and contact with authorities.
The war in Iraq has led to an increased threat to aviation, which entails an increased threat to aviation and the world airlines are in a common recession and many airlines will leave the market.
The crisis in the charter aviation industry during 1992 is growing. Scanair sells another DC-10 and more MD-80s are rented. Competition from other airlines is murderous. Scanair is now fighting Transwede, Air Sweden, Nordic East and Sterling Airways for the Swedish market.
The pressure on the charter market 1993 is eased a bit when Air Sweden (read Thomas Johansson) goes bankrupt after a failed investment with Lockheed Tristar.
Rumors of a collaboration between Scanair and Conair of Scandinavia are confirmed. The new airline goes by the name Newco, where SLG will own 40 percent. 40 percent of Spies and an unknown third party 20 percent.
In the end of 1993 (New Years Eve) Scanair was discontinuedtogether with Conair of Scandinavia and the new charter carrier
Premiair was founded!
December 31, 1993
All 350 cabin employees in Scanair are laid off due to lack of work. 190 selected people are offered employment in the new airline Premiar, which will start flying on 1 January 1994 with four DC-10-10 from Scanair and six Airbus A320 from Conair of Scandinavia.
Scanair's last day in the air and a 32-year-old is over at midnight.

Scanair please come back soon!
Credit
Scanair Magazine, Hans Jacobsson, Wikipedia. If you do recognize any of the images taken by you, please send an e-mail to the undersigned toremove it or let me credit you the photo!
*****
© Copyright 2002 by Tony Edlind