YOUR PHOTO ALBUM!
This page is reserved for you! I will be happy to post photos of outfits you have made using MFB & APF patterns. Email me your photos with a brief personal bio if you like. If you have a website, you may include it if you would like for it to be listed. All pictures are provided as noted and all comments are used with permission. I love sharing all your comments in the hopes that someone just starting out to sew for Barbie will be encouraged by the results below!

Sorry this page is getting long! I'm planning to make links for specific pattern designs, and cross links by individuals so you can check things out either way. Sorry for the inconvenience.

In the meantime, I've added a second page to Your Photo Album. Click here.

Beau Time/Best Bow Vintage Reproduction (MFB-1651):

Danny from Rotterdam, The Netherlands says, "I love the Best Bow pattern!" Here are photos showing the traditional red and navy/dot as well as a darling mod version in hot pink! Check out Danny's Midnight Blue pics!
Becky G. used some fabulous fabric to make Beau Time as the pictures below show. "Just wanted to tell you that I finished my first beau-time dress and am very pleased with the results. It went together nicely and really turned out lovely. I'm looking forward to trying some of the other patterns..." Thanks Becky, great job! Love the fabric!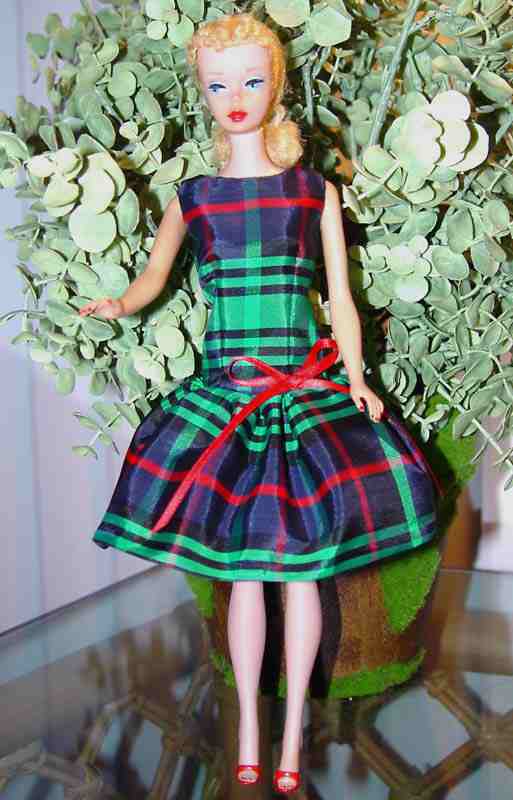 Fashion Luncheon Vintage Reproduction (MFB-1656):
Kathy Kenny sent the pictures below of her first Fashion Luncheon creation and commented: "I wanted to let you know I was finally able to finish up the Fashion Luncheon outfit and wow- I love it! Your pattern is just spectacular. I'm very pleased--the pattern was much easier to do than I ever imagined it could be! I already have pale yellow fabric for the skirt and jacket for my next one. I used to sew for myself (still do on a rare occasion), but I'd rather sew for Barbie- especially with your patterns! I am just astounded every time I do one at how easy you make it. I can't thank you enough! I've done lots of patterns, doll and "me" size, and yours are by far the best I've ever done. No refitting, resewing, etc. It's perfect the first time. And those helpful hints are great!" Thanks so much Kathy!

Sheath Sensation Vintage Reproduction (MFB-986):
"tealrosecat" sent the following pictures showing her Sheath Sensation creation on Silkstone Barbie. Her selection of fabric and the turquoise accents (she made the hat, purse and jewelry!) make an exquisite combination!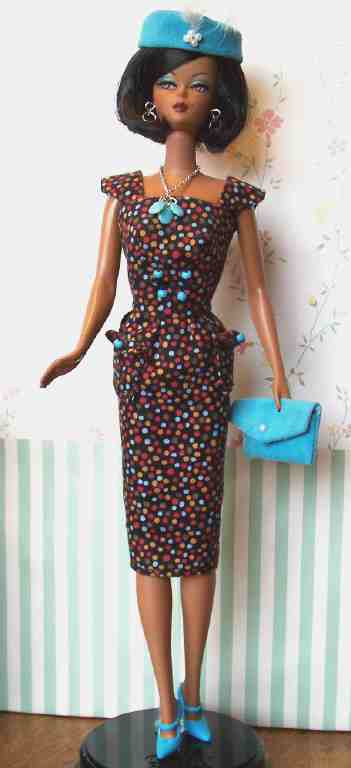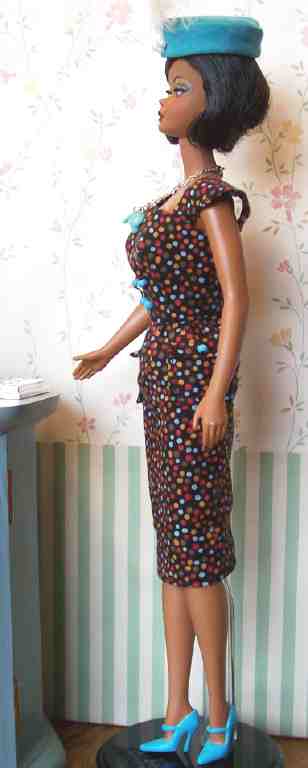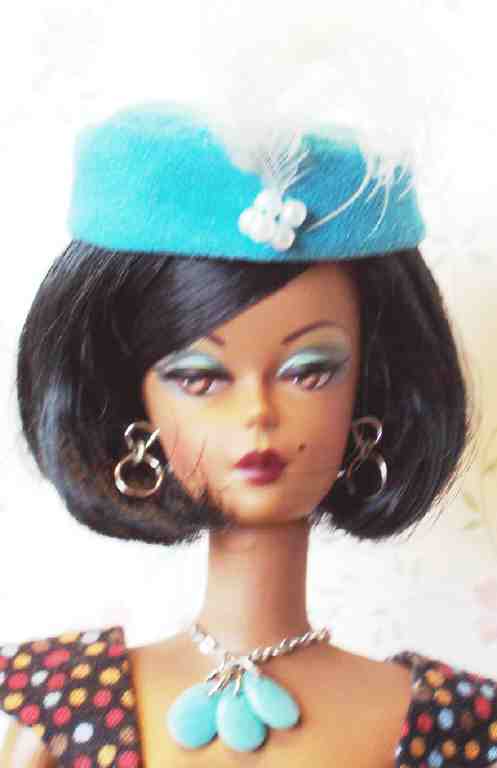 Kathy Kenny tried out my new Sheath Sensation Vintage Repro pattern with great results. Here is her picture and comments:
"I was so thrilled with the way it came out -- the pattern was perfectly sized and shaped for the doll, directions were easy to follow and had some wonderful shortcuts. All your little hints were very helpful also. I will definitely be back for more. Thanks again, Shirley~~~ Kathy"
Kathy also mentioned that the yellow cotton fabric with small white flowers was selected to try to duplicate the sheaths in the book "Barbie in Japan" (see p. 17). This is a great book for some really pretty Japanese variations that are a nice change of pace. Thanks Kathy!


Patricia E. wrote this after trying this pattern: "Just had to let you know that you did it again! The dress went together like a dream and the fit is perfect! I made the dress out of red dupioni silk, used tiny gold beads for buttons and put it on a black silkstone doll, it looks so nice. I want to make a hat, gloves, purse and jewelry to go with it. I am looking forward to more of your wonderful patterns. Sure do have fun playing! Thanks so much, I hope you keep making these wonderful patterns. Patricia" Pictures are coming so will post when they arrive!

Here's the latest from "Shane" who especially loves to sew for Francie. The first two photos are APF 237 which is Aileen's Vintage Repro for Slightly Summery. Shane says, "I lengthened the bodice a bit to bring it further down the hips and added a double turned hem to the skirt. I'm really happy with how they turned out. ... I'm pretty much a novice sewer with a machine ... I've done extensive hand sewing repairs to Barbie clothes in the past three years as part of my collecting and have been doing all sorts of hand stitchery since I was a child so needles, threads and materials don't intimidate me very much. This was my second attempt at making Barbie clothing."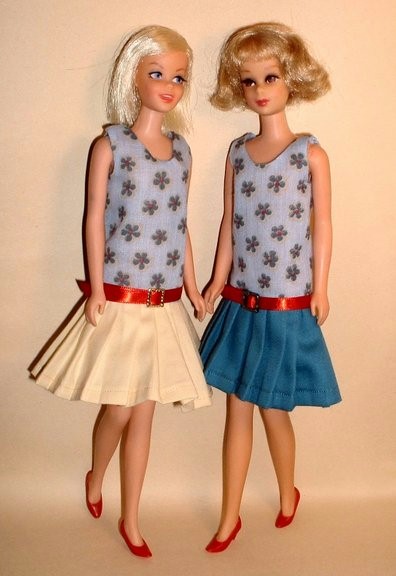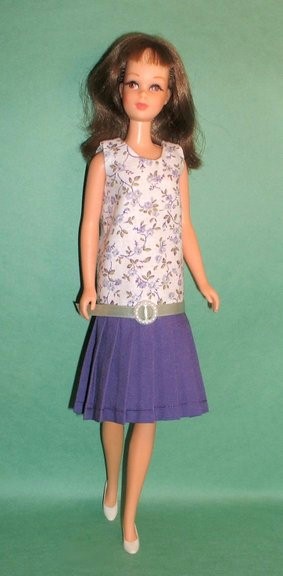 The second group of photos are also from Shane. The first is Denims On! (APF-179) also a vintage repro for Francie. "This first one is the jumpsuit from APF-220 [my error, it should be 179]. I did drop the waist a good bit since I felt the original was too high-waisted for the look I was going for." The next is from MFB Archives, Francie Mini-Mods, featuring the design for the culotte slip and bra. Finally, APF 116 was used for the Belle Dress. Shane shares: "I've copied the neck-line of this bodice to modify another pattern for a beautiful effect." These are great pictures! Thanks for sharing with us!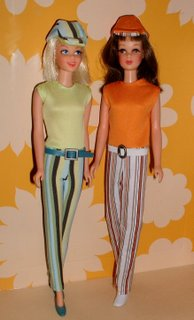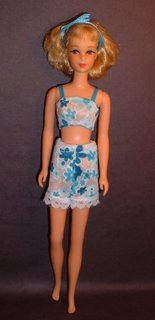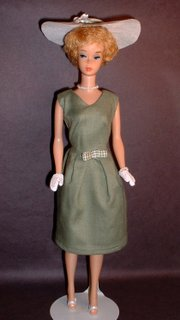 Career Girl Vintage Reproduction (MFB-954) made by Debra S. for her vintage repro:



Here are some of Debra's comments:

"Hello Shirley, I just couldn't wait to tell you how wonderful your 'Career Girl' pattern is! (2003) Compared to your older style patterns (1999)[Note, i.e. APF. srh]~ the updated revisions are Fantastic!! I really like the new typed instructions that you include ~ they are very easy to follow, with lots of helpful suggestions. And the pattern pieces look nicer too. It looks very professional and I look forward to more of your revised patterns like this :) I know that I will be making more wonderful suits from this pattern! I have attached the photo of the suit I created from your pattern ~ it looked so wonderful on all my vintage/reproduction dolls & the silkstone, I could hardly decide which to send you!"

Beautiful Blues (APF 205) also made by Debra S. for her Silkstone Barbie:
Visit page 2 of Your Photo Album.
Visit page 3 featuring Campus Belle Dress.
Contact me at srheater@earthlink.net

Thank you for visiting my website. Please come back and visit again!
Return to Gallery