On Saturday, May 19th, both Eye Kandy and Porcupine Defense played the Batcave in NY. Let me tell you, that this show is in my top 2 shows I have seen this year. The club was packed. The show was full of energy, the bands looked great, the crowd response was amazing, and for once, the alcohol was at a reasonable price. Hehe. I can't say too much about Porcupine Defense, since I am not too familiar with the band. I can say, their music is amazing. Tom (EK) is currently their drummer. I did, however, get hit by Colin as he ran into the crowd. Painful, but oh so much fun.
Now for EK. Fucking amazing. Even after the departure of Chris and Jen, this band continues to put on one hell of a show. They acquired Burn (Into Darkness) to fill in on guitar, who's performance made it seem like he was always part of EK. They played a mix of old and new stuff. For those who haven't heard any of the new stuff, you are missing out. I love DKD, however, the new material cleary shows how this band has progressed, I see very good things happening for EK soon. Be sure to check them out when they are in the area! Much love to the EK camp. This page is far from being completed. I wanted to get the pics up for all to see. I'll be working on this for quite a while. Ok, enough with my yammering, on with the pics. - Melsy :o)
(l-r) Burn, Kaliss, Tom, James
Burn and Kaliss
The Zagorski men Tom and James
Kaliss and his water bottle.
Tom for his PD set.
Colin of PD with a guest appearance from Kaliss.
Colin of PD. Hey not bad for a shot I took while holding the camera in the air. :o)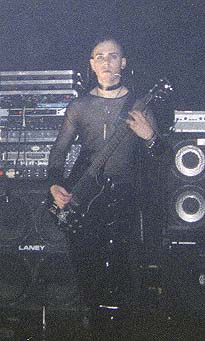 Burn. Were you peeking at my camera? Such a good shot. :o)
Kaliss, Tom and Jarv. Yes, my cigarette was right next to the camera.
James. Sorry Jarv, I couldn't get many solo shots cause you were way over to the right. :o(
PD and EK