VP Ch. Berman's Roi-L Candide, SOM 18th Birthday!
Welcome to see Candy's 18th Birthday party!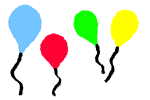 Candy The King With His Crown
Candy Getting Help With His Lasagna
Too Much Party - Ready for Nap
These two beautiful girls are Ch. Sherjak's Fancy Acclaim on the left, and her sister, Ch. Sherjak's Fancy Feathers, DOM on the right. They are celebrating their 15th birthday. Both are daughters of the handsome Candy!