The Butler Motorsports Racing Page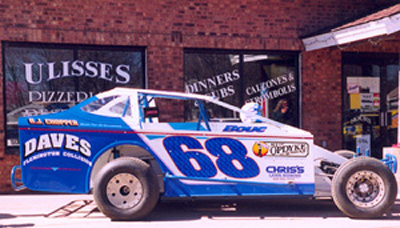 Welcome to the Butler Motorsports #68 Webpage.

April 23

With our first Win under our belts we did not show very good this week, with rain in the forcast the show was moved along quickly. The track was very fast and had alot of bite the Butler Motorsports car was not up to the challenge the car was just not up to speed. We just could not figure out the very fast and narrow track, the tires we had for the night just did noy size up the way we wanted them to. The team is hoping for a better run this week check back in a couple days.

April 08, 2000

WE DID IT! WE DID IT!

Butler Motorsports pulls off first win of the 2000 racing season at New Egypt Speedway beating Kenny Brightbill on the last lap.

We started 10th in the feature and quickly moved into 3rd postion behind Kenny Brightbill and Billy Pauch. On lap 5, Pauch slowed and ended his night. We kept pace with Brightbill through several restarts. After the final restart on lap 17, we ran straight through to the finish. With five to go, we were about 5 car lengths behind Brightbill working up on slower traffic. We closed in with two to go, we moved in on a slower car down the backstretch.On the last lap Brightbill went high, we went low and raced side by side through turn one and down the backstretch. Pulling ahead in turn three and off turn four, beating Brightbill by four car lengths. It was the greatest moment in my racing career.

I thought I was going to crash into Brightbill after the checkered flag because I was doing donuts in the third turn and almost hit him. My excitment ruled the moment!

"I knew we were going to win a race this season, I just didn't think it would come so soon!" There are a lot of people who made this win happen. My Brother and crew and my Parents thanks for all your hard work and persistence without you it would have never been possible . I told you all the hard work would pay off. My sponsors, thanks for your continued support. And my fans, your definitely the best fans around. Thanks for making it such a great win!


The Butler Motorsports Team will have a new 2000 Olsen car ready for the season, the car will carry Primary sponsorship from Dave's Flemington Collision and H.J.Opdyke Lumber Co. Associates sponsors include Chris' Lawn Mowing, Lawrence Engineering, Chopper D.J. Services, Mid-State Paging,Timmerman Equipment, Peirce Equipment, Valley Auto Supply, Art's Radiator, Ulisses Pizzeria and Gary Bouc Racing Engines.

The car will again carry a very powerfull 358 cu. in. small block engine, The team is very anxious to get the season started and we feel confident that we can run up front on a weekly basis. The crew is led again this season by George Butler. Other crew members include Alan Bellis, Chris and Laurie Crosdale, Travis Alpaugh, Pat Sharpe, Clay and Bobby Butler, Nick and Cale Zangli, and Clint Bush. The team also gets help in the pits from the 5-12, and the 704 teams.


Email: gmbutler@blast.net