Transports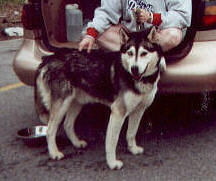 These are the wonderful dogs that we had the pleasure of transporting and taking to safe homes after they were rescued from animal shelters - most were saved from sure death. Some are still up for adoption, if you are interested, please contact me. Thank you.

The above picture is my Mom and BUCK, aka KENNEDY. He was found running around Kennedy Airport in NYC and spent a month in a cage at their terminal. He was rescued from there and was fostered in southern NH in May 2000 - but after a few month, the alpha dog in the family had some issues with Buck. He is now in a rescue home in NJ awaiting a loving family to adopt him. He is very intelligent and has a very sweet disposition. He fell asleep on the arm rest while we tranported him.
UPDATE: As of March 2001, Buck has found a new home. Hopefully all will work out for him and his new family.

---
The above two pictures are brothers - Keota and Nikiah. The dog in the bottom picture is blind. (When we transported them, one fell asleep in the back seat while the other dog fell asleep in the hatchback of my Camaro.) They were rescued from a home in NY in September 2000 and went to live in a foster home in northern NH. After a month there, they are now in living down Cape Cod awaiting a loving home. Both are very loving dogs and would make some family very happy and complete.
UPDATE: Nikiah and Keota have found a new home in Ohio, thanks to Angels of the Snow, Cape Cod, MA. Both boys were very special and some family is very lucky to have them.

---

MAY 2001 - Transported 2 wonderful dogs (don't remember where they were rescued from) - Lexi and Buddy (my name for him) transported from Marlborough MA and transported to a rescue group in Nashua NH. This is Buddy:
Both dogs have found good homes and I could not be happier. I fell in love with Buddy, he was such a snuggle bunny.
---
DECEMBER 2001 - LOLA was rescued from a kill shelter in North Carolina. My brother and I picked up Lola in Manchester NH and transported her to Lebanon NH where she went to live with her foster mom in northern Vermont.
UPDATE: Lola has found a wonderful family to live with in Vermont.
---

Lexi was rescued from a kill shelter in Arkansas. On May 15th, 2004 - we helped transport Lexi to her forever owner, Janet from Maine. We picked Lexi up in Worcester MA and took her to Tewksbury MA. She was such a sweet little lady - she did not make a peep in our back seat. Janet and family are very lucky to have her in their lives. All my best to them.
---

This is Bethany. What can I say - besides being adorable - she was one of the sweetest dogs I ever met. It breaks my heart to hear how she was abused by previous owner. Bethany travelled from Georgia and went to a rescue home in Maine. We did the Worcester MA to Tewksbury MA leg on July 19, 2004. Whoever adopts Bethany will be truly blessed.
---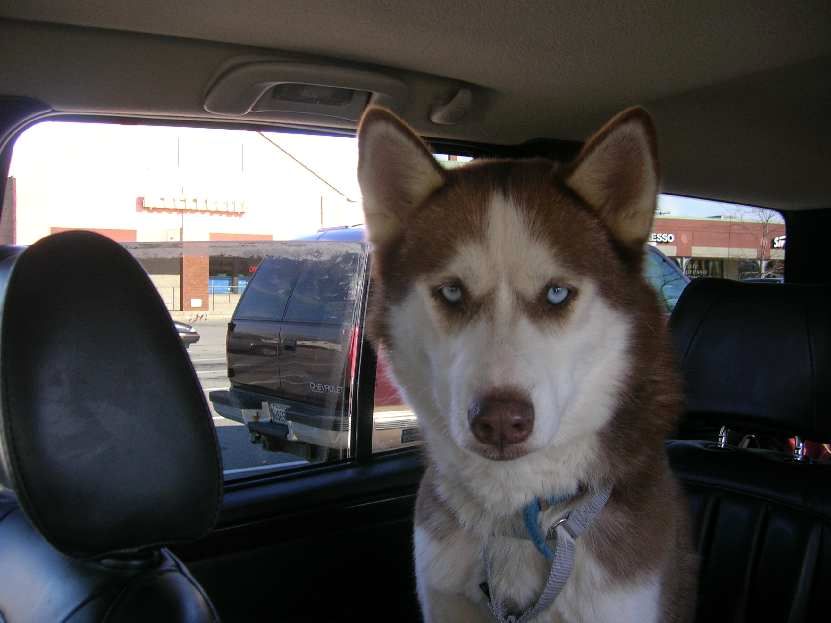 This is Athos - he was rescued from a family who no longer wanted him and they were going to have him put to sleep. He is 2 yrs old and supposedly has cataracts, although we could not see them. He also has a bad leg - looks like his leg was never properly set after being broken.
On November 13, 2005, we transported him from Manchester NH to Portsmouth NH. I brought some bologna with me and he was very gentle taking it from me. He then curled up in my back seat and did not let out a peep. He will go to a wonderful family in Nova Scotia. This sweet boy really stole my heart.
---

Here are 2 wonderful pitbull mixes that we transported in December 2005. They were rescue in the mid atlantic area (Maryland ?) and were going to rescue home in Windham NH. Nothing is funnier than puppies! Sweet Zappa got very upset when he wasn't with his buddy Annie. We hated to say "goodbye" to them.
---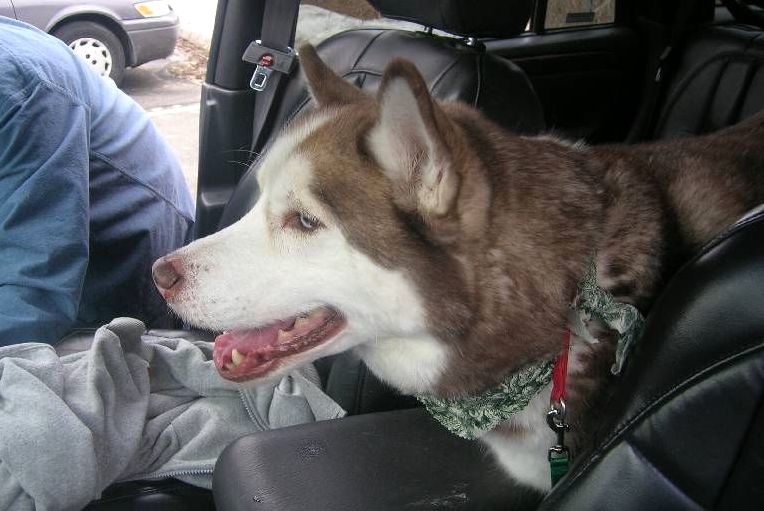 March 6, 2007 - This is handsome Jake. Jake was rescued from a shelter in CT 2 days before he was scheduled to be put to sleep. Frank and Melissa from Angels of the Snow pulled him from the shelter and I met them in Chelmsford MA and took him home to our house in NH. Jake has problems with his rear legs and is a bit overweight. We were also told he was kept in the house all the time. He has the sweetest disposition and loves to be petted. I hope we can find a loving forever home for him - he deserves it.
---

All the dogs were wonderful and we hope and pray that they find forever homes. If you would like more info on adopting or fostering Siberian Huskies in need, please contact me.
View My Guestbook
Sign My Guestbook
Return to FiveHuskys Main Page
Click here for Pet Finders
Click here for Angels of the Snow Rescue and Adoption

Email: fivehuskys@aol.com