Memorial Page - Canine Liver Disease
My inspiration for this website was my Buddy. This page is dedicated to our sweet dogs who have gone to the Rainbow Bridge due to liver disease.
Photo's take a moment to download, please be patient.
Buddy, aka Louigi
of the FiveHuskys Gang
CGC, T.D.I.
11/26/92 - 03/21/99
Liver Disease, possibly caused by Phenobarbitol toxicity
Goodnight Sweet Prince - May flights of angels sing thee to thy rest. (Shakespeare)
Mischief
03/06/93 - 07/18/97
Bailey
Chelsey

3/1/88 - 03/17/00
Dearly missed by Susan and Sherlock. Chelsey was Susan's once in a lifetime dog and Susan will forever miss the love that they shared for each other. The hoop and harness that Chelsey is wearing was to help guide her as she was going blind; it helps guide the dog so they don't bump into things and hurt themselves.
Susan is a member of the canine liver list, senior dog list, blind dog list and petdiabetes list, all for her special little Angel Chelsey. She is also a member of the k9 epilepsy list for Sherlock.
If you would like to contact Susan, click here.
Click here to see more pictures of Chelsey and Sherlock

Alexandra Nikkita
"Nikki"

04/21/92 - 08/06/00
She was only 8. In under one month, she lost like 15 lbs. She was a beautiful silver and black dog. She had a family here, including 2 other huskies, neither of which were her puppies. In under one week, she was at the vets 3 times, the last being an emergency vet where she was put to sleep, so she wouldn't suffer.
She lived a happy life, where she loved her stuffed animals and her treats.
Lovingly Missed by Keven and Family

Dakota Cheyenne Branham
05/15/92 - 08/25/01

"Greatly loved and now greatly missed. Our little girl Dakota is now with the angels. She lived a good life but was taken from us early. Robin and Mike will always miss her."
Lovingly Missed by Robin and Mike

Chase
04/15/1990 - 08/17/2001

Diagnosed with Chronic Active Hepatitis on April 23, 2001
"When tomorrow starts without me.
Please try to understand,
That an angel came and called my name
And petted me with her hand.
She said my place was ready,
In Heaven far above,
And that I'd have to leave behind
All those I dearly love.
[ Author Unknown ]
Click here to meet Chase

Sadly missed by Pennie, Stephen, Melissa
and all her four footed friends in the family.

Amber Breneman
June 25, 1994 - February 27, 2001
Phenobarbitol induced liver disease.
Died less than two months after her diagnosis.
I loved her from the minute I saw her in the middle of the litter of rolly-polly puppies and she will always be remembered by Brian, Max and myself with a smile and a tear that she left us so soon...
Lovingly Missed by Marianne and Family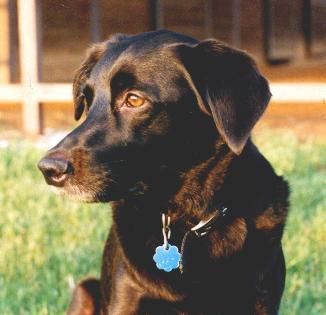 Coal
My Hero
July 1989 (?)- December 26, 2001
Liver Cancer

At first sight I loved you with a thousand hearts.... and still do.
Lovingly remembered by Annie and Family

SADIE
12/15/96 - 12/15/01
Epilepsy---Phenobarb-induced Liver Disease
Went to the Bridge 4 months after diagnosis
Those eyes-soulful & knowing - came to me out of prayer.
I needing you-you needing me. GOD bringing us together.
What lessons you taught, what joy you gave, what Strength & Courage you showed.
Each day a miracle, you by my side. Enjoying each day to the fullest.
You touched my "HEART" ~ you always made me smile....
I will love & miss YOU forever Sadie~my Sweet Pea girl !!!!
Until we meet at the Rainbow Bridge, Love Momma (Terri)
Amy
02/28/97 - 02/15/02
Liver and Kidney Failure
(Unknown cause, probably genetic)
Our dear little Amy (Tinkerbell) we miss you so much. We wish you could have stayed longer. We hope you are happy. You can now get cosy forever.
We will always remember you.
All our love Mummy, Elly, Alfie, Daddy ,Keke and Maggie

Cole (black lab mix) and his best friend Sheba
Diagnosed with Chronic Active Hepatitis
1994-2001
He was my bestfriend and the greatest dog. Sheba (1992-2002) also passed away of a liver disease just months after Cole. She was not only Cole's greatest love, but was also my best friends dog. The two grew up together and passed within months of each other, but gives me comfort to know they are with each other.
I have 3 more wonderful babies still home with me and I love them much ..but there will always be a special place in my heart for my beloved Cole.
Lovingly remembered by Desiree and Family

Sunshine
05/10/94 - 08/27/02
Liver Disease


My dear Sunshine was taken away on the 27th of August 2002, 4:30am. She was only eight years old. Liver cancer was painful but she was strong. Couldn't understand why she had to be taken away so quickly and so painfully. Though she suffered, she continued to brighten our lives with her smile.

Sunshine, we miss you so much, so very much. We will always love you, always.

"You are my Sunshine, my only Sunshine
you make me happy when skies are grey
you'll never know dear how much I love you
please don't take my Sunshine away.

The other night dear as I lay sleeping
I dreamed I held you in my arms
when I awoke dear I was mistaken
and I held my head and cried"

You will always be in our hearts.
Kate and family

Click here to write to Sunshine's family.




Sadie
07/02/89 - 10/15/02
Lovingly Remembered by Helen and Dandi and Daisy
(Photo coming soon)
Orion
7/23/95 - 7/02/02
Epilepsy - Phenobarbitol-induced liver disease
Loved and Missed by the Thiemann Family
Click here to write to Orion's family.
Roxy
Lab/Husky Mix
06/13/92 - 10/22/02
Liver/Pancreas failure We will be in forever thanks for being blessed with such a great companion as Roxy. In her company, we enjoyed some of our greatest experiences and moments. She is dearly missed, but we are comforted by all the wonderful memories she gave us. The world is surely an emptier place in her absence and we will love her forever.
We miss you Roxy baby.

Loved and Missed by the Olson family
Click here to write to Roxy's family.

Brother and Soni
Brother (Sheltie)
May 1993 - March 2003
Superficial Necrolytic Dermetitis
AND
Soni (Shepherd/Springer Mix)
January 1989 - March 2002
Hip Dysplesia
"They were inseparable in life and now together at Rainbow Bridge."
Lovingly Submitted by Kathryn
Click here to write to Brother's and Soni's Family
Mc's Princess Leiah
07/31/96 - 01/11/03
Amyloidosis

"Leiah for surely if love could have saved you, you would have never died"
Shadow


12/15/1991 - 04/17/2003
Chronic Active Hepatitis, Rheumatoid & Osteo-arthritis,
Cushing's Disease and Splenic tumour

"What we once have enjoyed, we can never lose.
All that we love deeply becomes a part of us."
Helen Keller

Shadow, a precious member of our family who is deeply missed,
& will always be lovingly remembered.
Cindy, Harley, Ellery & Philip

Click here to write to Shadow's family




Sam

May 1994 - April 2003
Sam was a beautiful Sheltie who had the personality of an angel. He died 5 months after diagnosis from pheno induced liver disease. He had epilepsy and thyroid problems, but was worth every dime and every second of time that his special needs required. Our heart and home are empty without him.
Lovingly remembered by Doris
Click here to write to Sam's family

MAXWELL PORTER (CHERSKI PANUCK)
09/27/1994 - 05/26/2003
Max (Siberian Husky) and his little soulmate "Sportsy". Sportsy thought that she was a Husky! Ran with Max and died 4 years ago. Max was never the same. I hope they are now playing together at the Rainbow Bridge. I know she would of been so excited to see him.
Max had been ill since 1999. We eventually discovered that he had Selective Immuno globulin Deficiency (IgA). Eventually after a long brave fight his liver gave in. He has left a very big gap in the lives of his family.
Lovingly remembered by Dave and Pam
Click here to write to Max's family

Max
02/17/1993 - 06/18/2003
Liver Disease
Diagnosed on May 7, 2003
My sweet Maxy boy, I miss you every moment of every day. Your boundless love and devotion filled my life. Your sweet disposition and exhuberant spirit will always be in my heart and make me smile. There will never be another you my boy. Until we are together again, I love you.
No matter how deep my sleep, I shall hear you, and not all the power of death can keep my spirit from wagging a greatful tail.(Eugene O'Neill - The Last Will and Testament of an Extremely Distinguished Dog.)
JASPER
1992 - 08/02/03
TYPE N LIVER DISEASE
DIAGNOSED ON JULY 24, 2003

BELOVED FRIEND OF JOHN, BARBARA, ERIK AND LAURA

IF IT SHOULD BE

IF IT SHOULD BE THAT I GROW WEAK
AND PAIN SHOULD KEEP ME FROM MY SLEEP,
THEN YOU MUST DO WHAT MUST BE DONE
FOR THIS LAST BATTLE CANNOT BE WON.

YOU WILL BE SAD I UNDERSTAND,
DON'T LET GRIEF THEN STAY YOUR HAND.
FOR THIS DAY MORE THAN ALL THE REST,
YOUR LOVE FOR ME MUST STAND THE TEST.

WE'VE HAD SO MANY HAPPY YEARS,
WHAT IS TO COME CAN HOLD NO FEARS,
YOU'D NOT WANT ME TO SUFFER SO,
THE TIME HAS COME TO LET ME GO.

TAKE ME WHERE MY NEED THEY'LL TEND,
AND PLEASE STAY WITH ME UNTIL THE END.
HOLD ME FIRM AND SPEAK TO ME.
UNTIL MY EYES NO LONGER SEE.

I KNOW IN TIME THAT YOU WILL SEE,
THE KINDNESS THAT YOU DID FOR ME.
ALTHOUGH MY TAIL ITS LAST HAS WAVED,
FROM PAIN AND SUFFERING I'VE BEEN SAVED.

PLEASE DO NOT GRIEVE IT MUST BE YOU,
WHO HAS THIS PAINFUL THING TO DO,
WE'VE BEEN SO CLOSE, WE TWO, THESE YEARS
DON'T LET YOUR HEART HOLD BACK ITS TEARS.

FOR I AM NOW IN A BETTER PLACE,
AND WILL BE WAITING TO SEE YOUR HAPPY FACE.
SO WHEN YOU CROSS THAT FINAL BRIDGE,
LOOK FOR ME ….
I'LL BE STANDING NEXT TO THE FRIDGE.

Click here to write to Jasper's family




Cocoa
May 1997 - 09/09/2003
Liver Disease and Copper Toxicosis

You came to us on 11/11/97. We lived in BKLYN, NY at the time. You were unwanted and mistreated. You were about 6 months old. The original family opened their gate, so you and your sister could leave and never come back. We took you in and my friend took your sister. We renamed you Cocoa, your eyes were a beautiful Hazel/Cocoa Brown. You needed training and housebreaking, and most of all LOVE!
We moved to NJ in Jan 98 and you had 1/2 an acre to run safely. You became best buds with my Mastiff Rocky, who was almost 4 yrs old at the time. You seemed healthy, the Vet said your checkup was good. Then on March 1.1999, we took you to our Vet, because your abdomen was swollen, we thought it was bloat. You were referred to an ER Hospital where after extensive tests, you were diagnosed with Liver Disease. You were given 6 Months to one year to live, We were devastated!!
I was due with my last child on 3/31/99. You were given meds and we were told you would need a liver biopsy. We didn't have the funds at the time to do this. We kept you on meds and left it up to God. You surprised all of us and seemed to overcome your disease. You again chased the squirrels and ran with the neighbors dogs.
In Feb 03, your were once again hospitalized (We now live in PA) for vomiting. You had hepatitis again. Our new vet recommended a Biopsy too. This time we were able to do it. You were diagnosed with Copper Toxicosis (In humans it's called Wilson's disease) A genetic disorder, that causes Copper to build up in the liver, and eventually causes Failure. The only thing that could have saved you was a liver transplant. Which are not done on dogs.
Cocoa, we lost you on 9/9/03. I know you tried to stay with us longer, but your body couldn't hold on anymore. We had to drain your ascites three times and in the end, you no longer wanted or could eat, one of your favorite pastimes. You barely had the strength to walk. On our last walk together, I noticed you weren't producing urine and you smelled of ammonia, your kidneys had failed you too. You were to be PTS the next morning, but you decided to spare me that awful deed, by dying in your bed, in our bedroom. Your spot in my bedroom is empty, your picture and ashes are on my dresser.
Cocoa, we love you and will never forget you. We'll see you again someday, at the Rainbow Bridge.........
All our love: Angie,Tito, Mike, Norma, Robert, Gladys, Rocky, Isis, Max, Jack, Gigi, Dovey,Rudy and the Turtles
Click here to write to Cocoa's family

Sassy

July 23, 1995 - Sept. 26. 2003
CAH
Taylor
Golden Retriever/Cocker Spaniel Mix
Born in 1992
Died of Cirrhosis of the Liver on February 25, 2004
12 years of age
size=3> I adopted Taylor from Golden Retriever Rescue when he was 4 years old. They told me they'd rescued him from the Humane Society. Taylor was my beloved friend and constant companion for the next 8 years. He loved to ride in the car and stick his head out the window. The day that he became critically ill and we were on the way to the vet, he stood up in the back seat of the car and put his head out the window. Taylor died about 5 minutes later, before we arrived at the vet. I'm so glad that he got to feel the wind and see the sky before he left this Earth. I love him so much and miss him terribly!
Donna Packard
Click here to write to Taylor's family

Pandi
09/06/90 - 12/30/02
Liver Failure
Lovingly Remembered by Traci
"Looking back on the memory of the dance we shared, beneath the stars above.
For a moment all the world was right, how was I to know that you'd ever say goodbye?
And now I'm glad I didn't know the way it all would end, the way it all would go.
Our lives are better left to chance, I could have missed the pain, but I'd have had to miss the dance.
The Dance - (Garth Brooks)"
When Tomorrow Starts Without Me
When tomorrow starts without me,
And I'm not there to see;
The sun will rise and find your eyes
All filled with tears for me.
I wish so much you wouldn't cry
The way you did today,
I know how much you loved me,
As much as I love you,
And each time that you think of me
I know you'll miss me too.
But when tomorrow starts without me,
please try to understand
That an angel came and called my name
And petted me with her hand.
She said my place was ready,
In Heaven far above,
And that I'd have to leave behind
All those I dearly love.
But,as I turned to heel away,
A tear fell from my eye,
For all my life I never thought
That I would have to die.
I had so much to live for,
So many sits and downs to do,
It seemed almost impossible,
That I was leaving you.
I thought about our lives together,
I know you must be sad,
I thought of all the love we shared,
And all the fun we had.
Remember when I'd nudge your hand,
And poke you with my nose?
The frisbee I would gladly chase,
The bad guy,I'd "bark and hold"
If I could relive yesterday,
Just even for awhile,
I'd wag my tail and kiss you,
Just so I could see you smile.
But then I fully realized,
That this could never be
For emptiness and memories
Will take the place of me.
And when I thought of treats and toys
I might miss come tomorrow,
I thought of you and when I did,
My dog-heart filled with sorrow.
But when I walked through Heaven's gate;
And felt so much at home;
As God looked down and smiled at me,
From His beautiful throne.
He said,"This is eternity",
And now we welcome you,
Today your life on earth is past,
But here is starts anew.
I promise no tomorrow,
But today will always last;
For you see,each days' the same,
There's no longing for the past.
Now you have been so faithful
So trusting, loyal and true;
Though there were times you did things,
You knew you shouldn't do
But good dogs are forgiven,
And now at last you're free;
So won't you sit here by my side,
And wait right here with me?
So when tomorrow starts without me,
Don't think we're far apart,
For every time you think of me,
I'm right there, in your heart.
Author unknown
We shared a bond based on companionship, trust, friendship and unconditional love. Pandi is irreplaceable... in my heart, in my soul, in my life. I love you baby girl.
Click here to meet Pandi
Reggie

April 1999-April 2004
5 yrs old...
Liver disease

Lovingly submitted by Laurie

"Never forgotten, Always in my heart"

Reggie was the most precious animal I have ever owned. I had him since he was 3 days old. Bottle feeding him was so fun. I will never forget how he used to cut up when i'd shake the bottle at him, and ask him if he was hungry. Up until one week prior to his serious sickness, Reggie would always stand at the fence line with one of his babies in his mouth wanting to play. He had a crazy bark that I wish I could hear.

March 04 I noticed when Reggie got excited he would have a seizure. It was a scary thing for me to see. I let him live one more month just watching him and trying to understand what was wrong with him. Within the next month I noticed Reggie no longer played with his babies, nor did he stand at the fence line wanting to play. He no longer ate or drank just layed around. Easter weekend was the longest weekend i ever been through. On Monday april 12 04 He was taken to the vet and the vet said Reggie was being poisoned , which was causing the seizures due to liver failure. I felt so bad cause I just knew My dog would be ok. I had him put to sleep to end his pain and suffering. I miss him so much.




A Brilliant Rainbow

High on whispered wings I fly, a radiant star, I light the sky.

Toward the sun I soar so free, a brilliant rainbow follows me.

I pulsate through your very soul and in my paws your heart I hold.

The day will come when you'll fly too, I'll be here then to welcome you.

Until the time we meet again I won't journey far my friend.

For in your love I live so free, a brilliant rainbow guiding me.

Love, Mama




Joplin


October 1996 – April 22, 2004

Cirrhosis of the liver

In Loving Memory of our sweet baby "Jopper," Mommy & Daddy love and miss you!

She was the smartest most loving angel ever. I got her from our vet where someone left her as a puppy and have loved her ever since. She taught us so much and brought such joy to our lives as well as the lives of so many others. Our hearts are broken without her. We are trying to find peace and pray that she is now happy and healthy in heaven. She will be loved and remembered forever!

I pray for all the dogs diagnosed with liver cirrhosis and other liver diseases and hope you have more time with your little angels than I got with mine.

Joplin's Story:

She first got sick in Dec. 2003, she stopped eating and she just did not act herself. We got through that with meds and L/D Diet and she was acting herself again in January. Then she went downhill again. During March we were in and out of the vet, getting fluids and trying new meds. Then she had two ultrasounds that were inconclusive. That led us to do an ultrasound-guided biopsy of the liver on April 7. All this time just trying to keep her eating, she just didn't want anything. On April 12 we got the news she had Cirrhosis of the liver, with nothing to do but keep her on the meds and eating a proper diet, which she would not do.

Finally her body was just overcome with the toxins in her system and her last day was a nightmare. She couldn't walk straight and would just try to roam around the house running into things. Her daddy just held her until I got home and then I held her for an hour before we took her to the vet. When we got her there, she died in our arms on the table when the cirrhosis finally took her.

Lovingly remembered by Laurie

Click here to write to Joplin's family






Bailey
May 12, 1995 - May 4, 2004

"My Waterdog" and my best "Pal". I adopted "Bailey" when he was just eight weeks old. He came home as just a baby and fit right into his name. A Yellow Labrador Retriever, he was the lightest color in a litter of ten. Bailey was a true companion to me the nine years he blessed this world with his presence. A true, loyal companion, he was always by my side. I often referred to him as my "blonde shadow" because without fail, he would always be a pace behind me wherever I walked.

Bailey lived life to it's fullest. He illustrated a true perspective we forget to realize in our day to day rush through life. No matter the weather, cold or warm, sunshine or rain, Bailey's outlook was simple. Contentment. Always eager to please, you could see the love in his eyes, and the gratitude he held for simply being with you. He was a true "people person" .

In March of 2004, Bailey ingested a portion of string from a dog toy and had to undergo surgery to remove the obstruction. He was on the road to recovery, when we discovered that he took a sudden turn for the worse. After weeks of tests, we learned that he had an advanced stage of Liver and Intestinal Disease. The affliction came on so suddenly, we were overwhelmed by its crippling affects on this strong, vibrant, and lovable guy. Within three weeks, Bailey weakened and lost subtantial amounts of fluid and muscle mass. By May 4, 2004, just eight days before his ninth birthday, Bailey could no longer stand up on his own or keep any food and water down. We could no longer help him take the medicines we had hoped would help him regain his strength.

This was his last photo, taken the night before he died. "Bailey" went to sleep in my arms at 10:15 AM with a kiss good bye on my cheek. My best "Pal" will never be forgotten. He will always have love in my heart.

Karl, Kristina, and Shelby D'Accursio

Click here to write to Bailey's family







Thor
Adopted August 24, 1998 at age 1.5 years
Liver Disease

Thor was my adopted dog August 24, 1998 at age 1.5. One year later epilepsy entered his life. He was started on PB and for two years was seizure free with the seizures returning in 2002. From that point on I became a participant of the Guardian Angel website and with follow up testing he was determined to be borderline hypothyroid and was started on Soloxine. KBr was added when PB alone was no longer effective and from August 12, 2003 until April my wonderdawg gained control of his seizures and was free, happy and spirited. Suddenly on April 12, 2004 he showed dramatic signs that warranted immediate blood chemistry and the determination was liver disease. He was in such a very weakened state and we spent our last days together sharing stories, hugs, kisses, catching rays on the deck and just preparing for what I knew would be our goodbye. His condition declined so rapidly that it was only after having an ultrasound that I could give myself permission to let Thor retire to the Rainbow Bridge. His ultrasound showed his liver was undersized and badly scarred, life with mom would only be for another week or two. He was loved, he was treasured, he is buried within my heart where he will walk beside me every day and watch over me. He is my guardian angel Thor.

"Cause I believe, there are more than angels watching over me, I believe, I believe." Song: I Believe by Diamond Rio

Thank you
Gyula Gayle and wonderdawgs, Jesse, Sunni and a very special Angel Thor

The meaning of a lab:" We know nothing of tomorrow; our business is to be good and happy today."

AND










Jesse

Jesse came into my life on August 24, 2002 at age 1.5 as a companion for my epileptic dog Thor who lost his battle with epilepsy May 5, 2004 and is also remembered on this site.
Jesse and Thor shared a special bond and when Thor and I had to say goodbye I brought another dog, Sunni Dayz home to help us both deal with our loss. These two also became best buds and there were once again rainbows in my life.
Without warning Jesse became suddenly ill and was diagnosed also with liver disease, only this time from a strain of leptospirosis not included in the yearly innoculations. I rushed her to a veterinary college in the hopes of reversing the damage but indications were that there would be no recovery. On the fourth day it became evident that no one was listening to my prayers, my tears, my anger and that I once again was going to have to make a decision to part with my treasured friend.
This time I have no definitive answers as to why or how and I am hoping when final results are back there will be some underlying reason that this very special girl was taken from me at the young age of five.
Once again I will look for a new star in the sky and wait for the day when I will be able to wrap my arms around my precious four legged friends and let them know that mom has always remembered.
Jesse Girl, you are missed and I would give anything for another chance to stroke your soft coat, rub your chin and give you tummy rubs and see you turn your soulful golden eyes up to search my face. I love you my precious Jesse.
Mom and now only Sunni Dayz.
"Dogs are not our whole life, but they make our lives whole".
Click here to meet Thor and Jesse
Deerdre
"Our Little Swimmer"
9/20/1998 – 5/19/2004

Deerdre was diagnosed with liver problems on 10/16/03. We noticed a couple of days before that she had a loss of appetite, slight yellowing of the eyes, and lack of energy. After being evaluated by our vet, her liver enzymes were found to be extremely out of whack. Our vet immediately treated her, and kept her on a steady diet of antibiotics and a special liver food. Over the coming months, her health continued to improve, and her liver enzymes returned to normal levels by Easter weekend, 2004. We were very excited, and began feeling she had recovered from all of this. However, on Thursday, May, 13 2004, she again suddenly quit eating, showed slight yellowing of the eyes, and lost her playful energy. This time, her liver enzymes were 3 times higher than the previous bout. Despite the many efforts of our vet to again contain this, she was not able to recover. We laid her down on the following Wednesday.
Deerdre was a very sweet, outgoing dog that loved many outdoor activities. Her favorite activity was to swim. She loved to swim in the local rivers and lakes, as well as the ocean when we would take her there. She was loved greatly by Penny, David, and Sophie, and will forever be missed.
BAILEY COPPER COMFORT
June 12/1994 - May 27/2004
Diagnosed with Advance Liver Disease on May 24/2004

Lovingly submitted by Kim and Family
Bailey became part of my family when she was just 8 weeks old. I had just moved out of my parents home into my own and decided I needed a companion. I didn't pick her out of the litter, she picked me!!!! I just sat in the grass and waited for a puppy to come to me and she was the first. She came over to me and fell asleep in my lap. It truly was love at first sight.
Bailey was with me through thick and thin. She weathered a house fire, a marriage, and the births of two brothers. Johnathan and Evan could do anything to Bailey and she never complained. It was obvious that she loved us as much as we loved her.
The weekend before she died Bailey stopped eating and began throwing up anything she tried to eat. I thought that it would pass but by Wednesday she started to drastically lose weight so I called the vet and at 9:30 at night we attended the clinic. Bailey had a fever of 104 degrees and her gums and inside of her ears had a yellowish tinge to them. The vet told me he thought that it was a problem with her liver. He gave her a shot of antibiotic and gravol and I took her home to await word of the bloodwork.
On Thursday May 27 I went to work and my husband called me and told me that Bailey had walked into the back yard, laid down and peacefully passed away. My heart and my world was shattered. The vet called me later that morning with the results of the bloodwork and he said that her liver enzymes were at a count of 2400 (up to 100 being normal for a dog). There was nothing that could have been done to save her. Bailey was buried on my parents farm, a place that she loved.
"Run Free, Soar High, My Sweet Bay"
Treasured Friend
I lost a treasured friend today
The little dog who used to lay
Her gentle head upon my knee
And share her silent thoughts with me...
She'll come no longer to my call
Retrieve no more her favorite ball
A voice far greater than my own
Has called her to His golden throne.
Although me eyes are filled with tears,
I thank Him for the happy years
He let her spend down here with me
And for her love and loyalty.
When it is time for me to go
And join her there, this much I know...
I shall not fear the transient dark
For she will greet me with her bark.
Author Unknown

Hershey


02/23/1998 - 10/27/2004
Chronic Active Hepatitis with
Chirosis of the Liver
Lovingly submitted by Victoria and Family
Hershey, Always know we love and miss you very much and we did everything we could to keep you with us. We love you and always will nobody will ever take your place Love bug.
We Fell in love with him the first time we saw him when he was a couple days old we had the pick of the litter and he was the one.. He was a very sweet and loving boy he was very loyal to everyone and a protector of his house.
I took him in on May 12, 2004, to get his teeth cleaned and they did some bloodwork and found the his liver enzymes were way to high to have the procedure done safely so we called it off. We treated him a week and retested with no luck the numbers we even higher so we did a Biopsy and it really showed no cause or reason so with food and Medication we controlled it but on Oct 15 I noticed his urine was darker than normal and it was Positive for Bilirubine so we started him on fluids and more medication that we did at home for the next week until the next biopsy was done he then turned very dark yellow and was getting weaker and when they did the biopsy they said that it looked very bad and did not think he would make it after surgery so I did the only thing I could and that was to let him go and that was the hardest thing to do I kept asking did I do the right thing but in my heart I knew it was best for him. I told our vet to go ahead and send the biopsy I wanted to know what took our baby from us.
Two days later we had our answer it was Chronic Active Hepatitis with Chirosis of the Liver major degeneration and multiple organ failure. I know our little Hershey is an angel now but is missed every day. Hershey was born on Feb 23, 1998 and died on Oct 27, 2004 the day we lost our battle
Nichai
1990 - 12/03/2004
Liver Disease
Good bye Nichai, my friend.
Michael
Sheeba Soleil
From left to right:
Sheeba Soleil, Shadow (my best friends dog), and Casey Cody
1-31-96 to 11-21-04
Liver Cancer
Sheeba was a german shepherd mix. Out of all the puppies in the litter, she came and picked me...She came up to me and I took her in my arms and never put her back down. I didn't need to see any other puppies, she was for me and I for her!
I was only granted 8 1/2 beautiful years with her. Liver cancer took my precious girlie-pup away on November 21st. The story is like the others, initially she got better, but then she rapidly started to fade and was being kept up with infusions. We had one more night with her, picked her up on Saturday after she had been in the clinic 2 nights...and it was like she came home to say goodbye.
She deteriorated during the next morning, she stumbled into the office and just sighed and laid down on the vet's floor...she was so weak that no vein could be found to ease her as she crossed the Rainbow Bridge. She looked up at me with her big brown eyes, took a deep breath and went to heaven to play in the grass on the other side.
My puppy-love: I hope you know how much we miss you. Your best friend "brother" Max and I still hear your tags jingling, and we know you are watching over us. We have your ashes in a cedar box over the fireplace. I know precious girl that you are pain free now and playing with all of your friends that left before you- Casey, Shadow, and Duchess. Thank you for being such a good companion your short time on this earth.
The eyes of all our doggie friends on this page show the purest and innocent souls...missed dearly.
Forever beloved, becried and never forgotten My Sheeba.
Your Mommy,
Christine
AXLE

October 1992 - January 21, 2005

Liver failure and Cushings

Always loved and will never be forgotten, our home is so empty without you boo. love mum and dad[tracy and mick].

MY princess always love you loads missing you every minute of every day. my heart is broken without you my love is always there for you. all my love always your little brother piers x x x x x x x





















Zoe
December 5, 2001 - January 17, 2005
Zoe was a much loved member of our family, and she will never be forgotten. She was diagnosed with liver failure in early September 2004, and wasn't given a great prognosis. She was so tough throughout it all - and managed to live longer than anyone thought she would. We tried everything to help her get better, but in the end the disease was too quick for her little body.
We will always remember our little girl, and the laughter and energy she brought into our lives. She has left a whole in our hearts.
Lovingly submitted by Amy and Family
Perty
Weimeraner-Doberman mix
Adopted 6-13-93 - Passed 06/13/05
After exactly 12 years with us ,our big girls golden heart stopped beating.
Today you was released from your body invaded by liver disease.
We miss you ,especially your buddy Brittany.
Thanks for letting us love you , see you at the Rainbow Bridge .

Love Mom ,Dad & all your furry brothers & sisters
(Click here to write to Perty's family.)
Jake

My dog Jake passed away on Jan.9th 2006 from liver disease.
Late in Nov. of 2005 he started losing a little weight and wasn't acting quite himself, so I took him to the vet and she did alot of bloodwork. I was then informed that he had liver disease and I took him back for an ultrasound. The ultrasound showed some small nodules on his liver, but all other organs looked good. He was put on two different antibiotics, milk thistle and others meds to help the liver.
Even with all the meds, he continued to decline. He began to retain fluid in his belly, which had to be drained, but would come right back within a few days. Then he stopped eating completely, which made it hard to give the meds. I eventually stopped giving him the pills, as forcing him to take them was to tramatic and he thought he was being punished for something.
My vet suggested not to let him go on for to long without eating and drinking. After a week without eating he lost alot weight and the fluid was building up so bad in his belly and back legs he couldn't go up the two steps to come back in the house, I had to carry him. He clearly was not happy and very uncomfortable, so I made the decision to put him down after exhausting all options. I really feel for the other people who have lost their dog to liver disease. It's truly heartbreaking to watch them go downhill so quickly and can't help them. Sorry this was so long.
I am enclosing Jake's picture that was taken the day before he died. Thank You.



Love, Tracy
(Click here to write to Jake's family.)



Bear was diagnosed with "Canine Liver Disease," on Sept. 10, 2004. The Vet told me to put him down because he would not live. He gave him another month. I knew that I could help Bear and would not let him be put down.

I was advised to seek a Vet who practices "Holistic Medicine." At this time Bear's symptoms were, loss of weight, loss of appetitie and fluid in the stomach.

Dr. Mark saved my Bear's life and I will be forever greatful. He put him on a raw meat, raw veggie diet with supplements. Within two weeks Bear's stomach went back to normal. He gave me another year and four months to have him.

If I had to do it all over again, I would.

Bear is in Heaven and will be the first greet me when it's my time. He is also here in spirit to watch over us.

He will be in our "Hearts" forever.

Mary, Bill, Jason & Smokey
(Click on picture to write to Bear's family.)









Our Beloved Raven passed on January 10, 2007. Just four weeks shy of her 3rd Birthday. Raven was diagnosed with Liver disease on Dec. 29th, 2006. The day after Christmas we noticed that Raven's stomach was very large. For fear it might be bloat, we took her to the vet. It turned out she had fluid just floating inside her.

They ran some blood tests, which came back to show she had liver disease. They went in to biopsy her liver, and had to drain 5 liters of fluid. When the results came back, the vet said it was still too soon to tell if it was fatal. So he started her on some meds. She seemed to be getting better with the meds, but after a few days, the fluid started building up again. On the 9th Raven was really sick. She vomitted all day long, by the end of the day she was so weak she could barely move. She didn't even greet Daddy at the door when he got home from work, something which she had NEVER done!

Throughout the evening she just got so much worse. We called the on-call vet to ask him what to do. He said if we brought her in, he could start her on some fluids and hydrate her. About an hour later Raven was really bad. She was just laying on the floor breathing heavily and she started to have seizures. We called the vet back, and decided to take her in to see if there was anything he could do. When we got to the hospital, the Dr. Could barely find a pulse there was so much fluid build up again. He said that fluid had gone into her chest and caused heart failure. He said possibly, he could drain the fluid again and start iv's to stablize her, but that we would be back in a few days with the same problem. She was already half way gone. So we decided to let her go.

Raven has taught us so much in life.. as our "1st baby" as a married couple she taught us trust, patience, loyatly, love, and she brought us so much laughter! Rest in Peace our Sweet Ravey-Tavey!!! Until we meet again in Heaven know that you are missed greatly and loved deeply!!!

Forever Loved and never forgotten...
Your Mommy and Daddy, and brother AJ

(Click on picture to write to Raven's family)






In loving memory of Nikki

19 Dec 1997 - 26 Apr 2005

Nikki was put to sleep because of liver failure. A week before one of her blue eyes had turned a shade of green. There hadn't been any apparent indication of the disease before that. Though the Vet tried to help her there was just nothing that could be done at that stage. It all happened so fast.

Nikki was our first Siberian Husky. We have two more Siberians named Gypsy and Sky but now there is still a hole that will never be filled. She was only seven when this all happened and has been gone for almost two years now but we still miss her dearly. She was my constant walking companion and she taught us so much.

Lovingly missed and never forgotten by

Paul and Judi


(Click on picture to write to Nikki's family.)






Tiger
Sept 20th 2002 – Oct 30th 2008
Liver disease took you from our family way to soon. In the time we had with you Tiger you brought a lifetime of joy to our family. You were a happy, intelligent, funny, loyal, food foraging friend. We will miss you in the house but know your spirit lives on in all of our hearts.
We will see you at the Rainbow Bridge….and can't wait for the "AAARRROOOO" when you come running up.
Love….Mom, Dad, Sidney, Rich, Cooper and Ryan

Click here to write to Tiger's family.

Skittle-Butt
Liver Failure

April 1, 1993 - January 29, 2009
Lovingly Missed by Suzzann and Family
Mo
Lepto and Hepatitis
05/17/98 – 05/20/09
I ONLY WANTED YOU
They say memories are golden
well maybe that is true.
I never wanted memories,
I only wanted you.
A million times I needed you,
a million times I cried.
If love alone could have saved you
you never would have died.
In life I loved you dearly,
In death I love you still.
In my heart you hold a place
no one could ever fill.
If tears could build a stairway
and heartache make a lane,
I'd walk the path to heaven
and bring you back again.
Our family chain is broken,
and nothing seems the same.
But as God calls us one by one,
the chain will link again.
Author unknown

Tam & Mo, forever in my heart
He is your friend, your partner, your defender, your dog.
You are his life, his love, his leader.
He will be yours, faithful and true, to the last beat of his heart
. You owe it to him to be worthy of such devotion.

Click here to write to Mo's family.
Josey Wales 10-25-2000 to 6-21-2010
Josey Wales was a great lovable Tibetan Terrier born on October 25, 2000. He came to our home in Florida at just 8 weeks old shipped from his breeder in the wine country in northern California. He arrived on a plane into Miami International Airport on Christmas eve.
Right from the start you were such a wonderful addition to our family. You were so smart that you knew all of the commands both verbal and hand signals by the time you were only 4 months old. Down Sit Stay Heel Jump Shake Over and much much more. You learned quickly because all you ever wanted to do was to please us.
You were taken way too early at only 9 years and 8 months. You masked the fact that you were dying from liver desease right up to the very last minute.
We are devestated to lose you so early and so suddenly. There are not enough words to describe how much we love you and always will. You will never be forgotten and we are looking forward to the day that we will once again be with you. We know you are waiting just like you did by the door every time we left the house.
Even though you came from a long line of champions all we wanted was for you to be a pet - but the real truth is you were the champion of all champions and will remain in our hearts forever untill that day that you come running up the path and jump back into our arms.
We All Miss You terribly Josey Wales - Jan, Bill and Aimeel lou

Click here to write to Josey Wales's family.
Rascal: May 2008 - July 20, 2010
Such a sweet sweet boy that loved to cuddle. He was greatly loved from the moment he was born.
Anita & John Pryjda

Click here to write to Rascal's family.
Gingers "Autumn" Gold aka Auti
Born March 17, 2002 - Died March 02, 2011
Liver Disease
Wait for us our beloved and we'll go hunting and fishing together once again.
Love Mom, Dad and Winnie. Cuddling in heaven with Sage kitty.

Click here to write to Autumn's family.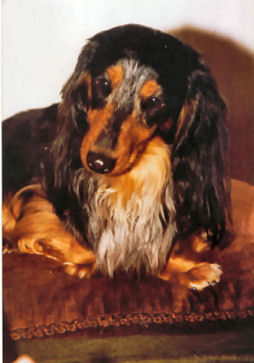 Sami
30.09.1991 - 22.12.2001
Pheno-induced liver disease.
Darling Sami, a miniature longhaired silver dapple Dachshund.
Came to us at nearly 3 years of age, after his human mummy had died. Two months later he had his first epileptic seizure - our fourth epi dog.
He was our first dog which needed medication but it ended up killing him seven years later, just after his 10th birthday.
A wonderful, wonderful boy, sweet, polite, gentle, adored by everybody.
A Bridge Called Love
It takes us back to brighter years,
To happier sunlit days
And to precious moments
That will be with us always.
And these fond recollections
Are treasured in the heart
To bring us always close to those
From whom we had to part.

There is a bridge of memories
From Earth to Heaven above…
It keeps our dear ones near us
It's the bridge that we call love.
***************************************
Forever loved by Jean and Brian Collinson in Oldham, England, Great Britain.

Click here to write to Sami's family.
Belle

2003-12/15/2011 liver disease
The happiest yellow lab mix who loved her Fatha with all her heart. When will our pain go away? When you greet us someday....in heaven. Always loved and forever missed...taken too soon from your family. You were diagnosed on 12/6/11 and only stayed with us for 3 more weeks. You were a great trooper. Someday......we'll hear your growl when you show us your favorite toy...Bitemeez...at the Rainbow Bridge.
Love forever,
Mommy, Fatha, Nooknook, and Voodoo.
Zorka
02/15/03 - 07/14/12
I will lend to you awhile a Borzoi pup, God said,
To cherish while he lives, and grieve for when he's dead.
His stay may be for twelve long years, or maybe just for three,
But will you, 'till I call him back, take care of him for me?
He'll bring his charms to gladden you, and if his stay is brief
You'll always have his memories as solace for your grief.
I cannot promise he will stay, since all from Earth return.
But there are lessons he will teach, and from him you must learn.
Now will you give him all your love, not think the effort vain,
Nor hate me when it is time to take him back again?
I said "Dear Lord, I'll give him all my love until his life is done.
For all the joys this pup will bring, the risk of loss I'll run.
I'll shelter him with tenderness, and love him every day.
For all the time I have with him, forever grateful stay.
But should you come to call him back much sooner than I planned,
I'll brave the bitter grief that comes, and try to understand.
When my beloved Borzoi boy departs this world of strife,
I'll ask you for another pup, and love him all his life."
---adapted from Jill Harwood's "An English Cocker"
Love, Donna
Click here to write to Zorka's family.
Buster


Jan 2002 - Aug 14,2012
Total Liver Failure
Died 10 days after diagnosis


Click here to write to Buster's family.

He was a dog, proud and willful yet kind and giving, Always faithful with a joy of living. His health was frail but his spirit was strong. He was a precious one of a kind. He gave his all. Now he is gone. But in the minds and hearts of those who loved him his memory forever lingers on. We look forward to the day when we wil meet with him again, one day by that blessed shore past the rainbow bridge.

Loved by Brian and Mary









BOYJOY
(1996-2014)
My faithful companion. You brought me years of comfort and joy!
Phyllis
Thank you for visiting, please come back again!

Click here to join the Canine Liver Disease List
View My Guestbook
Sign My Guestbook

Email FiveHuskys to add your dog
to the Memorial Page