DORN ROSCHEN'S CORGIS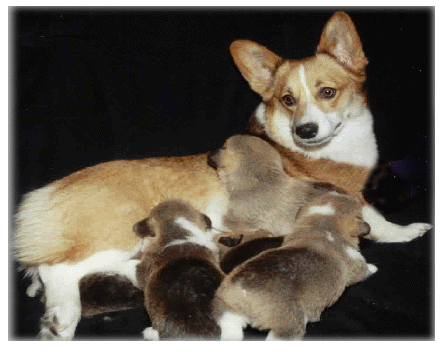 Sassy
Facebook Page
This website is no longer updated, Visit us on Facebook at
Facebook Page
for the most recent updates.
We live on 32 rolling acres in beautiful Loudon, NH and currently own Pembroke Welsh Corgis.
They are the most wonderful dogs. They love to play with the kids but also settle down to cuddle with me. We are striving to breed a sound, healthy and loving pet.
Visit us on Facebook at
Facebook Page
for the most recent updates. Please call or email for more information.
Thank you for visiting our site and we hope you enjoy the pictures of our dogs.
Please come back and visit again!
Tami Lafirira
7649 Currier Rd.
Loudon, NH 03307
603-783-9337
Pembroke Welsh Corgis make great family pets
They are very smart.
They are easy to housetrain.
They love to play and cuddle.
To See Pictures of our Corgis Click Below
Pictures of Puppies We Have Produced
Pictures of Gigi, Tri and Yetta
Pictures of Squeak and Bazoo
Puppies Available for Sale
Pilot's Page (Birdwing's I'm So Fly
Pickles Page (Dorn Roschen's Sweet Gherkin)
Halo's Page (Dorn Roschen's I'm No Angel)

Email: tlafirira@yahoo.com