Welcome to The Bottom of the Spiral
The Last Nine Inch Nails Homepage
SiGn mY GuEsTbOoK
ViDy mY GuEsTbOok
The Bottom of the Spiral was last updated Aug. 30, 2001
---
Updates:Hey, what's up?! Well, i still haven't updated this page yet, but i plan on working on some more keyboard tabs this weekend. I've been reading my guestbook regularly and i would just like to thank everyone who signed it and say that i really appriecate all your nice comments. And for those of you who DIDN'T sign it, well..... ummm....you suck, i guess.
---
Don't fOrget To CAst YOur Vote In
The BotToM of tHe SpiRal Monthly POll!!
Viddy Last Months Poll Results
Everythings blue in this world
The deepest shade of mushroom blue
All fuzzy
Spilling out of my head...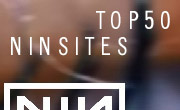 This site is beaten and abused by SorRow NiGhtShaDe