Welcome back to the 19th Century!


"Nothing in life is to be feared.
It is only to be understood."

Be Proud of your SOUTHERN HERITAGE!
PLEASE SUPPORT your local

Sons of Confederate Veterans
This Web Page was created to provide and share information pertaining to the North Carolina 13th Infantry Battalion, 27th, 66th and 67th N.C. Infantry Regiments of the Confederate Armies which my Great-Great Grandfather,
his two brothers and numerous cousins served during

"THE WAR BETWEEN THE STATES".
If you had an ancestor that served in any of the above mentioned Units, Please take the time to sign my:




Also, If you have any information that you would be willing to share about your ancestor or his unit, Please go to my

Descendants Page.


Do you have any Questions pertaining to this site that you'd like answered?


Questions and Answers

ABOUT MYSELF:
I am the Great-Great Grandson of PVT. Richard Walters Sutton, Sr. who served in Company C, N.C. 13th Infantry Battalion and Company E, 66th N.C. Infantry Regiment, C.S.A. A proud member of: The Private Wallace Bowling Camp #1400 (S.C.V.) in LaPlata,MD.
Im also a active associate member of: Maryland Line, C.S.A.(S.C.V.) Camp # 1471 (Upper Marlboro,Md.) and a member of:
The Point Lookout P.O.W. Organization.

History and Rosters:
8th Partisan Rangers (Brief History)
13th Infantry Battalion
27th Infantry Regiment, Company C
27th Infantry Regiment, Company D
66th Infantry Regiment
67th Infantry Regiment

Captain Croom's Company North Carolina Local Defense
(Kinston Guards, Kinston Provost Guards)
History and Roster of this Unit is provided via the Pate Family Website.

Portraits of Confederate Officers:
Lt.Gen.A.P. Hill
Gen.Joseph E. Johnston
Gen.Robert E. Lee
Maj.Gen. William Mahone
Col.John S. Mosby
Brig.Gen."JEB" Stuart
WAR FOR SOUTHERN INDEPENDENCE PAGE

A webpage created by William F. Parrish,III
which is mostly Georgia Related.

Poetry And Music Of The War Between The States
A "Award Winning" webpage created by Kathie Fraser.

N.C. Division Of Archives and History
This site contains a wealth of information.

Rebyll's Confederate Homepage
A good site which has some nice links.

The Confederate Site of America
Want to look up your ancestor? This is the site to go to.


North Carolina Cities ( 2000 )

Maryland Cities ( 2000 )
My E-Mail address is: scvtom@hotmail.com
Southern Organizations
The United Daughters of the Confederacy
Heritage Preservation Association
The Southern Traditionalist
[ Previous Two | List | Join | Random | Next Five ]
This Dixieland Ring site is owned by Tom Sutton, Jr.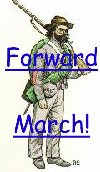 This Regiments of the Confederate Army site is owned by Tom Sutton,Jr .
[List Sites]
"Civil War Screen Savers from Hesed Interactive".
"Honorable American Flags"