BEIJING-JEEP and BAW
Beijing, one of China's largest automotive producers, was originally set up in 1958. But that's not important. The important thing is that in 1983, Beijing set up Beijing-Jeep, it's first partnership with a foreign company (Jeep). Beijing Jeep produced and still does today the BJ2020. BAW is another subsidiary of Beijing. They produce the BJ2020 pickup, which you will see along with some other pickups produced by these companies. So, while maybe not real Jeep pickups, they are pretty neat and I hope that you enjoy them. The BJ2020 series of vehicles remains the last soviet-influenced vehicle design still in production in the People's Republic of China, it being a copy of the UAZ 469.
Some kind of BAW pickup I've never heard of. I found it on their website but I can't read Chinese so I don't know what it said.
A BAW Jeep BJ2032. It has a "crew cab" and a soft top. I don't know if a hardtop is available. It has been produced since 1996. To see technical specifications for this vehicle click here.
Sorry that this picture is so small. It was the best picture I could find of the BJ1021 (top). It is a soft top and I don't know if there is a hard top. It has been produced since 1983. It shares mechanics with the BJ2032.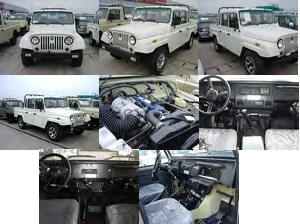 Actually there is a hardtop. It is called the BJ2032. Note the Jeep-like grille.
This is the BJ2032ZU1. This one does not have a crew cab. I am pretty sure that this truck shares the same mechanical specs as the crew cab. This truck has been in production since 2003.
This truck is called the BJ2032ZF1. This is the soft top version and it appears to have more of an upscale interior package, judging by the vast expanses of fake wood.
The hard top version, called the BJ2032ZE-SE. This and the above pickup have been produced since 2002.
<![if !vml]>
<![endif]>
A Beijing Jeep toy that recently surfaced on Ebay. The article that the seller had written disclosed nothing besides the fact that it was, well, a toy.
<![if !vml]>
<![endif]>
This is another Beijing Jeep toy that was sold by the same seller and had the same article. However this one is a pickup which was apparently used as a promotional object for coca-cola. Note that there are still 4 doors on the body of the vehicle although this is a pickup. It appears to have been made by the same manufacturer as the other toy.
Quite recently, this Beijing Jeep BJ212 was on ebay, and as can be seen in the slide show, it came with many extra parts and was in very good shape.
To go back to index, click on the Jeepney