JEEP AUSTRALIA
Willys took over the import and assembly of Jeeps in Australia in 1958 until about 1968, by which time it had been taken over by Kaiser and the numbers of sales started falling.. During this time 1 FC-150, 126 FC-170s, 527 J-trucks, and 1560 "Overlanders" (includes CJ-5 and CJ-6, which it was based on.) The logo used by Willys/Kaiser Australia is the smaller circular "Australia Made" one that can be seen at the top of the page. After this, some Jeep exporting to Australia was still carried out by a number of people, but none authorized by now-owner AMC. That all changed in 1980 when the J-10, and J-20s (which were actually built in Australia) as well as many other Jeep models, were again brought to Australia in sizeable numbers, the logo of which can be seen on right at the top of the page. Also included was a strange pickup called the CJ-10, that was only sold in the US as an aircraft tug. This can be seen on the AMC page. But the import of Jeeps stopped in 1984 again because the dropping rates of the Australian dollar made them too expensive.
Special thanks to Derek Redmond and the CJ-3B page for some of these pictures and information.
<![if !vml]>
<![endif]>
This is a right hand drive Jeep Gladiator made in Australia. Actually it is probably a J-10 or some other J-designation truck. Anybody have any information on the Jeeps that were produced in Australia, specifically the Gladiator? Note the large grill guard and wind deflector, as well as the large rear wheel flares. Perhaps this signifies this model as a DRW? You can view the ad for this truck (It is for sale) here.
Site that I got this from says that it's a J-10. It's not. It's called a CJ-10. They were used as aircraft tugs and ammo carriers by the US and Australian armies. They were also sold to civilians. here's a few CJ-10 pictures.
Aussie military CJ-10. The Australian Army tested these vehicles out, but I am not sure whether they were put into service or not.
CJ-10 advertisement from Australia. As can be seen in the top right, there was also a passenger version of the CJ-8 that was offered only in Australia called the Overlander, probably names after the CJ-based pickups that were offered by Jeep Australia in the 1950s.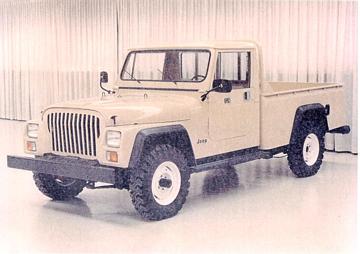 What looks like a pre-production mockup of the CJ-10. This can be seen by how the grille goes up higher than on production models, and there is no word "Jeep" at the top of the grille.
Here is an old brochure from 1963, I think, promoting the Gladiator in Australia.
These are ads for the Overlander, a pickup that appears to be based on the CJ-6. The ads are big so I made a thumbnail gallery for them.
A press kit, I think, for the release of the Gladiator. I found this on Ebay. The seller said that they thought that it was from South Africa, but since I have no knowledge of the Gladiator, or any Jeeps for that matter, being assembled in South Africa, and since the seller was located in Australia, I figured that it was probably Australian.
UPDATE: This brochure is actually from South Africa, and is now featured on the Africa Page.
A new ad that I just found on Ebay. It is for a Jeep Gladiator Australia truck with a dropside bed that looks kind of like a stake bed geared toward farmers. Not that the pictures in this ad are not actually pictures, but drawings. Whoever drew these pictures must have been very talented and very lucky to draw such a great vehicle. If your eyesight is good enough to read the ad, you can tell that it is preaching the basic virtues of the Jeep pickups, from 1963 until production ended. "...Stronger, Tougher, More Powerful, More Versatile, More Economical."
<![if !vml]>
<![endif]>
The cover page
We have recently received quite a bit more information on the CJ-10. It was designed to be a competitor to the Toyota 45-series. Special features of this vehicle include "standard equipment Trac-Lok limited slip diff in the beefy Dana 60 rear axle, galvanized panels in all critical areas, factory-applied rust proofing with a 4-year guarantee, detachable (CJ-type) doors/roof/windscreen and a long wheelbase that provided an exceptionally smooth ride, and a flatter stance when loaded." It was available with Either a Nissan diesel engine or an AMC inline 6. However these features led to the truck costing quite a bit more than its Japanese counterpart, which led to low sales. Thanks to http://www.4wd4sale.com/sitefirstpage.cfm?siteaction=sc2&mid=003&cmid=003.026&scdid=363&sr=1&id=320 for this information. More technical info can be found on the specs page in the brochure above.
This is one of the more unique Jeeps produced in Australia. It's a RHD J-20 double cab built by Queensland Customs in April 1985. It has four wheel drive, an automatic transmission, and a 360 V8. Only 3 of these rare vehicle were built. This was found on Australian Ebay, and according to the seller, is "the best one I've seen" Any more information, pictures, etc. of these rare vehicles would be greatly appreciated.
This is a 1965 Jeep J3000 DRW from Australia that I found on the Australian ebay. It appeared to be in good shape, but the listing said that the vehicle's chassis behind the cab was cracked.
This is a 1954 Jeep Overlander that I spotted on the Australian ebay. The Overlander was a pickup-like vehicle built by Jeep of Australia in the 1960s that was never built in the US.
This is an advertisement for the overlander from the year that it was released. Strangely, this overlander appears to be CJ-based, while the one above appears to be based on a Willys truck.
This collection of pictures is of a 1968 FC that was assembled in Australia. FCs are rare enough as it is, but there were only a few of these vehicles assembled in Australia. This particular vehicle has been equipped with a camper body that appears to be custom built, based off of the kind usually put in the bed of pickup trucks.
These pictures are of a 1986 Jeep J20 that was assembled in Australia. This vehicle has some interesting stripe decals on it that were not ever available on American models, to my knowledge. Also, this vehicle, like many Australian pickups, features a "tray" style body that is not common in America. Whether this is stock or not, I do not know.
(click on the thumbnail to enlarge the image)
This scan from Jeep Junkie Magazine shows the results of a Jeep Show in Australia. The J-series truck at the top left is owned by Rodney Russel, and the J3000 at the bottom left is owned by Rod Jarvis. There is also an FC owned by Dave Parkinson that the magazine claims is an FC160, but I am not sure on that. It is probably a misprint. Either way, Mr. Parkinson owns a very rare vehicle, whether it is an FC160 or Australian-assembled FC.
To go back to index, click on the Jeepney