Western South Dakota Rock Hunting Sites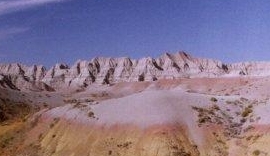 Railroad Buttes Area
Railroad Buttes is still one of my favorite areas.
This area has given up many many Fairburns, and should continue for years to come. There is lots of erosion taking place in this area because of the "Badland" landscape.
To reach RRB from Rapid City, SD, jump on Highway 44 East, for about 15 miles. You will pass through a small farming community called Farmingdale. You will be able to see many Buttes off to your right. When you reach the New Underwood road intersection, turn south onto gravel. This intersection has a small convienience and gas station on the North side of the road. This is the last place to buy those refreshments once you leave Rapid.
Continue South across Rapid Creek and on up to the top on the other side. The Buttes will be off to the East, very visible from the road. There will be a shooting range off to the East and a dirt bike area on the west. Just before the dirt bike area is a trail that goes to the West. If dry, you can drive a vehicle on this trail for about 4 miles. Being National Grasslands, Rock hunting is allowed anywhere from the road you came in on to the West for about 8 miles, and to the East for about 10 miles. Rocks in abundance are on both sides of the road. Don't drive off the trail as the gulleys are always wet, not to mention the cactus, that loves your tires.
If you are feeling more adventerous, continue on the main gravel further South for about 3 - 4 miles. You will come upon a double gate on the East at the top of a hill. Again both sides of the road are good pickins'. You can enter the gates to the East and drive for about 2 miles in an automobile before the going gets rough, and the terrain suddenly changes to "gumbo"! Again, stay on the trail. Further East of this point, is "gumbo city". It may look dry on top, but 1" down it very easily could be "goop"! In "gumbo city" itself, is hill after hill after hill of white gumbo. At the base of these hills is a carpet of Agates, Jaspers, Woods and Fossils! If really adventurous, and you have a 4x4 or an ATV, you can go East for about another 10 miles. Rocks are in great abundance throughout this entire area.
But, "but, I said", if it rains while you are out there, pray for the hot sunshine, cause that will be your "only friend", and is the only way you will get out after it dries! You cannot "dig" your way out. You will come across some old vehicles out there in the gullies if you look for them. They were victims years ago of "gumbo city" and are now part of the landscape. Make sure you have plenty of drinking water along. It gets mighty hot with that white ground underfoot. A 100' nylon rope can come in mighty handy if you find yourself in a valley only 12' down and it rains, providing you have someone on top to tie the rope to your bumper, cause that is the only way back up even on foot if it rains! Be careful out there! We don't want to read about you in the headlines! Go ahead, go get those Rocks!
If you make it to any of the following sites because of this home page, call me at 605 718-9157, if for no other reason than to just say "Howdy Howdy Rockman"! Always time to visit with fellow Rockers! Shucks, I might even meet you out there! Good Rockin to ya!
Grasslands Area, Wall, SD
This is a prime Bubblegum Agate Area. All colors of the rainbow, and all sizes. Bubblegums can be sliced and made into ring sets, earrings, belt buckles, you name it. They have a terrific pattern to them, and will take a very high polish. I would imagine that they were named like they were because they certainly look like discarded pieces of Bubblegum! In many areas in the BGNG you will notice that the rocks are becoming more and more plentiful. Once you have found a "rocky" area the ground is solid agates, jaspers, flint and an occasional Fairburn.
Some places you can find 15-20 rock specimens under each and every step you take. Most of the Jaspers are of a brown tone, but the Bubblegums are delightfully colored!
Remember there are animals, horses and cattle being run in many of these areas. Stay away from them and most importantly, do not feed them.
Always be on the alert for a pesky rattlesnake. This is their home too! In the 25 years of rock hunting I have only came across 2 snakes. Just because you don't see one, does not mean they are not there.
Take plenty of liquids, it always seems to be hot there. This is also Cactus Country, so look before sitting or kneeling! This area is National Grasslands, so rock hunting is allowed. Have a safe and enjoyable time.
More sites coming soon.