Helwan HA-300
<![if !vml]>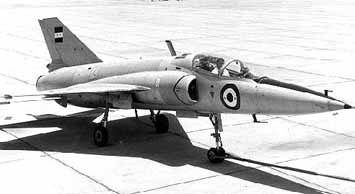 <![endif]>
In the beginning of the sexties Egypt strarted an ambtious project to develop and produce a supersonic fighter with spanich assistance. Willi Messerschmitt the famous greman enginner was responsible for the project, he and his team designed a lightweight supersonic fighter designated as HA-300P. When Spain ended its support to the project the entire Messerschmitt team was moved to Egypt. The Austrian jet enjine expert Ferdinand Brandner was invited to develop a new turbojet for the new fighter.
Test facilities and workshops for the new fighter and engine were built at Hulwan airbase southeast of Cairo. The newly built E-300 jet engine ran for the first time in July 1963, While the HA-300 first prototype made its first flight on 7 March 1964. India helped fund development of the E-300 engine in order to acquire a new power plant for its HF-24 Marut jet fighter.
2 Egyptian pilots were sent to India in 1964 and attended the Indian air force test pilot school to prepare for the HA-300 flight development, India also provided a Marut fighter for the E-300 project. After 1967 defeat continus Russian pressure was made to stop the project and due to financial problemes and the availability of large amonts of Russian fighters the Egyptian government cancelled the project in 1969 when the third prototype with the E-300 had started taxi test already. The programme costed the Egyptian governament more than 135 million Egyptian pounds. And the E-300 engine was used in the Indian HF-24 Marut fighter.
<![if !supportEmptyParas]> <![endif]>