The above face of Jesus Christ (discussion below) is the size the computer chose.
The following similar picture I adjusted to fit my computer display width size.
The following was adjusted for overall display fit.
The Face of Jesus Christ
An ICCDBB Sermon by Dr. Bob Benchoff 11/27/2002.
Updated 8/13/2008 (see bottom of page).
I believe the above is an accurate or very close representation of how Jesus Christ looked and possibly looks now.
Through faith it is given by God that the mysteries of God may be revealed. So now we have the above, and in the future we will surely have much more: thank you Jesus Christ.
Someone once asked what good could come out of Nazareth? Then to that person came Jesus Christ.
Today we can ask what is the best that forensics can produce? Now we find reliable recreation of features the same or similar to Jesus Christ.
We thank those financiers of the forensics specialists for their works, and of course Popular Mechanics (no affiliation, although they provided this information to Dr. Bob Benchoff gratis) for publishing same.
It is important to note that the above depictions are more likely of the average Semite of the period, and less of the personage of Jesus.
Many people have tried to capture the image of Jesus in art, pictures, and on film, based on a variety of reasonings. Depiction of a person is one matter, depiction of a heavenly body is another matter altogether.
How Jesus looked when baptised, during the transfiguration, or during ascention into heaven, may be quite different than shown above; possibly beyond human communication abilities.
Here is a depiction of Christ coming to people from heaven.
The preceeding picture is from the Book of Mormon: accurate perhaps, although relatively devoid of facial features.
Here is a picture of the Shroud of Turin, called a fraud by Popular Mechanics, and the facial features of the Shroud were evidently not used for the above Semitic profiling. Stated elsewhere by various separate sources is information supportive of those ideas.
The following are some other depictions of Jesus Christ (inclusive of above sources and also the Revised Standard Version of the Bible).
Above Jesus ordaining. Below the brother of Jared seeing the finger of the Lord.
__________________________________________________________________ Update 8/13/2008: More pics of what people imagine is the representation of the face of Jesus: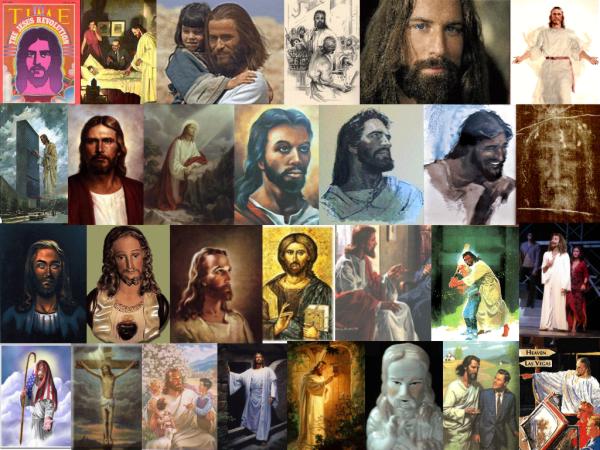 __________________________________________________________________
To visit the Main Site of the Internet Church of Christ founded by Dr. Bob Benchoff, click here.
To visit the second page of sermons of the Internet Church of Christ founded by Dr. Bob Benchoff, click here.