Parts List
[Introduction] [Parts Selection] [Parts List] [Specifications] [Preparation] [Assembly] [Installation] [Results] [Updates] [FAQ's]

Bottom end

Junkyard '00 Jeep 4.0 I6 short block (incomplete): $147
Reground AMC 258 crankshaft #3214723 & Clevite 77 rod bearings #CB-960P-20(6): $77 from E-bay
Federal Mogul main bearings #FM7211M.030: $35
Crankshaft rear main seal #05018594AA: $7
Crankshaft pilot bearing #53009180AB: reused
Reconditioned AMC 258 connecting rods: $76 from E-bay
ARP rod bolts (AMC 258) #112-6001: $35 from Fast Engine Parts
Sealed Power 677P +0.020 pistons #STL-677P20: $90
Hastings +0.020 cast piston rings #667: $30
Clevite 77 camshaft bearings #SH-549S: $17
Crane camshaft CRN-753905 & lifters CRN-99278-12: $179 from Summit Racing
Main bearing studs: stock '00 reused
Main bearing girdle & retaining nuts: stock '00 reused
Main bearing girdle spacer kit (14 hardened 5/16" steel washers): $1
Crankshaft sprocket #53020443 & timing chain #53020444: stock '00 reused
Camshaft sprocket #53020445: stock '94-'98 $27
Camshaft sprocket bolt #83502890 & washer #J3173284: stock '92 free with block
Crank harmonic damper #33002920T: $29
Crank pulley spacer: free
Pioneer brass freeze plugs x7: $7
Oil pan: stock '92 free with block
Oil pump: stock '00 reused
Victor Reinz lower gasket set #CS-5713X: $29

Top end

Cylinder head (spare '92 DIY ported): effectively $293*
Valves: spare '92 reused*
Head bolts: stock '00 free with block
Pushrods: stock '92 free with block
Mopar Performance valve springs #5249464, retainers #4452032, & locks #4529218: $153 from The Moparts Connection
Stock 1.6 ratio rocker arms: stock '92 free with block
Valve cover: stock '92 free with block
Victor Reinz upper gasket set #HS-5713Z: $45

Miscellaneous

Distributor Lucas #53006150: stock '92 reused
Oil filler cap #53020555: $6
Flowkooler high-flow water pump #1747: $111 from Flowkooler
Robertshaw 180* thermostat #330-180: $10 from Flowkooler
Mopar oil filter #5281090: $7
Champion RC12LYC spark plugs: $9
Mopar serpentine drivebelt #53010269: $35

Engine Shop Work

0.020" cylinder overbore & hone
Press in new cam bearings
Press pistons onto rods
Regrind valve seats
Clean, polish, & lap valves
Acid dip valve cover
Press freeze plugs into block
Cut crank pulley spacer

Parts cost: $1455
Engine shop cost: $118
TOTAL GROSS COST: $1573
Sale of old 4.0 engine & parts: $602
TOTAL NET COST: $971

*Cost of '95 junkyard head with valves that I bought, DIY ported, and bolted onto my old 4.0L engine last year (includes hot tank, milling of head surface, and Standard Abrasives head porting kit). I was left with my original '92 head and valves as spare parts. I ported this head and used it for the stroker build-up.

It cost me $1573 to build a complete stroker long block from scratch and I recouped $602 by selling my spare old 4.0L long block, so total outlay was effectively $971. If I'd reused the stock '00 camshaft, '00 camshaft sprocket, and stock valve springs/retainers/locks to build a "poor man's" stroker instead of adding performance items, my total outlay would have been $290 less at just $681.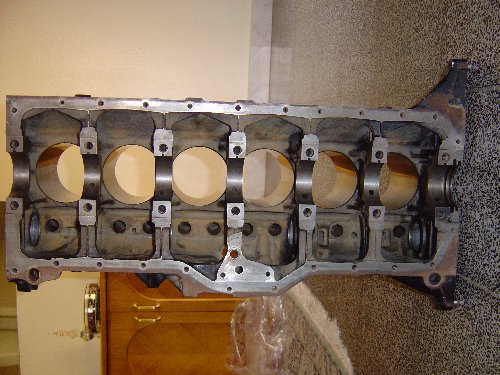 Block viewed from below. The '00 4.0 block has seven main bearings and uses a main bearing stud girdle to add rigidity and reduce NVH. The main bearing caps are bolted to the block with studs that have extensions onto which the girdle slides into place.

The girdle is secured with nuts that go onto the main cap stud extensions.
The pads on each side of the stroker crankshaft's no.2 and no.5 rod journals interfere with the girdle, so the girdle has to be elevated by using 5/16" hardened steel washers as spacers to provide the necessary clearance.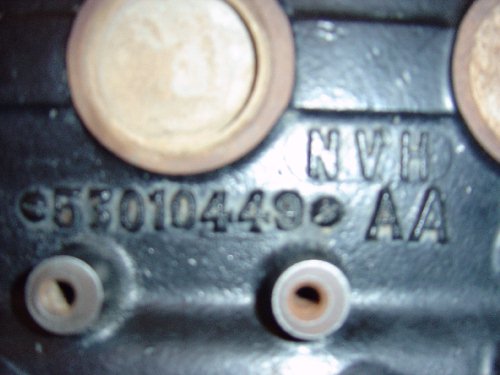 '99-'04 4.0 blocks have casting no. 53010449AA. The NVH stamp signifies that the block has the noise, vibration, and harshness fixes that Daimler-Chrysler introduced in '96.