My Picture Page
Types Of Pictures
Welcome To My Picture Page
A Friendly Door Greeter
Relaxing On The Job
Sittin By The Waters
A Sparkling Moment
My Lovely Teddy Bear
Andy is my brother, we share a house together. We both work at WAL~Mart. Andy works at the produce department. Let me know how you like us in our tuxes.
ANDY and RALPH IN TUXES AT A WEDDING
(Andy)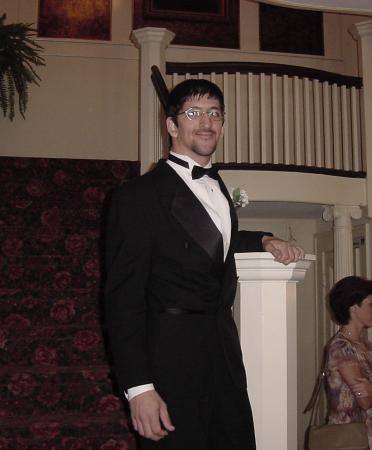 (ME)
This is a picture of my niece and I when she was born. Her name is Phoebe Morgan Hall. She weighed at 7 lbs 13 oz and 19 inches long. I am a very proud uncle and the very first night i saw her i got to feed her. She is so precious like an angel sent from above.
UNCLE RALPH and PHOEBE
These next two pictures taken at walmart 12-27-03.
My Favorite Web sites
Email: rufieo27us@yahoo.com