Ustad Alla Rakha, 1919 - 2000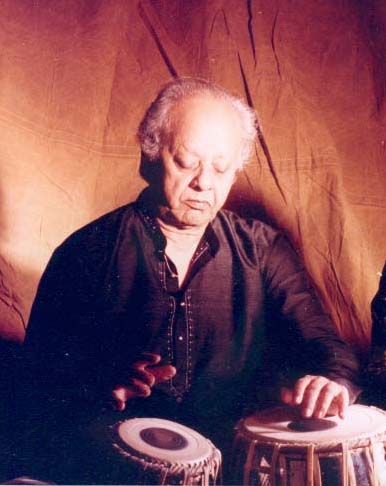 Alla Rakha Qureshi was a farmer's son, born on April 29, 1919 and grew up in Phagwal village of Jammu, 80 kms from Lahore. His first tabla teacher, Lal Mohamed, was a disciple of Mian Qader Bakshi, a leading musician in the Punjab gharana. When he was 12 he ran away from home to study with Mr. Bakshi in Lahore, in what is now Pakistan.
He began performing on Lahore Radio, and in 1936 he moved to Delhi to work for All India Radio, and then to Bombay. During the 1930's he studied raga singing with Ustad Ashiq Ali Khan of the Patiala gharana.
In 1943 he began working in the Bombay film industry as a music director for Rangmahal Studios, and he provided music for two dozen films in Hindi and Punjabi.
He performed with Ravi Shankar, who also worked for All India Radio, in the 1940's, and their partnership carried Hindustani classical music beyond India's borders. He also bridged the gap between Carnatic music and Hindustani music by performing with both reknowned Carnatic musicians as well as Hindustani.
For years he had devoted much of his time to teaching and he ran a music school, the Alla Rakha Institute of Music, in Bombay. Along with his three sons Zakir Hussain, Fazal Qureshi and Taufiq Qureshi he estimated that he had hundreds of students all over the world.
Thankyou Khansahib for all you have given us, please guide us with your spirit, health and happiness to your family.
May you always be remembered.