2004 GEORGE W. BUSH
WEB PAGE.

~~ 43rd President of The United States.

~~Re Elected to Second Term on November 3rd, 2004.

___*___

BIRTH: July 6th, 1946.
FIRST LADY: Laura Bush.
FIRST DAUGHTERS: Jenna & Barbara (Twins).

* * *

HAIL TO THE CHIEF.
Listen to Recording.
* * *

Hail to the Chief we have chosen for the nation,
Hail to the Chief! We salute him, one and all.
Hail to the Chief, as we pledge cooperation
In proud fulfillment of a great, noble call.
Yours is the aim to make this grand country grander,
This you will do, That's our strong, firm belief.
Hail to the one we selected as commander,
Hail to the President! Hail to the Chief!

__________*__________

Arnold Schwarzenegger's Chant at 2004 Republican Convention:

Four More Years!
Four More Years!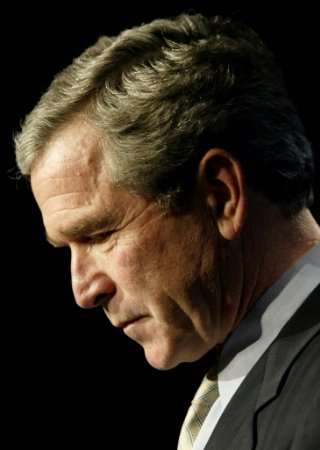 November 3, 2004--Won 2004 Election (against
Senator John Kerry) with 274 Electoral
Votes!
_____*_____

"Right On, Lara!" (Editorial):
____________________*____________________

Fourth of July Guestbook:
Read my Dreambook guestbook!
Sign my Dreambook!
Guestbook for World of Bill Baxter, DTM:
Visit "My Heroes Have Always Been Cowboys."

******************************************