Meet the Dukes.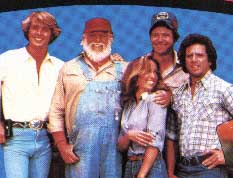 ************************

Bo & Luke Duke: They were co-drivers and owners of "The General Lee." They were the key persons in fighting the corrupt system, run by Boss Hogg and Roscoe P. Coltrane, in Hazzard County. Having been put on probation for running moonshine, Boss Hogg's and Sheriff Coltrane's daily agenda was always the same--"Nail them Duke Boys!" Boss Hogg and the Sheriff would always engineer ways to entrap Bo and Luke into violating the terms of their probation, so that they would be carted off to jail, leaving Boss Hogg and Sheriff Coltrane free to carry on with their crooked dealings without anyone to stand in their way. However, Bo and Luke always seemed to break away from Boss Hogg's and Roscoe's snares, and foil their crooked dealings all at the same time, with the help of their Uncle Jesse, their Beautiful Cousin Daisy, their pal, Crazy Cooter, and most of all, The General Lee.


************************

Daisy Duke: At one time she was "Miss Hazzard County." She worked as a waitress at The Boars Nest, a bar owned by Boss Hogg. When she wasn't waiting on tables, she would be singing The National Anthem at Boxing Events, and helping her two cousins, Bo & Luke, fight the system. She later became a PhD. Candidate in Botany.


************************

Jesse Duke: Head of the Duke Clan. Everyone called him "Uncle Jesse" even if Jesse Duke wasn't their uncle. He was a former "Ridge runner" and he made moonshine at one time, until he made an oath to The President of the United States not to make anymore. After that, he never violated his oath to The President. Most of his time was spent helping his nephews and friends stay out of the clutches of Boss Hogg and Sheriff Roscoe P. Coltrane.

**************************

Coy & Vance Duke: They replaced Bo & Luke when Bo & Luke went on the NASCAR Circuit. Coy and Vance were even harder for Boss Hogg and Roscoe P. Coltrane to handle, then Bo and Luke were.
****************************

FOLKLORE TRIBUTE TO THE DUKES OF HAZZARD GUESTBOOK:
Read my Dreambook guestbook!
Sign my Dreambook!
Please Visit "Anaheim Angels Forever!"
Cyber World According to Bill Baxter, DTM.