ROBERT J.R. GRANDY - Organist and Composer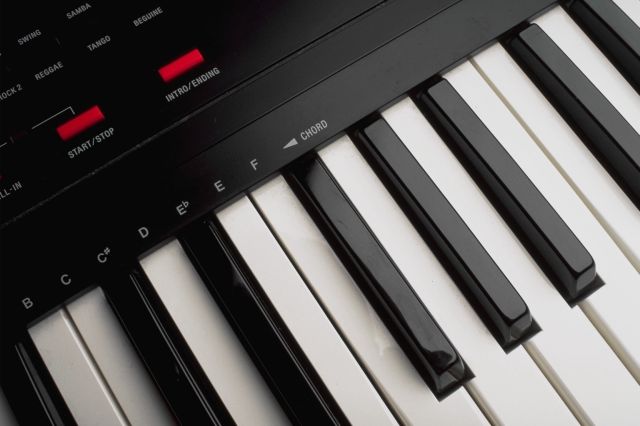 Robert J. R. Grandy
Minister of Music
Trinity United Church
360 Reid Street
Peterborough, Ontario, Canada
Home: (905) 885-6869
Office: (905) 885-6948
Church Phone: (705) 743-3301
mail@robertgrandy.com

Welcome to my new Home Page! Please visit this site again. I am always updating it. Scroll down for a list of my compositions.

---
***LATEST NEWS***
---
ABOUT ME

I have lived in Port Hope for most of my life now. After studying piano and organ locally, I attended York University in Toronto to continue my studies in Music and French. At this same time, I became Organist at St. Paul's Presbyterian Church in Port Hope, my first church position. Since then, I have been the Organist at Harmony United Church in Oshawa; Organist-Choirmaster at St. Mark's Anglican Church here in Port Hope from 1981 to 2004; Director of Music at Wexford Heights United Church in Scarborough from February 2004 to June 2005. On July 3rd, 2005 I was appointed Director of Music at Trinity United Church in Peterborough. Several years later, I became the Minister of Music at Trinity.

In the 1990's I resumed organ lessons and received the "Service-Playing Diploma" from the Royal Canadian College of Organists. A few years later I attained the Degree of "Colleague" with the RCCO, winning scholarships on both occasions for the highest marks in Canada in those years. I was honoured to have my degree presented to me at my own church during the National RCCO Convention which was held here in Port Hope in 1996. I was one of the founding members of the Northumberland Centre of the RCCO, and served for several years as President of the Centre, and as Treasurer.

For many years I was a local piano, organ and theory teacher, as well as a free-lance accompanist. I have had a thirty-year-long relationship with the Oriana Singers of Northumberland - as a chorister, as Music Director for two years, and currently as Accompanist. I was also the Accompanist for the Upper Canada Boy Choir for two years.

Composition has always been a hobby of mine, and over the last ten years or so, I have turned my attention more seriously to it. Many of my choral works have been sung by various local church and community choirs, such as the Choirs of St. Paul's Presbyterian, Harmony United, St. Mark's Anglican, Wexford Heights United, Trinity United, and by MusicMakers and the Oriana Singers of Northumberland. My 1997 Cantata, "Music for a Saintly Celebration" was premiered during the 175th Anniversary of St. Mark's.
Another larger project was a set of "Seasonal Prayers" for choir, which was sung throughout 2000 at St. Mark's, as my own special Millennium project.

The Oriana Singers premiered another large work of mine, entitled "The Advent Antiphons", for choir, organ and handbells, as well as other commissioned pieces. Several of my choral works were also sung by the Woodstock Fanshawe Singers.

Along with this busy musical career, I hold the full-time position of Information and Privacy Coordinator with the Port Hope Police Service. In addition to this, I am also the Coordinator of the Northumberland Screening Program, a service which provides Criminal Record Checks to individuals for hundreds of organizations, agencies, businesses and companies across Canada. In amongst all this, I do indeed find time to spend with my wife, Barb; our son, Matt, who works from home as the Owner and Lead Developer of a Canadian software development company; and with Maggie and Abbie, the family cats.

---
MY CHORAL COMPOSITIONS

ADORAMUS TE, CHRISTE, Op. 81 (ancient text) / SAB, a cap
(Premiered March 11th, 2007 by Trinity United Church Choir, Peterborough, Ontario)

ADVENT ANTIPHONS, Op. 55 (ancient texts) / SATB div, soloists, organ, handbells
(Premiered Nov 2000 by the Oriana Singers)

AMOR PATRIS ET FILII, Op. 9 (12th Century / SATB, a cap)

ARBOR AMORIS, Op. 71 (Text: Francois Villon / SATB, piano)
(Commissioned by the Oriana Singers for their 2005 Spring Concert)

AVE VERUM, Op. 118 (SATB, a cap)

BLAKE'S CRADLE SONG, Op. 38 (Text: William Blake / SATB, a cap)
(Premiered Nov 1993 by the Oriana Singers)

BLESSING AND BENEDICTION, Op. 82 (SATB, piano)
(Commissioned by the Oriana Singers for former director Marie Anderson's farewell concert May 2007)

BLEST ARE THE PURE IN HEART, Op. 106, #1 (Text: John Keble / SATB, a cap)
(Written for Trinity United Church Choir. Premiered October 2012)

CANTATA: "A Saintly Celebration", Op. 47 (various authors / SATB,Soprano,organ)
(Premiered by St. Mark's Choir, Nov 1997)

CANTICLE: "A Song of Praise", Op. 13 (SATB, opt acc)

CAROL OF THE FIELD MICE, Op. 51 (arr.) (SATB, piano)
(Premiered in Nov 1999 by the Oriana Singers)

CHRIST WHOSE GLORY FILLS THE SKIES, Op. 33 (Text: Charles Wesley / SATB, a cap)

CHRIST, LET US COME WITH YOU, Op. 48 (Text: Shirley Murray / SATB, a cap)

CHRISTMAS INTROIT, Op. 26, #1 (SATB, Cantor, a cap)
(Premiered by St. Mark's Choir)

COME, HOLY GHOST, OUR SOULS INSPIRE, Op. 21 (arr. of Cabezon) (SATB, a cap)

COME, MY WAY, MY TRUTH, MY LIFE, Op. 34 (Text: George Herbert) (SATB, a cap)
(Premiered by the Oriana Singers)

CREATE IN ME A CLEAN HEART, Op. 38, #1 (from Psalm 51)
(Short introit for SATB a cap)
(Premiered by Trinity United Church Chancel Choir, Lent 2007)

CRUX FIDELIS, Op. 25 (SATB, a cap, opt soli)
(Premiered by MusicMakers)

DROP, DROP, SLOW TEARS, Op. 54 (Text: Phineas Fletcher) (SATB a cap)

EIGHT SEASONAL PRAYERS, Op. 52 (various) (SATB, a cap)
(Premiered by St. Mark's Choir, Jan-Dec 2000)

EPIPHANY SENTENCE, Op. 26, #2 (SATB, Cantor, a cap)
(Premiered by St. Mark's Choir)

EVERY STONE SHALL CRY, Op. 32 (Text: Wilbur Held / SATB, a cap)
(Premiered by MusicMakers)

FIVE LENTEN SCRIPTURE SENTENCES, Op. 92 (various voices, a cap)
(Premiered by Trinity United Church Chancel Choir, Peterborough during Lent 2008)

FOUR POEMS OF MARJORIE PICKTHALL, Op. 60
1. The Lamp of Poor Souls (SATB, a cap)
(Premiered by the Oriana Singers, Nov 2002)
2. Vision (SATB, piano)
3. Song (SATB, a cap)
4. Exile (SATB, piano)

GARLAND OF FLOWERS, A, Op. 63 (Text: Frank McGhee)
1. The Iris (SATB, a cap)
2. The Rose (S/A, piano)
3. The Lily (Solo voice, piano)
4. The Poppy (SATB, a cap)
(#1 & #4 premiered by the Oriana Singers, June 2003)

GOD IS OUR SONG, Op. 65 (Text: Fred Pratt Green / SATB, organ)
(Premiered by a Massed Choir for the 70th Birthday Celebration Concert for Ruth Watson Henderson in 2003)

HARVEST SONG, Op. 104 (Text: John Monsell / SATB, a cap)
(Written for Trinity United Church Choir. Premiered October 2011)

HE WAS DESPISED, Op. 20 (arr. fm Messiah) (SAB, organ)
(Premiered by St. Mark's Choir)

HOW FAR IS IT TO BETHLEHEM, Op. 49 (arr. English Carol) (Frances Chesterton / SATB a cap)

HOW SWEET THE NAME OF JESUS SOUNDS, Op. 79, #3 (Text: John Newton / SATB, a cap) (Short Introit, premiered October 2007 by Trinity United Chancel Choir)

HURON CAROL, THE, (arr.) Op. 89 (Text: Jean de Brebeuf / Unison, organ, flute)
(Premiered by St. Mark's Youth Choir)

I CRY TO THEE, Op. 66 (Dietrich Bonhoeffer) / SATB, piano and organ)
(Premiered at the October 2003 Northumberland Hospice Concert)

I LIFT UP MY EYES TO THE HILLS, Op. 40 (SATB, organ)
(Premiered by St. Mark's Choir / written for the funeral service of chorister Paul Duchesne, Sept 1994)

I'LL PRAISE MY MAKER, Op. 5 (arr.) (John Wesley; Isaac Watts / SATB organ)
(Premiered by St. Mark's Choir)

IF WE WALK IN THE LIGHT, Op. 44 (Text from 1 John 1 / SATB, organ)
(Premiered by St. Mark's Choir / written for the Induction service of the Rev. Tom Little 1996)

INFANT KING, THE, Op. 8 (arr.) (Rev. S. Baring-Gould / SATB, a cap)

INTROIT: "Dum medium silentium", Op. 43 (SATB, a cap)
(Premiered by St. Mark's Choir)

JESUS, THE VERY THOUGHT OF THEE, Op. 28 (St. Bernard of Clairvaux / SAB a cap)

JESUS, THE VERY THOUGHT OF THEE, Op. 29 (St. Bernard of Clairvaux / SATB a cap - different from above)
(Premiered by St. Mark's Choir)

KEEPING QUIET, Op. 124 (SATB div and piano)

LAMB OF GOD, PURE AND HOLY, Op. 84 (arr. ) (SATB, a cap)

(Premiered by Trinity United Church)

LET ALL MORTAL FLESH KEEP SILENCE, Op. 31 (arr.) (Liturgy of St. James / SATB div, a cap)
(Premiered by MusicMakers)

LO, HOW A ROSE E'ER BLOOMING, Op. 17 (arr.) (SATB, a cap)
(Premiered by St. Mark's Choir)

LORD, WHO SHALL ABIDE IN THY TABERNACLE? Op. 7 (Psalm 15 / SATB, a cap)

LOVE IS COME AGAIN, Op. 39 (arr.) (J.M.C. Crum / SATB, organ)
(Premiered by St. Mark's)

LOVE OF THE FATHER, Op. 27(12th CeMASS FOR PENTECOST, Op. 35 (SATB, a cap)
(Premiered by St. Mark's Choir)

MARIA MAGDALENA, Op. 56 (SATB, a cap)

MASS FOR ADVENT, Op. 18 (SATB, a cap)
(Premiered by St. Mark's Choir)

MASS FOR PENTECOST, Op. 75 (SATB, organ)


MASS FOR PENTECOST, Op. 115 (Unison, organ)
(Premiered by Trinity United Church Chancel Choir, June 2016)

MASS FOR THREE VOICES, Op. 64 (SAB, a cap)
(Premiered Oct 5th, 2003 at St.Mark's)

MISSA ANTIQUA, Op. 45(SATB, a cap)
(Premiered by St. Mark's Choir, 1997 / Written for the 175th anniversary of St. Mark's)

MISSA "Rex Gloriosum Martyrum", Op. 16 (SAAB, organ)
(Premiered by St. Mark's Choir)

NEW EVERY MORNING IS THE LOVE, Op. 79, #1 (Text: John Keble / SATB a cap)
(Short Introit premiered Sept 17th 2006 by Trinity United Church Choir)

NOW TO YOUR TABLE SPREAD, Op. 37 (Text: Shirley Murray / SATB a cap)

NUNC DIMITTIS, Op. 53 (SATB, organ)
(Premiered by St. Mark's Choir, 2000 / written for a special Millennium Evensong)

O BREAD OF LIFE, Op. 41(Text: Timothy Lew / SATB, a cap)

O COME AND MOURN, Op. 11(Text: F. W. Faber / SATB, a cap)
(Premiered by St. Mark's Choir)

O GOD OF LOVE, O KING OF PEACE, Op. 57, #1 (Text: H.W. Baker / SATB div, a cap)

PALM SUNDAY SENTENCE, Op. 26, #3 (SATB a cap)
(Premiered by St. Mark's Choir)

PARADISE OF GOD, THE, Op. 72 (Revelations / SATB div, a cap)
(Commissioned by the Oriana Singers for their Spring 2005 Concert)

PRAYER FOR PEACE, A Op. 57, #2 (Text: George Appleton / SATB a cap)
(Premiered by the Oriana Singers, November 2001)

PRAYER OF JOHN DONNE, Op. 123 (John Donne / SATB, organ)
(Premiered by Trinity United Church Choir, April 2018)

PSALMS and REFRAINS, Op. 4 (various) (Cantor, Choir and Congregation)
(Sung by St. Mark's Choir)

REPROACHES, THE, Op. 24 (SATB, soloists, organ)
(Premiered by St. Mark's Choir)

ROCKING, Op. #6 (arr.) (Percy Dearmer / SATB, a cap)

SING A HAPPY HALLELUJAH, Op. 46 (Unison with Desc, organ)
(Premiered by St. Mark's Youth Choir)

SONG OF PRAISE, A Op. 13 (Song of the Three 29-34 / SATB opt org)

SOULS OF THE RIGHTEOUS, THE, Op. 38, #2 (SATB, a cap)
(Short Introit premiered November 10th, 2007 by Trinity United Chancel Choir)

SOUND THE TRUMPET IN SION, Op. 14 (arr. of Palestrina) (SATB with div, a cap)
(Premiered by St. Mark's Choir)

TURN BACK , O MAN, Op. 23 (arr. of Bourgeois tune) (Clifford Bax / SAB, organ)
(Premiered by St. Mark's Choir)

VAISSEAU D'OR, Le, Op. 78 (SATB div, a cap)
(Written for the Oriana Singers of Northumberland for their entry into the CBC Choral Competition)

VARIATIONS ON "WONDROUS LOVE", Op. 90 (SATB div, with concert band)
(Commissioned by the Oriana Singers of Northumberland and the Concert Band of Cobourg)

VESPER RESPONSARY, Op. 19 (Cantor, SATB a cap)
(Premiered by St. Mark's Choir)

VINE, THE, Op. 73 (Text: Mert Hershberger / SATB, piano)
(Commissioned by The Oriana Singers for their Spring 2005 Concert)

WHAT IS THE CRYING AT JORDAN?, Op. 50 (Text: Carol Drake / Unison with Descant, organ)
(Premiered by St. Mark's Choir)

WHERE CAN I GO FROM YOUR SPIRIT?, Op. 70 (from Psalm 139 / SAB, piano)
(Premiered on June 27, 2004 for the Retirement Service of the Rev. John Gertridge from Wexford Heights United Church)

WHERE YOU GO, I WILL GO, Op. 59 (Ruth 1:16 / SATB, organ)
(Premiered by St. Mark's Choir, Nov 2001 / written for the Induction Service of the Rev. Marg Tandy)

WONDROUS CROSS, Op. 103 (Text: Isaac Watts / SATB, organ)
(Premiered by St. Mark's Choir)


---
ORGAN COMPOSITIONS

-Berceuse (Lullaby for Hannah), Op. 62
-Chorale Prelude on "Ermuntre Dich", Op. 15
-Chorale Prelude on "Islington", Op. 67
-Four Canonic Chorale Preludes, Op. 3
1.
2.
3.
4.
-Fughetta on "Ascension", Op. 22
-Homage to A.C. (Aaron Copland), Op. 30
-Meditation on "Birchview", Op. 68
-Partita on "Glenfinlas", Op. 1
-Pastorale on "Liebster Jesu, Wir Sind Hier", Op. 109
-Postlude on "Michael", Op. 10
-Prelude on "Harris", Op. 42
-Processional on "King's Weston", Op. 12
-Chorale Prelude on "St. Basil", Op. 61

---
OTHER INSTRUMENTS

12 P.M., Op. 2 (piano or any keyboard instrument)

Bell Fughetta, A, Op. 110 (for 3-octave handbells)

Chorale and Variations on "Praise My Soul", Op. 93 (for piano and solo handbell performer)

Meditation for the Fallen, Op. 120 (for 3-octave handbells)

Night Song (Lullaby for Michelle), op. 69 (for clarinet and piano)

Reflections on "Slane", Op. 119 (for 3-octave handbells)

Reflections on "O Filii et Filiae", Op. 120 (for 3-octave handbells)

Variations on an Old Cornish Carol, Op. 121 (for 3-octave handbells)

Variations on "Wondrous Love", Op. 90 (SATB div, with concert band)
(Commissioned by the Oriana Singers of Northumberland and the Concert Band of Cobourg)


---
SOLO SONGS

-Let Us Break Bread Together On Our Knees (arr.) (soprano and piano)
-Welcome, Happy Little Child, Op. 74 (Soprano, clarinet and piano)
-Wolf, Op. 122 (Commissioned by Clare Bonnell in honour of her husband Bill's 71st birthday)