MEATHEAD RECORDS PRESENTS.....
THE CANADIAN INDEPENDENT BOX SET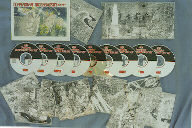 WATCH "THE WEDGE" ON MUCHMUSIC NOVEMBER 10 FOR A MENTION OF OUR NIFTY BOX SET!

Meathead Records has released a very limited edition special BOX SET of all INDEPENDENT Music, and to our knowledge there has never been a box set of Independent artists before now, so this is the first!

The Set contains 9 CD's (real CD's, not CDR's) a poster, booklet, and many stickers and artist information.

Catalog # MHR 010, Released Year 2000
Brand New, Mint Condition, Only 500 Sets Manufactured, Hand Numbered, Hand Assembled, All Excellent New Independent Music
I guess this set represents a kind of "answer" to the music Industry's constant attempt to keep everything under its control - even though its easier and cheaper for artists to record and make CD's, the means of distribution is still out of reach. The Internet shows promise, but the Industry is working on controlling that too! So this set is priced cheap and is too big and important to ignore - it's designed to let the public know about the great Indie music they never get a chance to find or hear

This set contains many genres of Independent music: Punk Rock, Garage, Pop, Alternative, Hardcore, Metal, Industrial, Indie, Psychobilly, Death, Grind, Rock, Ska, Experimental, Folk, Rural, etc....something for everyone.

Currently all over the Campus radio Charts in Canada, it even hit #1 on a few stations. It is was #3, then #6, and is still in the top 50 on the National Campus radio charts here in Canada! See the latest "Exclaim" or "Chart" mag for charts.

It cost us, Meathead Records, a fortune to put together so please help us out. We were going to make 1000 sets, but since we were determined to keep the price as low as possible (9 CD's for the price of 2) and the set was so expensive to make, we could only afford to make 500. Right now there are about 120 sets left. One of the reasons We're so proud of this set is that it was financed entirely by Meathead Records - no grants, loans, advertising - no banks or big companies involved!

The Set comes in a bright silver box with a full colour cover. Each CD is housed in a specially designed fold-out which showcases really neat artwork that carries the theme of the set. 10 highly detailed rectangular illustrations not only house the CD's effectively, they individually tell a tale and collectively form a giant poster. It's really neat and unusual and makes the Box Set special in an artistic way all on its own.
HOW TO ORDER
1. Ask for it at your local record store. The Box Set is available from just about any record store in Canada.
2. Order direct by calling TOLL FREE 1-888-88 INDIE
3. Use your credit card by clicking here:
4. Mail a cheque or money order for $39.99 plus p.s.t. and g.s.t. ($45.99 total) to: MEATHEAD RECORDS, P.O. Box 29024, Thunder Bay ON., P7B 6P9 CANADA. We pay the shipping in Canada. For U.S. customers, $30.00 U.S. total (includes shipping too).
Who's on the Set?

DISC ONE
22 Tracks 73:00
1. THE DINKS "Ice Cream Headache"
2. THE SPECIAL GUESTS "Everybody Rock"
3. PLASTICINE "Friend of a Friend"
4. FEISTY "Win You Over"
5. STAR COLLECTOR "Skyscraper"
6. COLLIDER "Closets"
7. KNACKER "Latitude"
8. SMACK ATTACK "Moonshine"
9. ARLIBIDO "Good Day for Anything"
10. STRANGE BARGAIN "Tales from Marshmellow Land"
11. SID SIX "Space Mobile"
12. DOUG "four eight 5-0"
13. SIN TONES "Jesus had a Gibson"
14. MOLD "Agent Scully"
15. THIRSTY "Cookie Song"
16. MAGNIFICENT OCTOPUS "Anklebone"
17. ORION 321 "Bottom of the Sky"
18. IYUHISHI "Every Place I've Been is Better Since I Left"
19. THE MERCURYMEN "Behemoth"
20. UMBRELLAHEADS "Hard Luck Story #5"
21. DARKEST OF THE HILLSIDE THICKETS "Sounds of Tindalos"
22. MACHTIVER "Thoughts Towards"
DISC TWO
16 Trax 73:01
1. OCEAN MACHINE "Funeral"
2. DR. SQUISH "Devoid"
3. MORAHAMBI "El Mundo Muerte"
4. SMERE "Change"
5. BULL MASTIF "Overgrown"
6. OMEGA AD "Sands of Time"
7. DOWNSHIFT "Closes"
8. TRAILER PARK "Versace's Child"
9. A THOUSAND YEARS "Angels in the Sky"
10. LEATHER MESSIAH "Spiral to Hell"
11. CO EXISTENCE "Mind Mapping"
12. SHOCK HAZARD "Rats on the Highway"
13. BROOMFILLER "Herb Eaverstank"
14. R.E.FLEXXX "Drop Dead"
15. STUMBLE "Stumbling"
16. THE HELLZ KITCHEN SHOW "Transition"
DISC THREE
23 Trax 72:37
1. DEAMON "End of Ages"
2. VOLATILE "The Physical"
3. MENTAL TERRORIZER " "
4. MOURN "The Physical"
5. AGAINST ALL " I Against All"
6. RITUAL "The Way it is"
7. UNBORN "Overstand"
8. STRAIN "Here and Now"
9. REDRUM "Too Hot for Me"
10. BALD VULTURE "Life is all About"
11. BLOODWURM "Oh Yeah"
12. AMUSED "Born in the Body"
13. JERRY CAN "Rochester Sucks"
14. INTO ETERNITY "Speak of the Dead"
15. TENACITY "Soul Fight"
16. THE LOSS "Trust"
17. THE DIVINE INVASION "Train"
18. PERUKE "Like, Chill Dude"
19. THE KOKA KOLA HITMEN "Mafia"
21. THE RED EYED TREE FROGS "So it Seems"
22. PENINSULA "Ladies and Gentlemen"
23. REVENGE "Late"
DISC FOUR
21 Tracks 68:55
1. VOR "Movement #2"
2. [8b] "Tiga (Sauna Mix)"
3. SOMA SONIC "First Wave"
4. NANOCHRIST "I Robot"
5. INCOGNITO "Is It Good Enough"
6. SCHIZOID "Avoid Eye Contact"
7. NASH THE SLASH "Tension"
8. SLOW LEARNER "Firechild"
9. SCHITZ-I-FERNETIC "Nightmares in Latex"
10. SUPER 88 "Odyssey"
11. SHADMOCK "Jesus Junkies"
12. DWAIN BARRICK "Steph's Song"
13. ROBERT HANSEN "Go it Alone"
14. OLLYN GREY "Black Widow"
15. E=MC2 "Money Money Money"
16. CASTLE OF PAIN "Dungeon of Doom"
17. MAD MATT "Hey Apollo"
18. JUDO JIVE "Grunt #3"
19. THE 18th HOLE "Fore"
20. PUCK "Unsigned Hype"
21. JAAN "Unplugged"
DISC FIVE
27 Trax 72:09
1. 2 PUMP LOUIE "Poison Paradise"
2. RANDOM KILLING "Johnny was a Punk"
3. DEMOCKRACY CRISIS "Criminalize the Poor"
4. SPAZMZ "Damage"
5. HELL CAMINOS "Fallin' Behind"
6. DAYGLO ABORTIONS "Drink Beer Smoke Pot"
7. BUCKET TRUCK "Old Trunck Four"
8. SPOTTY BOTTY "Crap"
9. JUNTO "Don't Believe Everything You Read"
10. WISECRACK "Fallout"
11. THE VAPIDS "Mikey was a Punk"
12. THE SETBACKS "Buzzbomb to Ontario"
13. GRAYLINE "Scared to Care"
14. BUN "Goodbye"
15. CHUBB "Snobs"
16. POTLUCK "Fallen"
17. UNEMPLOYED "Jack Coleman"
18. THE COMEBACK "Varendero to Havana and Back"
19. ROMEO RETARDED "Dear Abby"
20. FISTFULL "American't"
21. I CAN'T REMEMBER "Freedom"
22. THE KREMLIN "This Night"
23. THE RIPTIDES "Jeannie is a Junkie"
24. THEE OUTCASTS "Death to the King"
25. BIKES "25"
26. TORN DOWN UNITS "Rock Out or Get Out"
27. THE A TUBES "Oh What a Tube"
DISC SIX
25 Trax 73:28
1. CLOSET MONSTER "I Have No Mouth And I Must Scream"
2. FUCTHAT "Split the Scene"
3. RACER 10 "True"
4. NAMESAKE "What About That Guy"
5. MALCHIKS "Jerry"
6. COMPLETE "A Simple Complaint"
7. THE RETREADS "World War Three"
8. SUPERSIFT "I Hate Punk Rock"
9. SIDEWALK "Missing in Action"
10. TWENTY2 "Moments of Sanity"
11. THE HEARTBROKEN "Alaska"
12. NFA "Burlington"
13. FIVE SPOT "Five Spot"
14. NAMES TAKEN "Walk Away"
15. JOHNNY UNITE US "My Boss"
16. POSER "Eye Tolled Ewe Sew"
17. TRIPWYRE "Fat Aggression"
18. HEADCRAMP "Bike Thief"
19. DNS "Idle Time"
20. SECTOR SEVEN "You Never Know"
21. RACER "Lift Off"
22. NO CONNECTION "Another Way"
23. LUNGBUTTER "Track #5"
24. WIFE POWER "Enzo's Song"
25. CHEAPSHOT "Forgotten"
DISC SEVEN
20 Trax 71:23
1. THE SMALLS "What I Need To Carry On"
2. SHORT NOTICE "Blame"
3. STATION A "Stealth Training"
4. WRENCH IN THE WORKS "Jenny"
5. PAINTING DAISIES "Church of Cosmetology"
6. THE MYTH "Isaac"
7. ANI'S WHISPER "Beauty"
9. KATHRYN ROSE "Mint"
10. PLUMM "Pretty Face"
11. SUZANNE WILSON "Heroine"
12. CORB LUND BAND "Wine Soaked Preacher"
13. SUE DE NYM "False Messiahs"
14. A-OK "All Your Fantasies"
15. THE DREAMING "Numb"
16. CHRISTOPHER DUNN "Skylines"
17. THE YES MEN "T.V. Planet"
18. BILL DAWE "Travelin"
19. BARZIN H "I'll Find Ways"
20. WILTON SAID "
21. SHARPKID "
DISC EIGHT
16 Trax 73:18
1. AFTER DARK "Alive After Dark"
2. EDISON MACHINE "Sleeping with a Shotgun"
3. REDFISH "nbc"
4. THE HONEYMEN "New Funk"
5. THE MUSTANGS "Lonely One"
6. JW JONES "Frozen Solid"
7. LUKE LEONE "New Day"
8. J MAGYAR "I Need You"
9. ADRIENNE PIERCE "Small"
10. OUTSIDE THE LINES "Circle"
11. EMILY LEGER "Under the Gun"
12. HEAD IN THE CLOUDS "Living With A Mind"
13. SARAH STEFANSON "Angel"
14. CLAUDETTE PINARD "A Mother's Rose"
15. LESLEY BAKER "Lead the Way"
16. WONITHA "You and I"
DISC NINE
21 Trax 74:36
1. VITO ALVARO "Hard Days Gone"
2. VANN DELOREY "Elephant Song"
3. KRIS TAYLOR "Expect"
4. AENGUS FINNAN "Lately"
5. RICK IVANOFF "Abduction"
6. HIGH SHERIFF'S LADY "Smiling Behind Me"
7. VERTIGO JOE "Euphoria"
8. PAUL BARNES "Millennium"
9. PURPLE DRAGON "Broken Window"
10. SHELLY JACOBSON "If It Doesn't Fit"
11. LENORE "Rock and Roll"
12. BIG METEOR "Wild River"
13. POP CANS "The Nice Guy"
14. JEFF NICHOLSON "Hockey"
15. SHOEGAZER "Indian Summer"
16. ANNE MINNERY "Watch the Little Girl Dance"
17. LET ER'RIDE "Full Moon or Empty Bottle"
18. NEIL LAYTON "My New Soul"
19. STREAMBABIES "Make Believe"
20. M.U.M. "Jesse's Journey"
Go to Meathead Records
E-MAIL