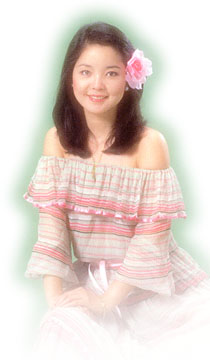 An early begining
Teresa Teng, who was born in 1953, is probably the most famous woman singer among Chinese people worldwide. People from all walks of life can give a lot reasons why they are so uniquely fond of her.
She began singing as early as five when she imitate folk operas in front of of mirrors. In primary school, she sang more clearly and began to stand out, she often performed at informal parties and evening gatherings. She won a singing competition with a Hubei folk opera composition entitled "Visiting Ying Tai". She gave up her formal education in her third year of middle school and began performing in floor shows.
Her appearances on television show "Galaxy of Stars" opened doors to hosting a show of her own called "Each Day One Star" and followed by leading roles in films.
Her popularity spread across Taiwan, HongKong and Asia. In 1973 she went to Japan, that started her path toward international stardom. She swept the prize for "Best New Singing Star" in Japan.
Her popularity
In Taiwan, she was best known for singing folk songs and romantic ditties marked by her cute little vocal inflections. Teresa Teng also did concerts in the US, and broke through the "bamboo curtain" into mainland China, inciting a wave of enthusiasm for the "Little Teng". One expression even said "By day, Deng Xiapping rules mainland China, but by night, Teresa Teng rules!"
Her awards include :
Best female singer in Taiwan's Golden Bell Award
One of the Ten Most Outstanding Young Women in Taiwan
Soldiers' Sweetheart
As the child of a military family, she often returned to Taiwan to put on performances for the troops, she had a face that fit the Chinese ideal of the gentle and sweet young maiden, fresh and pure "girl-next-foor" demeanor, thus she became knows as the "soldiers' sweetheart"
Her voice
It was the sweetness in her voice that brought perfection to folk songs and ballards, she added traditional folk song stylings into Western-style compositions. She could display just the right demeanor for any performance, having great microphone technique, coupled with her breathing was well-control, her pronunciation was very clear, her voice was complimented as being "like weeping and like pleading, but with strength, capable of drawing in and hynotizing listeners, which is something few others can accomplish.
At the peak of her popularity, she was involved in a scandal over holding a fake passport, later she dropped out of public view. She only restored her reputation during the 1981 "You Are at the Front" shows for soldiers. In 1984 she head an Asian concert tour to celebrate her 15th year as a singer. Later she faded and lived abraod, rarely made public appearances, perhaps due her health problems. In 1989 once again she immerged a supporter of the democracy movement due to the Tienanmen Incident in mainland China.
Her untimely death
On May 8, 43-year old Teresa Teng died from a severe asthma attack while in Thailand. It was not only ordinary Chinese in Taiwan, Hong Kong, mainland China and Southeast Asia who were saddened by the incident, the media devoted a tremendous amount of stories of her. Many groups bestowed posthumous honors and accolades on Ms Teng. Her death punctuates the end of that era of popular music, and transfer her to the status of a "classic" in the history of Chinese popular culture.
The singer is gone, but her songs live on. She left behind countless grieving fans. Teresa Teng was popular in Chinese societies worldwide for three decades. Even though she has left us, she will always be our "eternal sweetheart"
Here are Teresa's hit songs
"When Will You Come Back Again"

A lovely flower does not open often
A lovely view does not exist everywhere
Worries furrow a laughing brow
Missing you brings tears to my eyes
After you leave this night
When will you come back again


"More Than Words Can Say"

Don't know why
But I'm surrounded by worry and fear
Every day I pray
That the loneliness of love
Will soon be chased away


"Small Town Story"

There are many stories in a small town
Full of joy and happiness
Life is truly beautiful
Everything is already here


---
Remembering Teresa Teng in my own way, her favorite color is purple
Teresa Forver
Taiwan complete site