Wants List
I am looking for the following license plates: 1961 New Mexico and any 1961 dated Connecticut plate. I'm well aware that there were no 61 dated passenger plates issued in CT however a trailer or combination plate dated 61 would be great. I could also use an upgrade for my 61 Georgia, 61 Michigan and 61 Washington. I'm always interested in trading bulk lots of current Montana passenger plates for bulk lots from the following states, Vermont, Connecticut, Rhode Island, Delaware, North Dakota, Wyoming, and just about any state except for Washington and California...Got plently of those



This is a photo of my 1961 Plate Run in Dec 2000. I now have 48 states and the Nations Capitol. Up-Dated photo coming soon...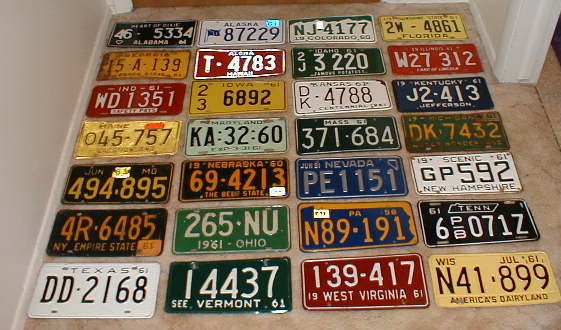 I would also like a 1961 plate from each of the Canadian Povinces I have all but New Brunswick. Updated photo of my 61 Canadian run should be forthcoming

SAMPLE PLATES I'm working on a run of SAMPLES from all 50 states...

OLDER MONTANA PLATES, I'm looking for Montana plates that I don't already have in my Montana State run, as well as any special Montana plates like the different veteran plates and the different colligiate plates
Montana years I need 1915 '16 could use an upgrade for 1919 also need '21 '22 '23 '29 '31 '32 and '36
HANDICAP ISSUES from all 50 states (I have about 20 so far)
Have some MT handicaps to trade for other state handicaps.
FOREIGN PLATES that you will trade for British plates or USA plates.

Unusual color combinations (The stranger the better pinks and purples are my favorites)

This is one of my all time favorites a 1962 British Columbia plate which is pink on maroon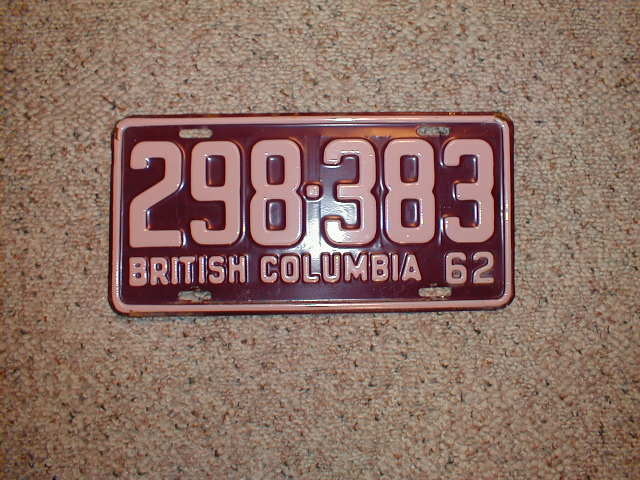 Embossing, i.e. shapes, state outlines, slogans, mottos, embossed graphics of any kind, etc.

Debossed plates***Anyone know how many different jurisdictions have manufactured debossed plates over the years? I only know of Iowa, Montana, Nevada, Vermont and West Virginia Here is an example of a Vermont white on blue debossed HUP Highway Use Permit Plate

Straight and solid plates that need repainting (only cheapies)If you want to see some of my repaints go here
Restorations