Montana Plates
This is the new Lewis and Clark Bicentennial (Optional Issue) This plate is available beginning January 2nd 2002 and costs an additional $30 for the first year and $20 per year after that...The plate is flat screened as opposed to embossed and primary colors are purple, grey, blue and yellow outline of state map with black serial. The plate pictured here is the one on my Cadillac.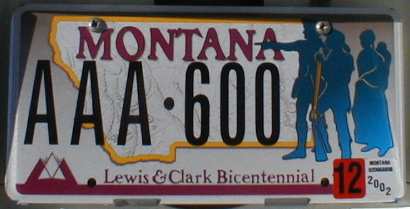 This is a brand new special issue plate which started becoming available in Feb 2002. A $20 per year donation goes to the Glacier National Park fund. In addition to the $20 annual fee a one time administrative fee goes to the State of Montana upon initial issue. The plate is flat screened like the Lewis and Clark plate above and is white on a mostly blue with some green background. The background design is a beautiful moutain scape. Unfortunately this image doesn't show the white very clear, it looks more like cream. These plates cost an additional $30 at time of registration and can be ordered in a personalized format of up to six characters for an additional $23.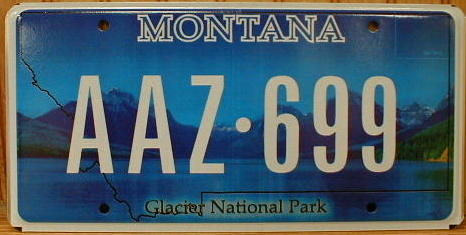 This page is dedicated to license plates past and present from the BIG SKY State of Montana
Here is a look at some of Montanas license plates. This first group of plates are the current 2000 issue Montana license plate which started being mass reissued to all Montana motorists in March of 2000.

This is my personal vanity plate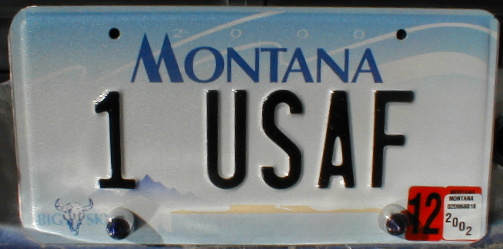 This is a general issue 2000 passenger base... All Montana general issue plates have the county # first followed by a dot divider which is inturn followed by a single alpha character to begin the serial and any number of numerals from 1 to five following the alpha designator..Truck plates are identified with a "T" which follows the county #.



This is a photo of my USAF retired Veteran plate


This is the current issue handicap plate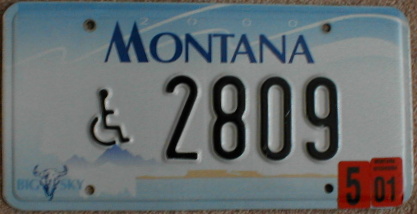 Montana also offers Veteran plates for honorably discharged American Veterans. This is a run of all veteran plates currently offered...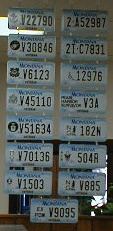 The next photo is a group of my former vanity plates on the previous "Big Sky" graphic base, which began issue in 1991 and a few are still on the road today slowly but surely being phased out by the 2000 issue.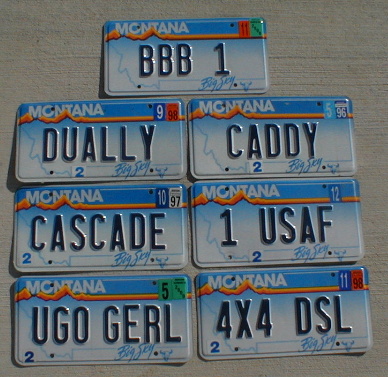 On the Big Sky issue, general issue passenger plates were identified with a "P" for passenger following a single county identifier 1-9...On plates with higher county numbers such as 26 no "p" is used. Passenger plates have long been identified differently from TRUCK plates. In years past the logo BIG SKY COUNTRY across the top of a plate identified a plate as a passenger plate rather than the word TRUCK (as is the case with the blue on white 1970 base and the white on green and white on blue debossed 1973 and 1975 bases in the photo. Passenger plates are issued to most vehicles with more than one seat. Truck plates are issued to most vehicles with only front seats with the exception of extended cab and crew-cab pick-up trucks which are of course issued "truck" plates. Typically Vans and sport utility vehicle are issued passenger plates. Passenger and truck plates are identified by the "P" (passenger)or "T" (truck) following the county number. There are a total of 56 counties in Montana. Counties numbers from 1-9 are followed by a "P" for passenger plates but county numbers 10 and higher just have the county number followed by a dash and the serial. All "truck plates have the county number followed by "T" for truck regardless of the county number and then the dash and serial.



Montana Passenger Plates
Montana Truck Plates
Montana County Prefixes
Listed by prefix number
1. Butte/Silver Bow
2. Cascade
3. Yellowstone
4. Missoula
5. Lewis & Clark
6. Gallatin
7. Flathead
8. Fergus
9. Powder River
10. Carbon
11. Phillips
12. Hill
13. Ravalli
14. Custer
15. Lake
16. Dawson
17. Roosevelt
18. Beaverhead
19. Chouteau
20. Valley
21. Toole
22. Big Horn
23. Musselshell
24. Blaine
25. Madison
26. Pondera
27. Richland
28. Powell
29. Rosebud
30. Anaconda/Deer Lodge
31. Teton
32. Stillwater
33. Treasure
34. Sheridan
35. Sanders
36. Judith Basin
37. Daniels
38. Glacier
39. Fallon
40. Sweet Grass
41. McCone
42. Carter
43.Broadwater
44. Wheatland
45. Prairie
46. Granite
47. Meagher
48. Liberty
49. Park
50. Garfield
51. Jefferson
52. Wibaux
53. Golden Valley
54. Mineral
55. Petroleum
56. Lincoln

I'm working on a Montana State run and need the following years...If you have any of these years, please contact me at the e-mail address at the bottom of this page...
This is a photo of a Montana Centennial issue. This was an optional issue beginning around 1988 and is still valid today if it has been revalidated since it was issued
This is a photo of a Montana Vintage Plate. Vintage plates are available for cars 30 years old and older which are only used for parades and special functions. There is a one time cost of $10 for these plates and they are debossed bare aluminum on dark red with no validation stickers...


Like many states, Montana offers college affiliates the opportunity to show their support for their school. Here are some photos of Montana Collegiate plates starting with Tyler's beautiful display of all Montana's collegiate plates from the NILPS 2001 license plate Swap Meet in Ronan, Montana...This great display won best Montana display at the show...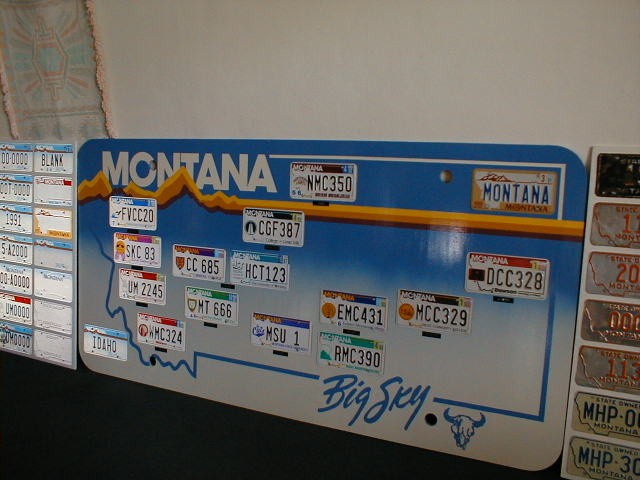 Rocky Mountain College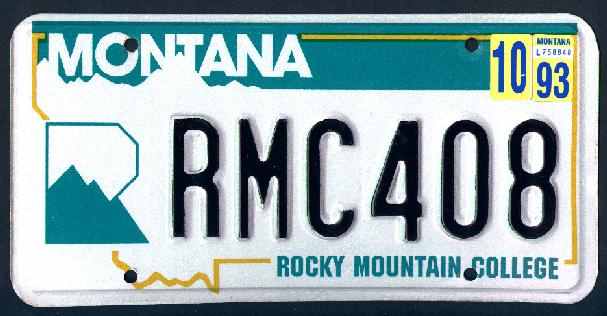 University of Montana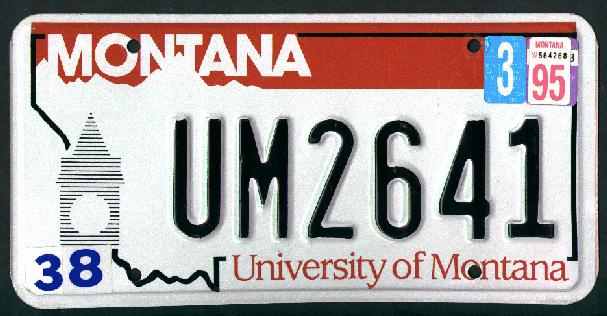 Northern Montana College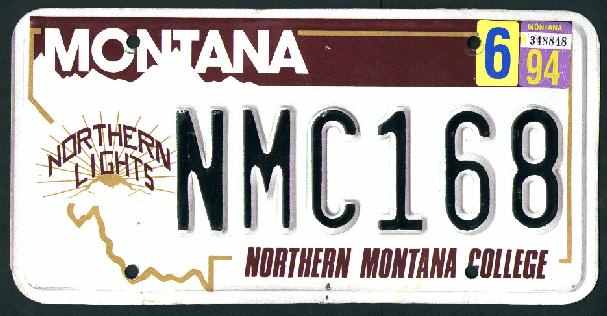 Salish Kootenai College


Montana Tech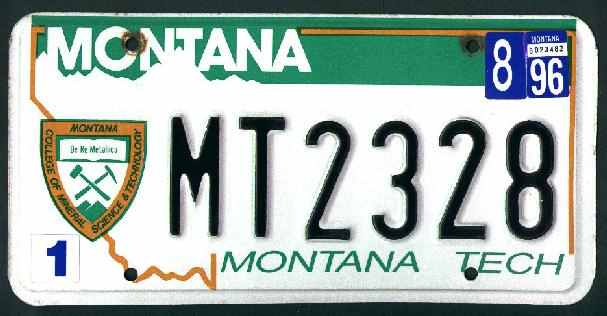 Montana State University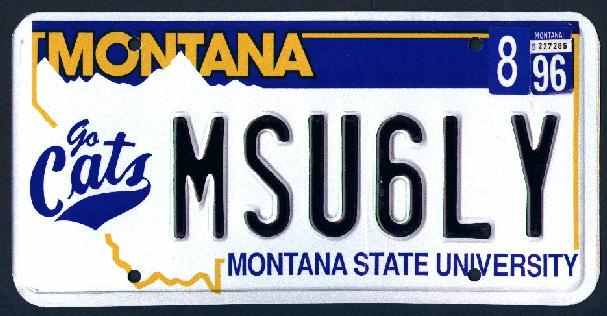 Flathead Valley Community College


Dawson Community College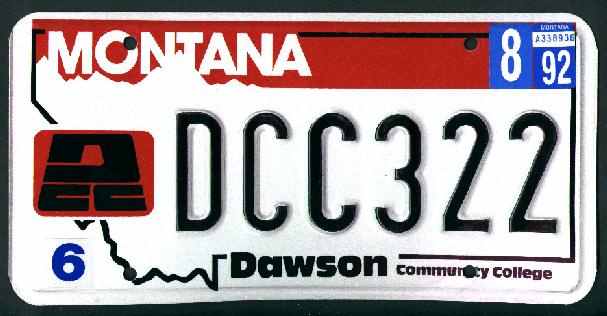 College of Great Falls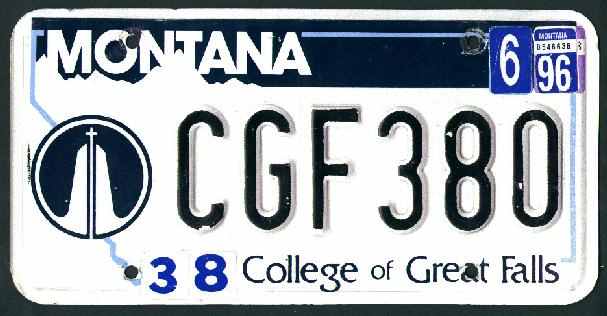 Carroll College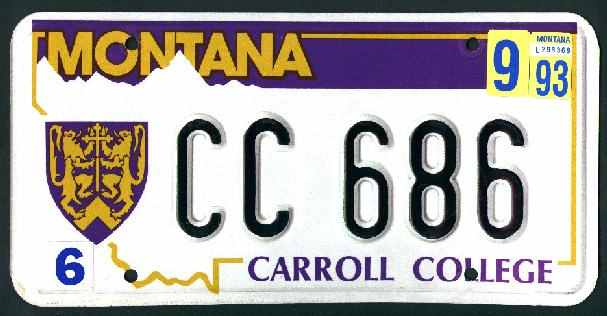 Miles Community College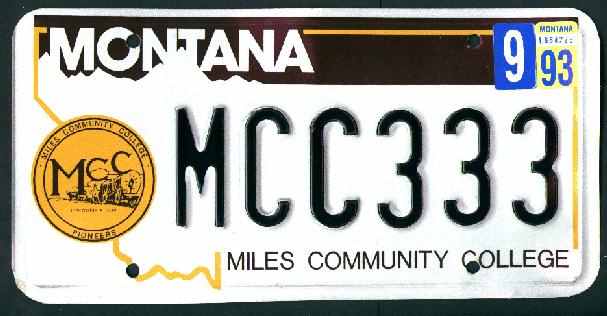 Here are a couple of odd ball MT plates including one full invert error on the 1991 Big Sky base


bptattooist@hotmail.com.
Email: bptattooist@hotmail.com