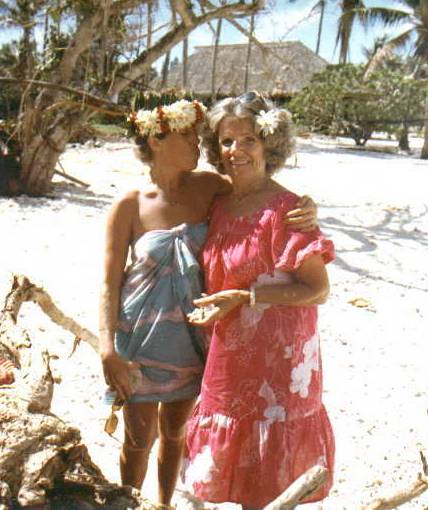 Here's a pic of my mom and I
on the beach.
This was day 2 of my wedding. Which
involved a hima'a at the beach. (Tahitian Feast)

In the spring of 1978, while on vacation in Hawaii from the
West Coast, I was invited on a weeks charter aboard a
70'ketch. It was to be my first experience aboard a sailboat, actually
anything bigger than a 26' criscraft power boat. A few months later, two
of the charter party bought the boat, one being Peter who I had known for
years. I was asked if I 'd like to be the boat's chef( I hadn't heard
the term "galley Slave" yet!) My response??..... but of course!!!
Within three weeks I had put everything in storage in California and
flew to Hawaii to start my new adventure which eventually took
me to Tahiti.


Now to a person not accustomed to the woes and joys of sailing. To
any my life sounded like a story book. At times it was and I
considered myself very fortunate. The upkeep of a 70' boat is not
something to sneezed at. I remember seeing a sign up at the yatch
club once that read: "You can tell the men from the boys from the
size of their toys" hmmmmmmmmm.. I don't know about that , but one
thing is certain, the bigger the boat , the bigger the hole is in the
ocean where you throw your money. hahaha glad I didn't own it. Working
on board was great, I learned all about limited space, no privacy, how to
sand, paint and varnish and be a den mother for the crew.
The icing on
the cake was the dreaded dry dock
But we had some great times sailing the Hawaiian islands, scuba diving,
free boarding, water skiing, meeting old friends and making new ones.
I didn't realize at the time that my life was about to go
through a major change!
These guys are professional,but nearly every night
I would hear the sound of the shell being blown and
I would run out to the street to buy fish or
to atleast see what kind they had. nothing like fresh fish at your disposal everyday.
Note: Since I have yet to find any
Tahitan Music online, I have decided
on Caribbean, simply Because I love steel drums!!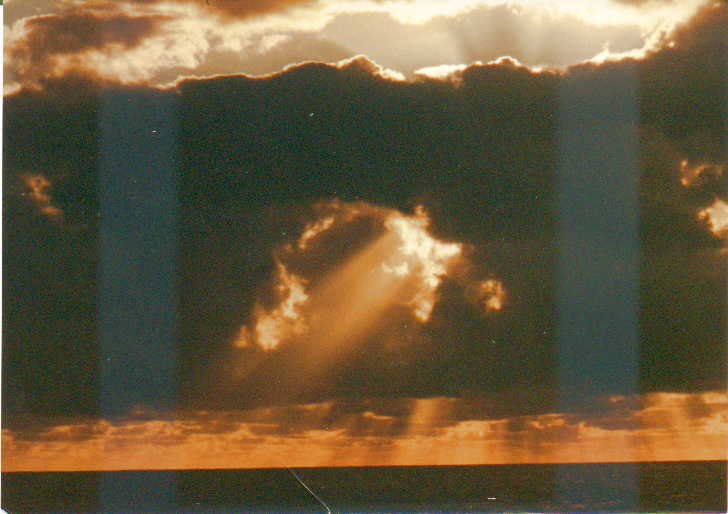 This has to be one of prettiest sunsets I've ever taken.