VIKING COACHES
TONY PERKINS HEAD VARSITY COACH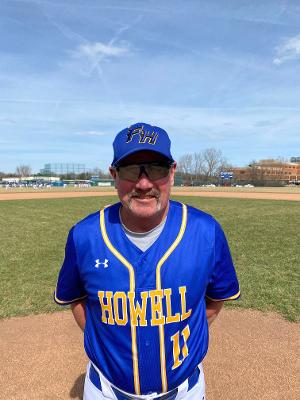 Tony Perkins is the son of Larry and Carolyn Perkins and was raised in Rock Island, Illinois where he received various baseball and football honors at Rock Island Public High School. After High School, Coach Perkins spent a year at Dickinson State College in North Dakota, where he played both football and baseball. After the year in North Dakota, Coach Perkins transferred to Northeast Missouri State University where he played on the baseball team for 3 years and spent 1 year as a graduate assistant coach. He graduated from Northeast in 1984 with his BSE in physical education. Coach Perkins earned his masters in educational administration from the University of Missouri at St. Louis in 1996. After graduation, Coach Perkins took his first job at Brashear High School in Brashear, MO. At Brashear the baseball teams went 44-24 in 3 years under his guidance.
Following his Brashear experience, Coach Perkins accepted a job in the Francis Howell School District where he coached the freshmen team for 2 years at Francis Howell North. From Francis Howell North, Coach Perkins accepted the varsity assistant job at Francis Howell High School. While an assistant under Coach Terry Kasper, the Vikings earned 3 conference championships and 2 trips to the final four, where they finished 2nd in 1991 and 3rd in 1993. During the 1994-95 school year Coach Perkins was named the head coach of the Francis Howell Vikings.
During his current 29 year reign Coach Perkins' teams have garnered 18 conference titles, 15 district titles, 10 sectional championships, 9 quarterfinals championships, a 4th place finish in 1999, a 2nd place finish in state in 1997, a 2nd place finish in 2008, 2nd place in state 2014, and State Championships in 2003, 2011, 2013, and 2016. 3rd Place finish in 2022. Coach Perkins overall head coaching record is 609-300-1. He has sent approximately 170 players to the college ranks. He has coached 17 All Americans, 42 first team all staters and 29 first team all metro players. Coach P has had 11 players drafted into the MLB in his career so far. 2018 saw the first Major Leaguers appear in the Big Leagues, Brett Graves with the Florida Marlins and Nate Orf for the Milwaukee Brewers. In 1997 Coach Perkins was voted the St. Louis Metropolitan coach of the year by a panel of his peers. He was also selected the coach of the year in 1997 by the St. Louis Major League Scouting Bureau. During the 1999, 2008, 2010, 2011, 2016, and 2021 seasons Coach Perkins was voted coach of the year in the Gateway Athletic Conference by his fellow conference coaches. Coach was selected by the BCA as the Midwest Region Coach of the year in 2011 and 2013. This region covers 7 states. Coach Perkins along with his assistants, Terry Oetting, Mike Janes, Justin Schmidt, and Rick Regina, have had the pleasure of coaching in the Missouri High School Baseball Coaches Association all star series over the years. He spoke at the MHSBCA clinic in 1999 on Howells Evauluation process and also in 2003 on Promoting your Player and your Program. Coach also spoke in 2012 and 2014 at the MHSBCA, 2014 on Summer Choices and the Recruiting process. Coach also spoke at the National High School Baseball Coaches Clinic held in Chicago in 2008 on Practice Organization. He was elected and served as the President elect of the MHSBCA from 2000-2001, and served as President from 2001-2003. Tony Perkins was inducted into the MHSBCA Hall of Fame in January of 2002. Coach Perkins was an associate scout for the Colorado Rockies from 1999-2001. In 2003 and 2011 he was named the Missouri Class 4 Coach of the Year and in 2013 and 2016 was the Class 5 Coach of the year. In 2013 Coach Perkins was voted as the first Class 5 Coach of the year. He was also inducted into the St. Charles County Amateur Hall of Fame in 2013. 2012 he was named the ABCA/Diamond Sports Company High School Division 5 Regional Coach of the year. In 2015 Coach Perkins was inducted into the St. Louis Amateur Baseball Association Hall of Fame. Coach P was selected as the baseball coach of the year for 2015 by the Greater St. Louis Umpires Association. In 2020 Tony Perkins received the Bob Broeg Award from the St. Louis Amateur baseball Hall of Fame. This is an award for outstanding acheivement as a High School baseball Coach.
Coach Perkins was the President for the National Baseball Coaches Association in 2019. He has served on the baseball advisory board for the Missouri State High School Activities Association. In 2016 Coach was inducted into the National High School Baseball Coaches Hall of Fame, Big School National Coach of the year by the ABCA, the NFHS Midwest section coach of the year than encompasses 5 states, MSHSAA Coach of the year, NFHS State Coach of the year, and Class 5 Coach of the Year for the MHSBCA. In 2017 he was inducted into the St. Louis Sports Hall of Fame. In 2021 Tony Perkins was awarded the prestigious Bob Broeg award by the St. Louis Amatuer Baseball Association. Coach Perkins coaches for the St. Louis Prospects in the summers. He is currently an associate scout for the Atlanta Braves.
Coach Perkins is married to the very understanding and supportive, Tracey Perkins, they have 4 boys, Zac & Danielle (27), Nic (26), and twins Justin (24) and Ryan (24).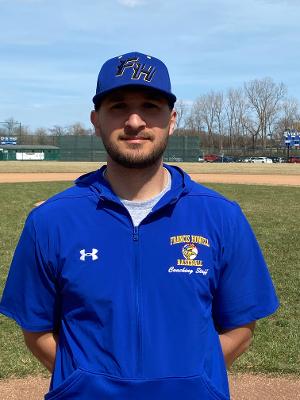 MATT FELDT VARSITY ASSISTANT COACH
Matt Feldt was born in St. Louis, Mo and attended Lindbergh High school where he played baseball and excelled. After graduating from Lindbergh he continued his playing career at Jefferson College where he was a 2 year starter. After his career at JEFFCO he transferred to the University of Missouri where he was on the baseball team. In 2016 he graduated from Mizzo with a degree in marketing.
After a few years away from the game he got the itch to return to the field and join the coaching ranks. This is his first season being a member of the Francis Howell baseball coaching staff. Coach Feldt is working with the infielders and is spending a lot of time with the hitters. His experience has really helped our players this year and we look forward to a long lasting relationship.

ANTHONY HERRON VARSITY ASSISTANT COACH
Anthony was born and raised in St. Louis, MO. He graduated from Afton High School in 2014, where he was a 4 year varsity player. He was drdafted in the 32nd Round by the St. Louis Cardinals in 2014. He decided to put his professional career on hold to attend college.
anthony started at Jefferson College and finished his sophomore season with a 2.97 ERA and 130 strikeoutsin just 75.2 innings pitched. In 2016 he was drafted again after his sophomore season, this time by the New Yourk Mets in the 34th round. Anthony decided to play in the the Cape Cod Collegiate League before attending Missouri State University in the the fall of 2016. Anthony was then drafted by the Chicago White Sox in the 19th round and played one year of rookie ball before being released in the spring of 2018 due to injury. This is Coach Herrons 4th year coaching with the Vikings, and works with our pitchers.
DARIN CISSELL ASSISTANT VARSITY COACH
Darin Cissell is a graduate of Francis Howell. He was quite the player at Howell. He played some football as well. He graduated in 1993 and he and Chad Thorpe were both 3 years starters and helped the team to the final four in 1991 and 1993. Coach continued his playing career at Merramec JUCO and from there attended SLU. He was drafted by the San Francisco Giants. He spent a couple of years in their system before finally hanging up the cleats after 16 different surgeries. He has helped the program in some capacity for over 20 years. He also had stints at Francis Howell North and Francis Howell Central.
Darin is married to Amy and they have 2 children, Ruby and Ty. Ty is a member of our varsity team and looks to maybe be better than his dad. He also runs and is very active in the FCA program at the school. He has also started the Sports Enhancement class at the school and has been a huge hit. Coach Cissell is also a member of the Francis Howell Baseball Hall of Fame.
RICH BARNES ASSISTANT JV COACH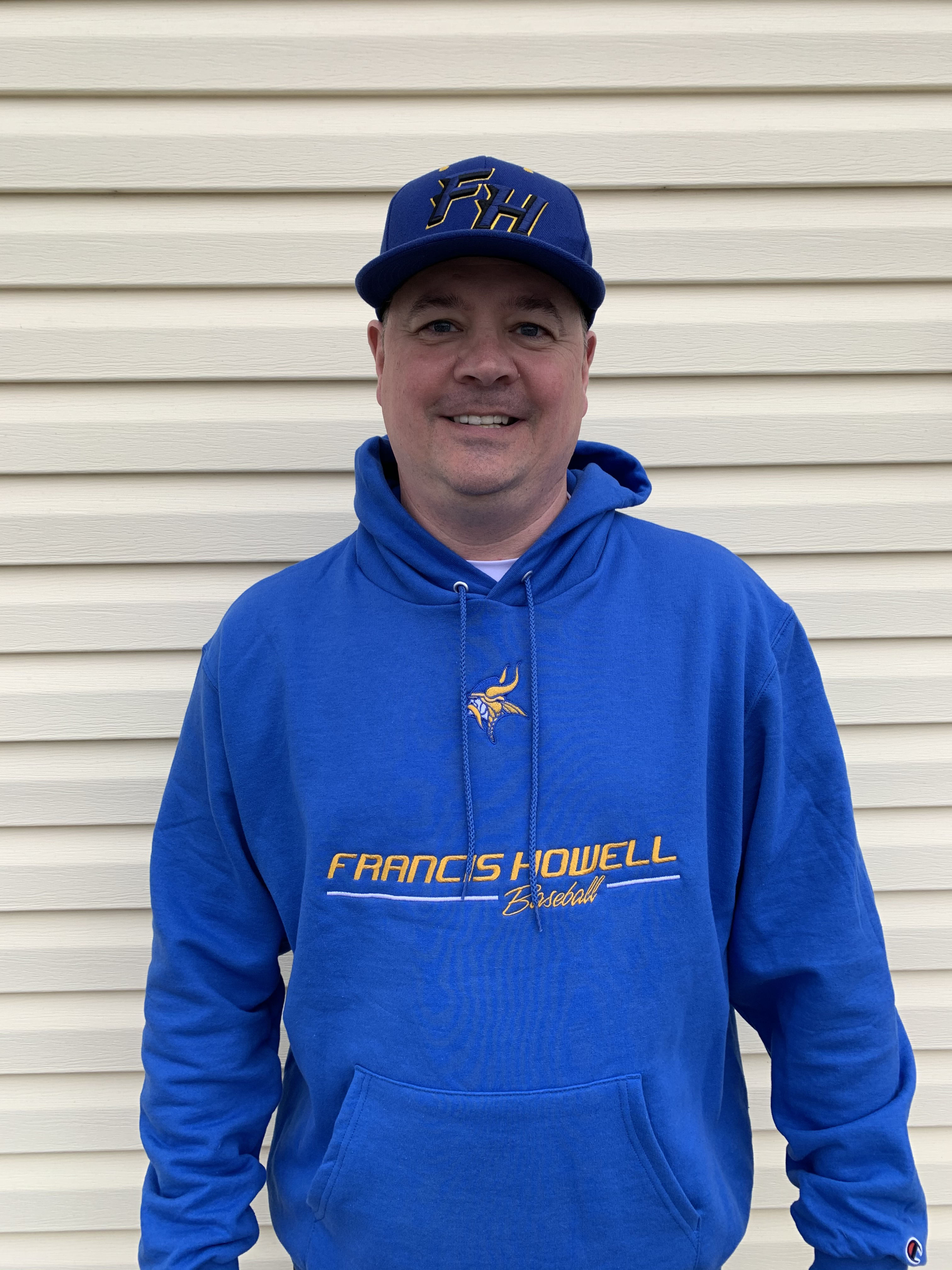 Rich Barnes is a graduate of Francis Howell and was the starting Left Fielder on the 1988 GAC championship team. He continued his playing career at Florissant Valley JUCO and Lindenwood. He attended tryout camps for the Kansas City Royals and the San Diego Padres. He has played locally in the EMBA, MSBL, and currently playing in the Baseball Forever League. He has been as assistant Coach at the club level in bothe the Rawlings Xtreme and Rawling Propect organizations.
Rich is happily married to his wife Olga and they have 5 kids--Andrew (21), Cassidy (19), Alex (16) Jakob (15), and Michael (9). Coach Barnes youngest son is named Michael Lane Barnes--MLB.
CLARK CRANSTON ASSISTANT SOPHOMORE COACH
Coach Cranston graduated from Marquette High School in 2005 and was a 3 year varsity starter and played JV as a freshmen. After High School he played at Johnson County Community College in Overland Park, Kansas 2005-2007.
He graduated from professional umpires school in February 2011. This is his 10th year umpiring for the GSLAU. Coach in entering his 5th year coaching summer ball (3 with the Surge, 1 with the Redbirds, and 1 with the Selects, now is with the Bandits).
This is Coach Cranstons 5th year coaching the JV squad at Francis Howell. Clark has 2 children.
JUSTIN SCHMIDT HEAD FRESHMEN COACH


Justin Schmidt returned to the Francis Howell coaching staff in 2013. He was a player in the program and graduated from Francis Howell in 2003. Coach was a volunteer coach in the program after graduating college for awhile and then accepted the sophomore job at Francis Howell Central before returning home in 2013. His first year as the varsity assistant he helped lead the Vikings to a State Championship and was selected as the 2013 Assistant Coach of the year by the BCA for the Midwest Region.
Coach Schmidt moved to coach the Freshman team in 2014 and does a great job in develepment of our players. Coach is married to Lauren and they have 2 sons.
BRETT SCHROEDER ASSISDTANT FRESHMEN COACH
Brett Schroeder joined our staff this year and is our Freshmen assistant coach. He works hard and the players seem to like him. We welcome him to the staff.