ARIADNE LIVES! By Paul Screeton.
Without doubt the locomotive with the most charmed life is a British Rail workhorse numbered 47299.

Old in the tooth and with the track record of a show booth pugilist, this jinxed engine is currently being given what amounts to a tour-year life extension. Before discussing what makes it special, here are a few technical and historical notes.

As D1866, the Class 47 diesel electric left the Brush Company's Loughborough works in May 1965. In February 1974 It was renumbered 47216 for computer classification purposes. In December 1981 it became 47299, the only remaining and possible number for a 47/0 before the 47/3 slow-speed control series began.

The reason for this second renumbering has about it something of the magical ritual - a banishing one - for normally new numbers are only allocated when a machine has a major modification necessitating the TOPS computer to identify its new sub-classification for allocating it duties commensurate with its re-equipped capabilities. In the case of 47216 there was no physical change; only a psychic element.

As a keen rail enthusiast, I had never understood the reason for the renumbering. The first inkling came when the loco was involved in a crash where one magazine reported: "After predictions of impending doom, BR even renumbered 47216 to 47299 ... but it obviously made little difference." (1) This brief news item also claimed that "the jinx that has haunted an Immingham based Class 47 for over two years followed it to a remarkable crash.'

This occurred at Wrawby junction, a convergence of lines just outside Barnetby, Lincolnshire. At about 18.18 on December 9, 1983, 47299 was hauling the 15.02 Drax - Lindsey 900-ton empty oil tanks when a set of power points which had been hand cranked but not clipped reset themselves in front of the freight train. (2) A collision then occurred with the 17.32 Cleethorpes-Sheffield two-car diesel multiple unit (Class 1145 53049 and 54049). Student Rachel Taylor was killed and a dozen other passengers injured. It seems almost callous to add that both cabs of 47299 were stove in and the DMU severely damaged.

The official report stated the "weather was fine and visibility good," yet another report claimed "emergency services were stretched to the limit In appalling weather conditions," while adding the renumbering came "after a soothsayer predicted a crash involving its earlier guise, 47218."(3)

So who is this psychic with a line to mediumistic ferroequinology? Perhaps we'll never know. The report with greatest detail does not say and even the April 1 dateline should not necessarily concern the reader.

Graham Bell's by-lined article is as accurate as I have ever come across a railway news story in a national newspaper: particularly as in this case an offbeat, human-interest story. A clairvoyant had a recurring vision of a train crash involving a big blue engine hauling oil tankers, nothing could stop it and someone would die. She could even decipher the number 47216. She called British Rail and insisted her name be kept secret before revealing the accident in minute detail. Apparently depot managers found her predictions had been taken seriously in police investigations.

After the crash, rail enthusiast Howard Johnston, of Sawtry, Cambridgeshire, recalled phoning Immingham depot to ask why 47216 had been renumbered and was told staff had been warned of a clairvoyant's predictions and made a special application to BR headquarters in London to change the number. According to Bell, who checked his Story out with BR and confirmed 47299's history, the prediction was not mentioned at the inspectorate hearing and the BR spokesman said: "We regard the whole thing as an amazing coincidence." (4)

Does all this give the story credence? The press loves Supernatural stories and with police, BR spokesman and depot managers you either accept the reporter was thorough or cynically mutter about "authority figures" and apocrypha.

I wrote about 47216/47299 in 1984 (5) and In slightly larger context in 1985. (6) Meanwhile 47299 was back in traffic, noticeable because its new cabs were two inches higher than the rest of the bodyside lower profile, and the buffer beam lacked the usual raised edge. (7)

Writer Jenny Randles used the prediction in a book on paranormal experiences. Her report is generally sound, though the renumbering explanation is in error: sequence number 47299 had never previously been carried. Don't worry Jenny, seasoned spotters and BR employees can be equally baffled by the vagaries of loco numberings! (8)

But there was to be a note of scepticism abroad. Dave Rapson's feature (Traction Profile - 47299) focused upon the loco as the "Demon" as the railway fraternity believed, and stated "its sudden change of identity had never been revealed, although it is generally believed a visionary foretold of impending doom ... even the depot staff at Immingham had been sworn to secrecy, though the general belief was that, as 47216, the locomotive had been involved In a number of incidents.' (9) But many locos have had chequered careers without such publicity (Great Train Robbery engine D326 is an exception) or renumbering.

As Rapson pointed out, 47299 was condemned on September 5, 1989, only to be reinstated three days later when a replacement wheelset was found. He concluded: "Whether or not this stay of execution is merely temporary, time will tell, and we may never know just how sinister the tale behind 47299 is!'

Much of this material comes from Rail Enthusiast and a lengthy caption of the loco as D1866 disputes two earlier points: stating "BR officials at York" - not London - permitted renumbering and its worn tyres reprieve came after seven -not three - days. Trivialities, perhaps.(10)

The same magazine recently gave it another full page's attention. Again, the standfirst to pictures mentioned, premonition and "several collisions including Wrawby and giving the reprieve as "less than a week." However, after 20 years on Humberslde it moved to Tinsley. Sheffield, and emerged in June last year carrying the painted unofficial name ARIADNE. "Prophetically, the locomotive recently suffered fire damage and retired home to Tinsley to await a decision on its future. Surprisingly, in view of the recent Freightliner cutbacks, 47299 has been sanctioned repair and has entered Doncaster BRML for intermediate overhaul (CEM G-exam) to emerge in Railfreight livery and roam the rails for another four years. Unless..." (11)

Well, first a few facts which may be superstitious, incidental or stupid. I have 19 photographs of this engine in my collection from various sources: two I took myself at York on separate occasions, one of which is the only loco picture among several hundreds to have had an horrendous accident making it almost unrecognisable (there is a body of lore related to supernatural beasties/incidents causing photographic negativity!). I knew Jenny Randles had written up the premonition claim and took home her book "Sixth Sense" Only to find it was the wrong one - it is in "Beyond Explanation?" Hardly shows me as an ace psychic; rather a victim of library anti-angels. Also to check the Ariadne name, I failed to locate in our house my encyclopedia of god/ goddesses' names - it had vanished, or was it evidence of careless filing?

If nothing else, the folklore surrounding this locomotive reveals substantial support for a supernatural element in its career.

However, I have been in contact with Immingham depot and have a letter dated 13/2/92 from S D Boner Area Fleet Manager of that traction function. I specifically asked about the psychic renumbering and any earlier accidents to the locomotive. The brief reply states:

I refer to you letter dated 5th February and the 'folklore' surrounding locomotive 47216/299 and the Barnetbv crash. This is not a matter about which I have any knowledge. I personally have been here since Apr11, 1989, and this is the first time it has ever been raised.

Renumbering of locomotives occurs quite frequently for many varied reasons, all of which are decided at Headquarters level. I am sorry that I cannot be more helpful. Hopefully the foregoing is of some, assistance."

Not really, actually. In fact, very disappointing. So what conclusion can be drawn: there are several possibilities - that he was too busy/bored to inquire further; that there was no mystery or psychic; or that the depot staff had really been sworn to secrecy.

The fact that it is receiving a comprehensive overhaul suggests that in the real world its the accountants who rule.

In conclusion, this is obviously in no way a "corrigenda" inquiry. Elements of the paranormal, Forteana and folklore merge and would be difficult to exorcise. Whatever, the renumbering is a real mystery. Overall only time will tell.

I doubt if when 47299 re-emerges from works attention it will have an unadventurous second coming.

Notes:

(1) 47299 in fatal accident. Rail Enthusiast. Feb. 1984.

(2) Collision at Wrawby Junction, ER. HMSO. (Precls in Modern Railways. April. 1987.).

(3) Barnetbv: The aftermath. Rail Enthusiast. March. 1984.

(4) Fate rides on the 5.32. Sunday Express. April 1, 1984.

(5) Railway Rites - The Renumbering of 47216. The Symbol, No. 4 1984.

(6) From George Stephenson to Carol-Anne Stephenson (Changing Locomotive Numbers and Names) The Shaman. No. 9 1985.

(7) Rail Enthusiast. Feb. 1985

(8) Randles, Jenny "Beyond Explanation?" Robert Hale, 1985.

(9) The Ghostbuster Loco! Rail Enthusiast, No. 109, 1989

(10) Rail Enthusiast, No 131. 1990

(11) 47299 - The "Jinx" continues. Rail, No. 163 1991.

Postscript: Surprise, surprise! Released from Doncaster Works during the last week of January, 47299 " was up to its old tricks within a couple of weeks." (actually more than a couple) (1A), when noted derailed at Basford Hall yard, Crewe, after working the 0100 freightliner from Garston on February 14.

I have since located the missing books mentioned above and for completeness note that Ariadne was daughter of Minos, King of Crete. She helped Theseus overcome the Minotaur and they married, bur he abandoned her on an island where Dionysus found her and made her his bride.

Notes:

(1A) Rail, No. 170, 1992

(2A) Stoneham, Richard. Greek Mythology. Aquarian Press, 1991.

========================

Follow up notes, from R Lushman.

EWS ( English, Welsh, Scottish ) Railways put this locomotive up for sale but must have forgot to tell the staff at the Springs Branch Depot, as they soon set about it with the acetylene torch.

Not much remained of this locomotive as can be seen from the picture below.

Will 47 299 have the last laugh? Maybe some of the parts robbed from this locomotive will be a curse to others of the same class. In early January 47 299 was taken inside the shed and completely cut up.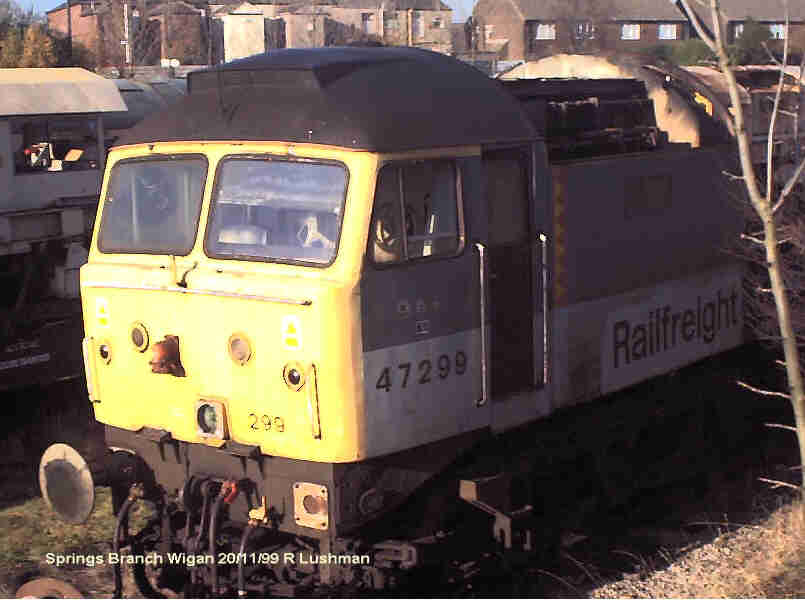 Picture. 47 299 sits awaiting the final call into the shed on the 20th November, 1999.