MY FAMILY ROOTS
Most people these days are too busy to read family histories or do research on their ancestors.However,for those few who have expressed some interest from time to time in our heritage it seems well to record the knowledge we have of the past for future generation.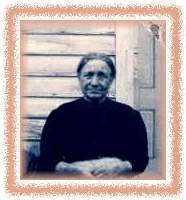 This is a picture of Brita Johannesdtr.Eraker(Hegg)

My G-Grandmother,s Norwegian Trunk that she bought over from Norway when she came to America. Brita Johannesdtr. Eraker Hegg Born June 20th,1849 Born: Laerdal,Runntupp u/Eraker Bapt.July 11,1849 Confirmed Oct.12,1864 Recieved her education in Norway Left Norway on Apr.20,1870 Married Peter Wold:July 4th,1872 Died:Greenwood Township Vernon County,Wisconsin,USA SOURCE OF INFORMATION Laerdal Bygdebok,Bind 1,side 649

This is the(Altar)of the Old Borgund Stave Church that my Great-Grandmother Brita Hegg attended. Noreg Borgund stavkyrkje,Sogn.Fra 1150 Norway:Borgund Stave Church,Sogn. From about 1150.Altar-piece from 1654 and chasuble from 1751.

This is a picture of the "Old Borgund Stave Church."

Picture of My Great-Great Grandmother Randi Eriksdtr. Hansegjert(Hegg) Born:1820 Her husband Johannes, the son of Henrik Henrikson Skaarheim and Unni Johannesdtr. Kattevoll, was born in 1812 in Laerdal Township. He was married on December 12, 1841 to Randi Eriksdtr. Hansegjerdet .Randi, the daughter of Erik Olsson Hansegjerdet and Ingeliev Haakonsdtr. Borlo was born in 1820 in Laerdal Township. From 1842 to 1849, Johannes was a husmann at Runntupp under Eraaker. From 1848 to 1853, he had a place on the Hegg farm. From 1853 to 1858, he was at Runntupp again. In 1858, he was a husmann on the Bjorager farm. He then became a husmann at Brøyn under the Heggfarm from 1860 until he died in 1871. Randi emigrated from Hegg on April 17, 1872 and settled in Greenwood Township in Vernon County, Wisconsin .Widow Randi Eriksdtr. Hegg with her sons, Ole, age 16, and Haakon, age 6, joined the Greenwood Lutheran Church as member number 101 on September 17, 1873. Her daughter, Unni, who had married in May 1873, joined at the same time. Randi died in 1913. She is buried in the Rest Haven Cemetery in Blair, Wisconsin.

This is a picture of the gravestone of My Great-Great-Grandmother Randi Eriksdtr. Hegg

Peter Olsson Vold Born: July 14th,1849 Sogn og Fjordane,Norway Bapt.July 20th,1849 Confirmed:Oct.2,1864 Married Brita Johannesdtr.Hegg- July 4,1872 Died:1918 in Greenwood Township Vernon County,Wisconsin,USA SOURCE OF INFORMATION Laerdal Bygdebok Bind 3,side 90

Anna Marie(Mary)Erikson Born 1866 Born in Dane County Wisconsin,USA. Died May 30th,1946 Buried:June 1,1946 Greenwood Lutheran Cem.

Ole Johnson Born in 1860/61 Born in Norway. Died (very young)May 13,1899 Buried June 11,1899

Picture of G-Grandmother Martha G .Eide and G-Grandfather Herman Hove and Family.

Picture of G-Grandmothers Funeral Flowers Martha Gurina Rasmusdtr Eide May 22nd,1863 Died Sept.24,1905 Died at 42 of T.B.and Pan.Cancer An inscription in Norwegian on Martha's original grave maker reads,"Sal ig er de dode som dø i Herren."In English it is,"Blessed are the dead who die in the Lord."It is also appears on a new combination marker erected after Herman's passing.

Herman J.Hove

Born Nov.26th,1857 Baptized Dec.13th,1857 Married Nov.25th,1881 After Martha and Herman married ,they farmed west of Randall two years for Mr.Amdal,the purchased 120 acres four miles east of Randall from Martha's parents. Herman built as small house and a barn of poles and hay.He used a walking plow and cultivator,and sowed oats by hand.When planting corn,Martha sat up front on the planter and worked the lever which dropped the kernals into the ground.She could handle the horses as well as Herman .They planted a grove of ash trees to the north and west of the house, but severe storms of recent years have destroyed many of them. He was a good singer ,an avid reader,being well-informed on Norweigian economic conditions. Herman(Hermund)was Confirmed Sept.22nd,1872 Emigrated to America April 17th,1879 Upon his arrival in America Herman Hove went to his brother's Peter's farm west of Randall Iowa.He worked on a farm east of Randall for several years. Died:June 6th,1941

CLICK:

Picture of Herman Hove's Home in Norway

Lars Olsson Sjovoll Born:July 30th,1847 In Sjovoll,Bremnes,Hordaland Norway Died Mar.27th,1894 Randall,Iowa,USA Occupation:Farmer In 1869 was drawn for military service. Before leaving for America Lars Sjovoll sold potatoes and fish to secure enough for tickets to America. Married Sissela Meling on April 10th,1873 Left for America on April 25th,1873 Left from Bergen aboard Ship called "Valkyrien". Landed in America on June 20th,1873 Arrived at destination of Hamilton County Iowa,USA on June 26th,1873. SOURCE OF INFORMATION BB1 Bømlø Bygdebok bd 1

Family of Lars and Cecelia Sjovoll after Lars passed away.Picture Front,left to right-Hannah,Mrs. Lars Sjovoll and Bertha. Back,left to right-Edward(my grandfather),Inga,Julia and Ole.

Sissela Gurine Hansdtr.Meling Born:Nov.21,1845 Born in Meling,Bremnes,Hordaland Born to Hans and Johanne Meling Lived close to the North Sea growing up as a child. Great-Grandmother Sissela Meling was the only one of her family to ever leave for America. Died:Dec.29,1927 SOURCE OF INFORMATION BB1,Bomlo Bygebok bd.1
My GG-Grandparents.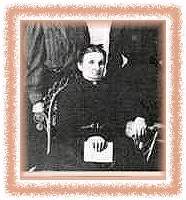 Betsy Braedon Born:May 5,1841 in Skrautvalarea Nor-Aurdal Parish Died Nov.1,1913 Buried Nov.1,1913 G.L.C. Her father:Ole Anderson Braedon Ole born:1808 in Norway Mother:Anne Hansdatter Gladem Anne born:1816 in Norway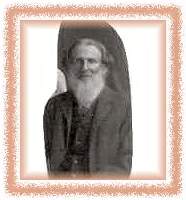 Ole Erikson Kalvskinn Picture of the gravestone of my Great-Great Grandparents Ole Erikson Kalvskinn and Betsy Braedon.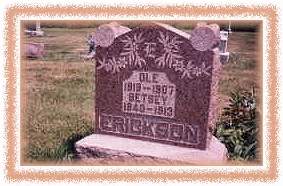 The Kalvskind Farmhouse as it today in Norway. Ole Erikson was Born: Sept.27th 1819(twin) Born:Gran,Norway Kirkbok Died Nov.22,1907 in Richland County, Wisconsin,USA Buried with his wife Berit in Greenwood Lutheran Church cementary in Vernon County west of Cazenovia in Richland County. Ole Erikson volunteered for military service in 1848 in Norway. Ole married his first wife Ingeborg Nielsdatter Bentestuen Nov. 15,1853 in Norway. Their child Gudbjor was born Jan.21, 1854.The christening occured Feb. 12,1854.I believe this child died before they left for America April 18,1854.Ole and Ingeborg had Edward Erikson in May 1856.Edward is buried in Lowville township,near Poynette in Columbia County,Wisconsin. Ole Erikson listed his name at Perry,Wisconsin in a church record as Ole Erickson Kalvskind. The U.S.census 1870 shows Ole married to Berit Brenden also of Perry probably in 1864 or 1865.Her father was Ole Anderson.

Brita Ysteindatter Tormondsetre Born:1808 in Tormodsetre Bremnes,Hordaland Death Date:Unknown First Husband: Lars Johannesson Sjovoll 2nd :(My GG)Ola Endresson Hovland SOURCE OF INFORMATION BB2,Bomlo Bygebok bd.2

Ola Endresson Hovland Born:1818 in Hovland,Bomlo Hordaland,Norway Died:1906 in Sjovoll,Bremnes,Hordaland Second wife(no children) Mari Eriksdtr. Kuleseid

Johannes Pedersson Kvamme/Quamme Born:July26th,1825 Records in Vik and Bergen show Johannes Hove as being a tennat farmer,but some of Herman,s children mention that he was a builder of stone arch bridges. There are some bridges as you appraoch Vik,but most had been rebuilt in recent years. Hove is also the name attached to the
small vicinity or cluster of farms near the church, and most of the Hove's in Vik seemed to live in this one area.It,s seems the HOVE name has been well estableished for a long time in VIK,as there was a whole chapter on them in the VIK chronoligical text that the Roger Hove,s reviewed. My relatives that made the trip to Vik i Sogn(Herman,s Hove's birthplace) in 1972 was Earl and Gladys Sevold of Minneapolis . Later in 1974 ,visited by Roger and Laura Hove. In 1973,Harry Hove and Earl Sevold of Minneapolis located Herman,s birth and baptism on micofilm in records of the Mormon Church Library Both Earl Sevold Family and Roger Hove and Family , said that the town was the most beautiful scene witnessed on their trip. Vik is located on the Sognefjord,northeast of Bergen. It is in a valley at sea level between two mountains and is approached from the south over another mountain.The view from high is magnificent.The Earl Sevold,s visited Norway in 1971 also, but did not go to Vik at that time.

Guri Eilefsdtr.Kolve Born:Sept.21,1839 Born:On Kolve Farm,Voss,Norway Died:.Dec.31,1913 In Forest City ,Iowa,USA Buried at:Oakland Cem.,Forest City,Iowa Em.1857

Rasmus Erikson Eide Born:Dec.27,1831 Born:In Eide,Bomlo,Norway Died:Aug.11,1908 Died at Forest City,Iowa,USA Emigrated to Mt. Horeb in 1857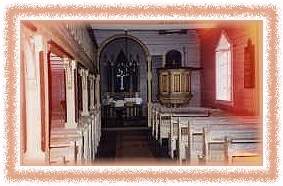 Above is the inside of the Old Church at Bømlo,Norway where My Great-Great-Grandfather Rasmus Erikson Eide was baptized.

My G-G-G-Grandfather
Eilef Larson Kolve Born:Feb.2,1813 Born:Kolve Farm in Voss Died:Feb.20,1882 Primrose Area,Dane County,Wis. Buried:East Primrose Luth. Cem. Dane County,Wisconsin,USA Eilef Emigrated in 1857.
"