Happy New Year..2011!! Wow, what a year! What did you thought about 2010? Before we enter the "new year", I (Sal) would like to take some time to reflect on God's blessings (share them here) of this past year. We sometimes easily forget what we did each year unless we STOP and think about what happened in our "busy" lives. During these holidays, I like to take advantage of the "break" and share with others "what happened in 2010"..

Some highlights this past year..

-January:
Hired some friends from my local church (Morris, MN) to help do the major work or remodeling my basement.
-April:
Went to my "first Minnesota Twins game" at Target Field
-May:
Memorial Weekend finger injury (dislocated right "pinky") from playing catch (football), which doctors told me will take 6 months to heal
-July:
Joined 3 of my students (ESL) on a 3-day weekend trip to the scenic places around Mount Rushmore, South Dakota


-August
Seeing our community opening their resources by starting new weekly church services for the growing "Spanish-speaking" population in making it a better place in "welcoming" them
Got the opportunity to do my passion for teaching ESL at the college I attended at for a week during UMM International Student Orientation. Many of them are from China!!
UMM International Students at the Dragon Boat Races (Meet #2)in Starbuck

-September:
Started my "flood-control" external basement project that would last 2 1/2 months



Skunk trying to find a place to hibernate in my yard




Picture: I am with a friend (Chris T.) from my local church, who was part of the annual homeschool winter play ""Genesis The Story of Creation to the Call of Abram of Ur"" (see more pics) on a "wintry" Friday (December 10th of 2010).

My New Year's Resolution is the same like every past years, which is to be more "Christ-like" (body, soul, and mind) with God's help....in my daily personal relationship (e.g. reading the Bible, prayer, fellowship, praising-worshiping, etc..)..Also, to be more of a "peacemaker" in all situations in my daily surroundings through 2010!

Today (Friday, December 31st of 2010) during my 1 1/2 weeks of "winter break", I decided to write down some "goals" (see purpose-driven life) I've been pondering about this past week. Here are some:

-praying for financial provision to finish my "basement remodeling" (e.g. finished my basement to start renting, get double-pane windows for my living room this summer, finish the north section of insulating my external basement walls, etc...) project (monthly if possible)
-continue helping "reaching out" to the growing "Spanish-speaking" community in Stevens County
-build current and future relationships (family, friends, co-workers, etc.)
-take advantage of the "opportunities" to make "peace-reconciliation" with everybody in every situation
-Give God the glory in "everything" I do (e.g. work, family, leisure, etc..)
-continue teaching what I know and learning in life with others (e.g. niece, nephew, ESL/GED students, Sunday School, blogs, etc..) "younger' than me
-"try" to take every opportunity spending quality time with the people around me after my last 2 months of 2010 having 4 people "leave this earth behind" and wishing I could've did certain "activities" and spent more time with them

"Heavenly Father, thank you for a blessed 2010! Despite the challenges I and many others faced this past year, help us remember the many blessings on what we should be thankful for. Forgive us of our sins and mistakes we did, especially if it affected others. Give us strength for a "blessed" 2011 and show us how we can be a "blessing" to others around us in our daily life. In Jesus' "mighty" name..AMEN!!-Sal's Prayer for the New 2011 Year
---
Perspective
Local-GoodnewsMorris


In part one of our recap of the top news stories in 2011, snow pummeled the area to start the year, the Pomme de Terre Golf Course found new owners and an earthquake shook things up.
"January 2011 • Stevens County Commissioners Herb Kloos and Don Munsterman retired from the board. Kloos had served on the board for 28 and Munsterman had served for four years. New county commissioners Jeanne Ennen and Phil Gausman were sworn in a few days later. Ron Staples was elected chair of the board in a 3-2 vote (commissioners Larry Sayre and Paul Watzke opposed the nomination). • Brad Heins began work at the West Central Research and Outreach Center, taking over the WCROC's dairy program from Dennis Johnson, who retired after 42 years. Eric Buchanan began work at the WCROC doing research related to the facilities solar thermal system. • The Morris Area swimming and diving team started the year with new coaches – Megan Lange and Travis Lembcke – and a new mascot. The team decided to drop the Stingrays mascot and wear orange and black as the Tigers. • The Morris Armory welcomed a new company, the 175th Forward Support Unit, from Appleton. The 151st Field Artillery moved its equipment and headquarters to Ortonville. • Sara Rajewsky recorded her 200th career point as the Morris Benson Area Storm defeated Park Rapids 5-1, shut out Litchfield/Dassel-Cokato and improved to 10-2 on the season. On the boy's side, Tony Schultz became the leading scorer in Storm history with 83 goals, passing Tony Schultz's former-record of 80 goals. • Chad William Goldenstein, a 28-year-old man from Hancock, was charged with fifth degree drug possession, interfering with an emergency telephone call and misdemeanor domestic assault after an incident that began with a domestic disturbance investigation. Law enforcement discovered a marijuana growing operation in the basement of the home and uncovered more than 14 pounds of marijuana. • Superior Industries acquired Hancock Concrete as of January 1. Hancock Concrete President Rob Schmidgall told the Hancock Record that the acquisition is more like a merger of Hancock Concrete into a corporation that includes Superior and Westmor Industries. February 2011 • Morris Area/Chokio-Alberta wrestler Zach Gibson claimed the 285-pound West Central Conference South title by beating a familiar rival – Brandon Schmitt of Dawson/Lac qui Parle Valley. • Joe and John Riley were each sentenced to 42 months in prison and received the maximum fine of $250,000 for devising a tax-evasion scheme that involved concealing income from their road construction business. The brothers pled guilty to one count of conspiracy to defraud the U.S. in November 2009. • The Morris Area FFA Alumni and the Hancock FFA Alumni chapters joined and moved forward as the Stevens County FFA Alumni organization. The group met for their annual meeting which included a free supper and an FFA work auction where FFA student made themselves available for four to eight hours of work for the winning bidder. • About a foot of snow blanketed the area, adding to the already 58 inches of snow that had fallen since the season began (with 30 inches falling after Jan. 1). • Sen. Bill Ingebrigtsen and Rep. Torrey Westrom stopped in Morris as part of a six-stop town hall tour of the district. Both lawmakers said they saw the state budget as the top issue this session. The same week, Sen. Al Franken stopped by UMM to review renewable energy projects. • American Legion National Commander Jimmie Foster made a breakfast stop in Morris to urge voters to pass a Constitutional amendment protecting the American flag as part of a week-long tour of Legion posts in Minnesota. • The Storm boys' hockey season ended in a double overtime loss to St. Cloud Apollo. The same week, the UMM mens' basketball team advanced to the UMAC championship to face Northwestern, and the womens' basketball team hosted Northwestern in their own UMAC championship. March 2011 • Barb Hesse was inducted into the Artillery Order of Molly Pitcher after being nominated by the National Guard's Battery C 1-151 for her work with the Family Readiness Group for the unit. Hesse said she considered the award a joint honor she shares with her husband, Tom. • After six years on the transplant list, 10-year-old Erin Tanner (the daughter of former Morris residents Robert and Amber Tanner and the granddaughter of Morris resident Tina Didreckson) received a new liver at the University of California-Los Angeles' Mattel Children's Hospital. Erin was born with biliary atresia, a hereditary bile duct condition. • Ryan Hurd of Owatonna was convicted on five counts of murder, including premeditated murder in the first degree, for the death of 19-year-old Kathryn Anderson of Morris on Dec. 3, 2009. Hurd will spend the rest of his life in jail. April 2011 • Owners of the Pomme de Terre Golf Club and a group arranging a public purchase of the course reached an agreement when a letter of intent and purchase agreement for $557,583 were signed. The fundraising committee for the public purchase raised more than $615,000 since the club was put up for sale in February. The deal closed on Friday, April 29, and the course opened for the season that Saturday. A new manager – Tom Legate – was hired in May by the new five-member Board of Directors. • Seven of the 14 neglected horses removed from a Starbuck home by the Stevens County Humane Society in an animal hording and neglect case found new foster homes. The most seriously ill horses remained at a safe haven in Stevens County where they could be monitored until they too found homes. Weeks later, the Humane Society took in four horses from a residence in Douglas County as well. • 2010 Census data showed that the population of West Central Minnesota continues to decline. Overall, Stevens County lost 327 people (a decline of 3.25 percent). In contrast, the City of Morris population grew 4.3 percent, from 5,068 to 5,286 people. • An 2.5 magnitude earthquake hit West Central Minnesota 2:20 p.m. on Friday, April 29, with a center near Alexandria. The quake was likely an event on the Great Lakes Tectonic Zone. May 2011 • In their first year as a student organization, eight members of the Morris Area Business Professionals of America team competed at the BPA national competition in Washington D.C. Eighteen Morris Area students qualified for the national event. Junior Sydney Beyer also accepted the "Ambassador of the Year" award for earning the most Torch Points, beating about 800 students across the nation who are active in the Torch program. • Long-time Stevens County and City of Morris attorney Charles Glasrud was appointed to fill the 8th Judicial District vacancy left when Peter A. Hoff retired in January 2011. Although becoming a judge wasn't a life-long ambition, Glasrud said he saw the appointment as an opportunity to grow professionally and personally. • The Morris Liquor Store failed its second alcohol compliance check in a year for selling alcohol to a minor. As a result, store employees are now required to run identification cards through a card reader attached to the cash registers, which City Manager Blaine Hill said he hoped would correct the problem. The part-time employee who sold to a minor was also fired, resulting in a number of letters to the newspaper noting that the store manager was not fired for a similar offense in 2010. June 2011 • Repair projects on Highway 9 between Morris and the Pope County line, south of Hancock, were completed in mid-June. The project was part two of MnDOT's plan to repair about 25 miles of Highway 9 between Benson and Morris. • Morris Area/Chokio-Alberta athletes Cody Cannon and Rachel Moser jumped for gold at the state track and field meet. Moser pole vaulted 11-0 without a miss and Cannon won in a narrow victory in the 110 hurdles. • The Stevens County Board of Commissioners began interviews to fill the vacant Stevens County Attorney position. Minnesota House District 11A Rep. Torrey Westrom was one of the four finalists, which also included Jeanine R. Brand, Aaron K. Jordan, and Lars B. Markeson. • The Morris Area/Chokio-Alberta girls' softball team finished their season 20-4 overall and won the West Central Conference South title with a perfect 16-0 record. The season ended with a 2-2 showing in the Section 3AA tournament. "


Morris Community 2011 Collage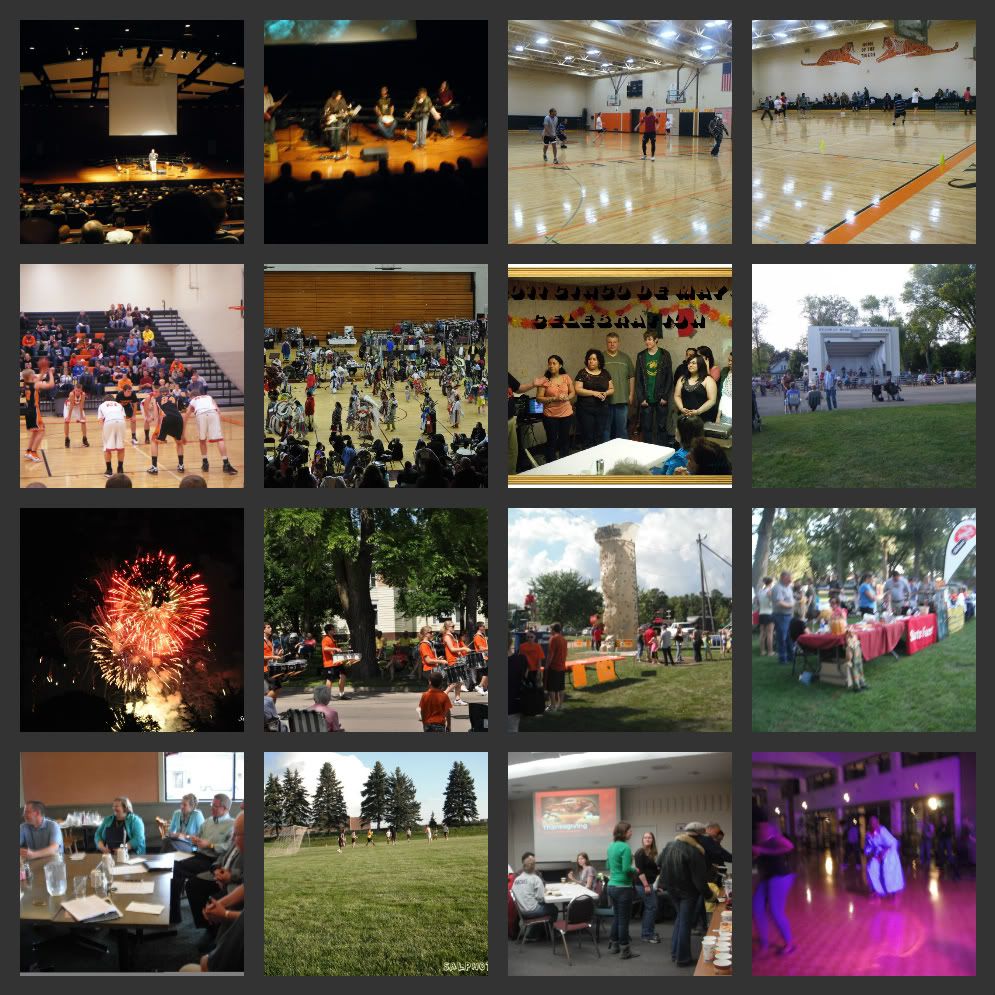 *click the picture above for more pics
{Photos by Salphoto.biz}

Morris in 2011: What happened around here? Part II, morrissuntribune.com Published January 06, 2012, 03:00 PM
In part two of our recap of the top news stories in 2011, the remains of an Alberta woman were found, the new U of M president visited and a farm accident left thousands without natural gas
"July 2011 • The beginning of July brought a number of personnel changes to businesses and offices in the area: Stevens County Chief Deputy Auditor-Treasurer Kieth Solvie retired after 42 years with the office; Paul Hendricks was named interim director of the Morris Area Chamber of Commerce; Bart Finzel was named interim vice chancellor of for academic affairs and dean at the University of Minnesota, Morris; Mark Ekren was named the Morris Area School District's activities director; and Tom Larson, editor of the Morris Sun Tribune, was named sports editor of the West Central Tribune. • Six Tiger athletes were named to the West Central Tribune All-Area Teams: Dani Schultz and Mackenzie Weatherly were named to the softball team, and Ryan Beyer, Tyler Hansen, Eric Riley and Alex Erickson were named to the baseball team. • The remains of 49-year-old Tamara Lee Mason of Alberta, who had been missing since December, were found buried on the property where she lived. Mason's 17-year-old son, Jacob Seth Cobb, was charged with second-degree intentional murder and second-degree murder while committing third-degree assault. Her other two sons, 18-year-old Andrew Quinton Cobb and 25-year-old Dylan Clemens were charged as accessories after the fact in the homicide. • Aaron Jordan was appointed the new Stevens County and City of Morris attorney, to replace long-time attorney Charles Glasrud, who was appointed as an 8th Judicial District Judge. Jordan came to Stevens County in August after serving as the Assistant County Attorney in Cass County. Jordan was chosen over the other finalist, State Rep. Torrey Westrom, in part because of his extensive prosecutorial experience. Jordan was officially sworn into office in August. August 2011 • Willie's SuperValu celebrated 60 years of service in Morris with their annual Parking Lot Party at East Side Park. Willie's served roast beef and pork sandwiches, beans, cake and pop with free-will donations for the Stevens County Food Shelf. • Natalie Johnston, the daughter of Lee and Jean Johnston, was the second runner-up in the Minnesota Pork Ambassador competition. • Kim Ukura was named editor of the Morris Sun Tribune. Ukura graduated from UMM in 2008 with a degree in English and an area of concentration in journalism. While at UMM, she worked for both the University Register and The Counterweight, as well as with the Center for Small Towns. Ukura was also an intern with the Sun Tribune while she was a UMM student. • After a successful season with a record of 17-4, the Morris VFW baseball team ended their season in the first round of the state tournament. • UMM's head softball coach, Heather Pennie, was inducted into the Minnesota Fastpitch Hall of Fame. Pennie had just finished a record-setting season with the women's softball team and been named to the Minnesota High School Fastpitch Coaches Association Hall of Fame. • New University of Minnesota President Eric Kaler made a stop at UMM where he emphasized the campus' unique combination of a strong liberal arts core and emphasis on renewable energy and sustainability. Kaler's visit to UMM was his first stop at a coordinate campus since he took office on July 1. • A fault in a high voltage power line on the first day of classes at UMM forced the campus to evacuate the science building and cancel late afternoon classes. • The Morris Area and Chokio-Alberta football teams joined forces for the first time this season – the last of the high school sports teams to combine. Long-time Spartan head coach Neal Hofland joined the team as an assistant coach. September 2011 • The Alberta Post Office found itself on a list of 3,700 post offices across the United States at risk of closing after the volume of work at the retail counter fell too low. At a community meeting with residents, representatives from the U.S. Postal Service told residents that the cost to keep the post office open is more than $38,900 per year, but that the office only brings in about $12,370 at the retail window each year. • Hancock Police Chief Don Heikkinen died in a boating accident on Long Lake over Labor Day weekend. Heikkinen was reported missing on Sunday afternoon after a boat carrying six people capsized and only five made it back to shore. • A tip from a local pharmacy led the Morris Police Department to three arrests related to a methamphetamine ring operating in the Morris Area. According to police reports, Matthew Hart, 24, of Morris; Thomas Bauer, 24, of Graceville; and Drew Stephen Middlebrook, 23, of Rochester, were all arrested and charged in connection to a burglary at West Central Implement in Morris and purchasing supplies to manufacture methamphetamine at pharmacies in Morris and Alexandria. • Enrollment at UMM reached its highest level in more than 10 years, with 1,822 degree-seeking students enrolled on campus. When combined with non-degree-seeking students, enrollment reached 1,934. • Department of Commerce Commissioner Mike Rothman visited the West Central Research and Outreach Center in Morris and the biomass facility at UMM as part of a state-wide tour of Minnesota's clean energy marketplace and infrastructure. • A public hearing on a new zoning map for the city prompted a debate about the role of industry in Morris. Residents who attended the Planning Commission's hearing disagreed with the plan to re-zone all railroad property northwest of the Denco II plant from heavy industrial to light industrial. Business owners said the change would threaten the value of their property • A natural gas line three miles west of Cyrus was accidentally cut by a farmer laying tile, leaving 3,600 CenterPoint Energy customers in Morris, Hancock and Benson without service for an entire weekend. More than 100 CenterPoint Energy employees converged on the area after the outage, turning off all natural gas service before they could begin lighting pilot lights again. October 2011 • Four students from the Morris Area Business Professionals of America – Sydney Beyer, Kaylee Brandt, Laura Kuhn and Paige Loew – represented Minnesota at the National Organizations for Youth Safety Teen Distracted Driving Summit. In the upcoming year, the four students will put on two local version of the summit in Minnesota. • Two Morris Area FFA teams competed at the national tournament. The Ag Issues team – Brooke Wente, Eric Wulf, Rachel Moser, Brady Wulf, Martha Koehl and Tony Domnick – presented their debate, "Corn: Food verus Fuel." The Marketing Plan team – Xochil Mendez, Steph Hennen and Beth Holland – presented a plan for marketing manure solids for fertilizer. • A trail camera video and an attentive gas station attendant let to the capture and arrest of two men accused of committing a series of hunting equipment thefts in Stevens and Grant Counties. According to police reports, Jason Lashinski, 20, and Jordan Skroch, 18, both of Holdingford, were charged in the incidents. • U.S. Senator Amy Klobuchar stopped at the WCROC as part of a rural economic tour of nine counties in western Minnesota. While at the WCROC, Klobuchar toured the renewable hydrogen and ammonia pilot plant and learned about the building's solar heating and cooling systems. • A study completed by Emergency Services Consulting International found that there are not major issues that would prohibit the volunteer fire departments in Morris, Hancock, Chokio and Donnelly from combining into a single, unified department – if that's what those involved wanted to do. All four area fire chiefs said they are in support of increasing cooperation between the departments and looking into the possibility of shared services. • Morris Area/Chokio-Alberta runners Aaron Goulet and MaKenzie Smith eared spots at the state cross county meet after big wins at the Section 6A Cross Country Meet. At the state meet in November, Goulet finished in the middle third of his race. Smith placed 45th of 156 runners in her race. • The end of the season for the Morris Area/Chokio Alberta Tiger football team came to and end with a 30-14 loss to Benson in the section 5AA quarterfinals. The Tigers earned the No. 4 seed in the playoff with four straight wins at the end of the season. November 2011 • A community forum organized by three recent graduates of the Blandin Community Leadership Program – Holly Witt, Don Reicosky and Allan Saugstad – brought together local residents and government officials to discuss how governments get money and how they plan to use it through local and state funding. • The Occupy Wall Street movement came to Morris with two marches down Main Street in Morris organized by "Occupy Morris." • Two area men – Robert King of Morris and Jeffrey Demo of Hoffman – face felony-level drug charges for narcotics, marijuana and methamphetamine after a tip to the the Stevens County Sheriff's Department indicated one of the men possessed a "significant amount" of marijuana and unprescribed narcotics, a complained filed in district court charged. • The Cougar men's soccer team beat rival St. Scholastic to with the Upper Midwest Athletic Conference Tournament. For the first time in the program's history, the team headed to the NCAA Tournament. December 2011 • Dynamic speed signs, which were paid for using leftover funds from a Safe Routes to School grant, were installed on Columbia Avenue between South Street and Green River Road, to help address concerns that distracted drivers in the area drive too fast near the elementary and high schools. • MAHS Choir Director John Kleinwolterink was named Morris' 2011 Teacher of the Year by his colleagues. Mary Walker, who works in the district office, was named Support Staff Member of the Year. • A fish house on Pomme de Terre Lake caught fire, injuring three people. Morris Fire Chief Doug Storck said the fire was likely caused by a gas leak that ignited the spray foam insulation in the house. • John DeRung of Morris competed in a national Texas Hold'Em Tournament in Las Vegas after qualifying for the event through his participation with the Free Poker Network at two local bars. • Gene and Darlene Pasche received the Thomas B. McRoberts Human Rights Award from the Morris Human Rights Commission. The Pasche's were honored, in part, because of their work with Orphan Grain Train, a Christian volunteer network that gather donations for those in need around the world"

State-GoodnewsMinnesota


"1 Opening day at Target Field
In what would become the story of the summer, the Twins opened Target Field in April to rave reviews and a sound victory over the Boston Red Sox. It was an unseasonably warm and sunny April afternoon, and the auspicious start was a sign of things to come.
2 12 men in the huddle/Brett Favre's interception
After overcoming plenty of adversity during the NFC title game, the Vikings were on the verge of reaching the Super Bowl for the first time in more than three decades. We all know what happened next, and it's a moment that will be etched in the consciousness of Vikings fans along with Drew Pearson's push, Gary Anderson's ill-timed miss and every other heartbreaking memory.
3 Brad Childress fired
Less than a calendar year after bringing the Vikings to the brink of that Super Bowl, head coach Brad Childress -- who often drew the ire of fans, even in good times -- was fired after a 3-7 start to a season in which the organization was "all-in" to win a championship. He was replaced, at least on an interim basis, by defensive coordinator Leslie Frazier.
4 Metrodome roof collapses and Vikings play at TCF Bank Stadium
It was a literal exclamation point on a season during which the roof had already, figuratively, caved in on the Vikings. When a giant snowstorm made their home unplayable, the Vikings -- after first playing a home game in Detroit -- turned to TCF Bank Stadium for their first outdoor home game in exactly 29 years. A big snow on game day and a 40-14 loss to the Bears followed.

Fox Sports - Metrodome Roof Collapses.m4v

*see GoodnewsMinnesota.info- Outdoors: Fall
" 5 Lindsey Vonn wins gold medal
Lindsey Vonn, who honed her skiing craft on the slopes of Buck Hill in Burnsville, lived up to the Olympic hype by taking home a gold medal in the downhill. Vonn, who overcame a bruised shin, also won a bronze in the super-G.
6 Jim Thome's big home runs
While Target Field itself was the biggest story for the Twins in 2010, slugger Jim Thome provided many of the team's signature moments. Perhaps the biggest was his mammoth walk-off home run off White Sox lefty Matt Thornton on Aug. 17, which helped propel the Twins to their sixth division title in the past nine seasons.
7 Tim Brewster fired/Jerry Kill hired
With the Gophers languishing in 2010 with only a single victory, head coach Tim Brewster was fired in the middle of the season. A search for his replacement -- one filled with wild speculation and plenty of opinions -- led to the hiring of Jerry Kill from Northern Illinois. Initial skepticism from fans has generally given way to optimism.
8 Randy Moss returns, and departs
It was a whirlwind that turned into a tornado. Brought in via trade to add life to a sluggish offense, former Vikings star Randy Moss lasted exactly four games (three of them losses) in his second go-round with the team before being cut. Included among his transgressions: failing to go at full speed all the time and melting down over a catered meal.
9 Joe Mauer signs long-term contract extension
There was a time when this was the only story about which anybody here could think. Though many considered St. Paul native Joe Mauer signing an extension was a foregone conclusion, the longer negotiations went the more people wondered. In the end, he inked an eight-year, $184 million deal a couple of weeks before the start of the season.
10 Brett Favre's streak ends
The iron man of football saw his streak of 297 regular-season starts come to an end because of an injury. It was another tough moment in a season in which the Vikings quarterback came back after three teammates flew to Hattiesburg, Miss. -- only to fall well short of recapturing the magic of 2009.
Honorable mention: Kevin Love's 30-30 game; Jayson Ness wins NCAA wrestling title on a last-second move; Lindsay Whalen returns to Minnesota with the Lynx; Justin Morneau's concussion; the Wild's sellout streak ends; Gophers men's basketball team makes Big Ten tournament final and gets an NCAA bid; Ron Gardenhire is chosen Manager of the Year; U of M's Gabriele Anderson takes second in 1,500 meters at NCAA outdoor track and field championships; Brock Lesnar loses the UFC heavyweight title; Nebraska joins the Big Ten in the Gophers' division."

"t's not easy being a Minnesota sports fan these days. The Vikings broke our hearts again last January, the Twins won another division, but went meekly into the night in three straight to the Yankees, the Wild and Wolves aren't sniffing around the playoffs and perhaps the best Gopher program, John Anderson's baseball team doesn't have a place to play now that the Metrodome has collapsed.
How do we look back at the 2010 sports year in Minnesota?"


Nation-GoodnewsUSA


" An overview of national and international events, people in the news, timelines, and quizzes of 2010."

"The year in news -- confounding, terrifying, and compelling.
Extreme weather and natural disasters brought life to a standstill throughout much of the world: earthquakes in Haiti and Chile, volcanic eruptions in Iceland, and record floods in parts of America and Asia. Manmade disasters in mining and oil drilling also inflicted tolls on the nation's confidence in workplace standards and technological prowess.
As wrenching as the devastation was on the ground (or in deep waters), the outpouring of global goodwill and human ingenuity kept up hope. And, in a troubled year, 33 miners who emerged after a record 68 days were triumphant testimony to a country's single-minded devotion.
National pride was also at play in the world of sports. A stunning year started with the Winter Olympics, but the high point was the World Cup, when soccer fans, seasoned or fledgling, took a 30-day summer break to witness an exciting clash of nations.
On the domestic front, the clashes were also bruising. In American politics, the Obama White House pushed through sweeping reforms and stimulus dollars, but quite a few local governments and citizen groups resisted what they perceived as big government spending. A midterm election intensified the nose-to-nose politicking, and the November results promise a mix of gridlock, wrangling, excitement, and hope for the months ahead.
—Vera H-C Chan"



"The year 2010 started on a somber note, with a catastrophic earthquake in Haiti. The BP oil spill dominated headlines from April through September. But, as we saw in Chile, the year also had its share of triumphs. "

"From massive leaks of secret, scandalous documents to a World Cup that was literally buzzing with regional flair, these 10 news stories were tops in 2010.
WikiLeaks sprang onto the Internet scene back in 2007, but its three damning document dumps this year sent Washington scrambling for cover and raised controversial questions about where the line is drawn between freedom of information and espionage. On July 25, the site released some 75,000 U.S. military documents pertaining to the Afghanistan War, some containing damaging leaks about confidential Afghan informants. On Oct. 22, WikiLeaks released the largest leak of U.S. military documents in history: nearly 400,000 Iraq war documents that showed higher civilian casualties and torture by Iraqi forces. And on Nov. 28, the site started publishing more than 250,000 diplomatic cables that embarrassed or infuriated foreign governments........
U.S. Combat Operations in Iraq End
After seven and a half years of conflict, the overthrow and death of dictator Saddam Hussein, and arduous conflict that saw extremists trying to take advantage of the fragile government in Baghdad, President Barack Obama declared on Aug. 31 that U.S. combat operations in the country had drawn to a close. It wasn't until November in the government-less country that parties reached a deal that gave Prime Minister Nouri al-Maliki another four-year term while attempting to iron out disputes between the Shiite and Sunni coalitions. The death toll stands at 4,746 coalition deaths, as well as tens of thousands of Iraqi soldiers and insurgents. Operation New Dawn is working toward all U.S. troops leaving the country by Dec. 31, 2011....
*see GoodnewsEverybody: MiddleEastern Iraqi of Iraq Outreach




"Current News' Andrew Fitzgerald presents the top 10 headlines of 2009. Which stories made the list? Was it Balloon Boy or was it the war in Afghanistan? Or was it both? Take a look and comment below sharing which stories you felt were at the top of your list for 2009..."


It's not that 2010 was uneventful. Far from it: it was a year of defining events, from a landslide election to an earthquake in Haiti. There were movements in the culture war here in the United States and in the shooting war in Afghanistan.
But 2010, perhaps even more than other years, was a year in which the stage was set. Now, what the stage was set for, that's the real question. Will the events of 2010 lead us out of our economic malaise, or plunge us in deeper? Will the election shift the country from a more liberal direction toward a return to conservative values? We may not know for years to come, but we can know what actually happened this year, and here are some of the major events of 2010.
"Historic health care reform signed into law President Obama signed the historic health care bill on March 23—a bill opposed by conservatives in part because it includes federal funding of abortions.
Attorneys general from 13 states immediately filed a lawsuit challenging the law. Florida Attorney General Bill McCollum is heading up the lawsuit that was filed in federal court in Pensacola, Fla., to "protect the rights and interests of American citizens."
South Carolina, Nebraska, Texas, Michigan, Utah, Pennsylvania, Alabama, South Dakota, Louisiana, Idaho, Washington and Colorado also joined in the battle.
*see GoodnewsEverybody.com LA: Clinic, Doctors, Hospital, Medical, Physicians, Pre-Med, etc...
"Social issues still matter
With the economy in a recession and unemployment near 10 percent, many pundits—even those on the socially conservative side of the continuum—said that social issues don't matter as much this year as they have in the past.
Election tsunami
The election tsunami that ultimately crashed ashore in November was seen gathering steam for months. Early in the year, three prominent Democrats announced that they were not going to be running for their seats this year. Sen. Byron Dorgan, a North Dakota Democrat, said he wanted to write books. Sen. Chris Dodd, D-Conn., told reporters it was just time for a change. Colorado Gov. Bill Ritter announced that he would drop out, because he wanted to spend more time with his family.
Charities flock to Haiti
Haiti was already the poorest country in the western hemisphere, and then on Jan. 12, it was hit by a 7.0-magnitude earthquake that devastated Port-au-Prince and surrounding areas.
Saving marriage
Las Vegas promotes itself by saying that "what happens in Vegas stays in Vegas." Those in politics have a similar saying: "What happens in California doesn't stay in California for long." That's why liberal groups have long seen California as a battleground state for getting liberal, often anti-Christian initiatives off the ground.
Don't Ask, Don't Tell
Biblical views regarding human sexuality also came under fire this year because of efforts to repeal the Don't Ask, Don't Tell policy regarding homosexuals in the military.

*see GoodnewsEverybody.com Social Issues-Gay, Lesbian, Bi-Sexual, Homosexual, Sodomy, Transexual, etc.. Outreach
" The Ground Zero Mosque
The latest attempt to halt the construction of a mosque near Ground Zero in New York has come to an end, resulting in the denial of a motion to declare the site a historic landmark. The Cordoba Initiative, an organization whose goal is to repair Muslim-West relations through a return of an "atmosphere of interfaith tolerance and respect," purchased the site one year ago. The final purchasing price was $4.85 million dollars, which they reportedly paid in cash.
Christian aid workers killed While the psyche of most Americans concentrated on the U.S. economy in 2010, Christian aid workers around the globe continued to be persecuted for the cause of Christ.
On Aug. 5, 10 members of a Christian aid group affiliated with International Assistance Mission were killed in an attack in Afghanistan, where the ministry has been serving since 1966. Among those killed were Tom Little, 61, the team's leader and optometrist of New York; Dan Terry, 63, from Wisconsin; Cheryl Beckett, 32, from Ohio; Brian Carderelli, 25, from Virginia; Tom Grams, 51, from Colorado and Glenn Lapp, 20, from Pennsylvania. The others victims were from Afghanistan, Germany and Britain. Two Afghan members of the team survived.
Age of millennials
In an age of polls and surveys, it's hard to know which ones to pay attention to, and which ones to ignore. But this one jumped out this year: Two-thirds of Millennials, those ages 18 to 29, call themselves Christians, but fewer attend weekly services according to numbers from Lifeway Research.

Comedy

Computers


"2010 was a year of marriage meltdowns, insect invasions and America's hippest octogenarian. From revolutionary technology to environmental tragedy, take a look back at this year's biggest news, top celebrities and most buzzed-about trends with Year End Hot Searches.
* Bedbugs - Top Health
* Tiger Woods - Top Celebrity
* BP Oil Spill - Top News

*see GoodnewsEverybody.com Science: Environmental-Oil
" * Betty White - Top Trend
* iPad - Top Shopping
* Alice in Wonderland - Top Movie


Miscellaneous

Sports


"For not only leading the New Orleans Saints to the first Super Bowl title in the franchise's history, but also for helping lead the city of New Orleans' rebirth after the tragedy of Hurricane Katrina, quarterback Drew Brees is the recipient of Sports Illustrated's 57th Sportsman of the Year award. Brees will be honored at a ceremony Tuesday evening in New York City....
Brees and his wife, Brittany, showed love for New Orleans when the city felt abandoned by so many others. Not only did Brees help the Saints make the playoffs in his first year in the city and begin the four-year climb to last year's title, but he also threw himself into helping the city recover, and its people to feel like they were not alone. "He symbolizes the people of New Orleans in many, many ways,'' says NFL commissioner Roger Goodell. "Drew believes in that community. He believes in doing what's right. He's one of the most genuine people I've ever met.''
Upon settling in a home in Uptown New Orleans, Drew and Brittany Brees established The Brees Dream Foundation, with the goal of "Advancing research in the fight against cancer and providing care, education and opportunities for children in need.'' In the ensuing years, Brees's foundation has helped raise more than $6 million, primarily in and around New Orleans, but also in San Diego (where Brees began his career and played five seasons with the Chargers) and West Layfayette, Ind. (where Brees played college football at Purdue, and met his wife in 1999).
"New Orleans was the perfect fit for Drew,'' says Brian Schottenheimer, who coached Brees in San Diego and is now offensive coordinator of the New York Jets. "There were questions about Drew and there were questions about New Orleans. But things happen for a reason.''
The steady revival of New Orleans owes to the efforts of many civic leaders, but none are more visible than the quarterback of the city's beloved Saints, so long lovable losers, but now on top of the football world. "You could see it in Drew from the beginning,'' says Billy Miller, who joined the team with Brees in 2006 and played four seasons. "He had this attitude that just said: `If I lead, people will follow.'''
Most poignant of all, Brees has dug deep roots in a city that opened its arms when he was wounded. He and Brittany have two sons: Baylen, who will turn two in January; and Bowen, born Oct. 19. Two weeks ago Brees held Bowen in his arms and said, "Life is a miracle.''
Saints QB Drew Brees talks about Jesus


Global-Multicultural

Comedy


*not all are considered funny!!


"LITTLEHAMPTON, ENGLAND (ANS) -- Steve Legg editor of Sorted, the UK's only Christian magazine for men, is encouraging people to make it their New Year's resolution to enable him to reach even more people in 2011 particularly in the armed forces and prisons....
Steve says he's been overwhelmed by the continuing opportunities he's had to reach more people through Sorted in 2010: "This year we took the exciting step of having free copies available at 20 Tube and British Rail stations, as well as 80 universities and key corporate locations in the city of London. Also, we supply freebies to passengers and staff at Gatwick, Heathrow, Birmingham and Stansted Airports.
"We are now upping the print run to 30,000 an issue and are believing for 50,000 an issue within the next few months. The more we print, the more we can reach. It's a no-brainer really.
The first edition of Sorted for 2011 is now available and features Hollywood A-lister Sylvester Stallone and an amazing line-up including Michael J. Fox, Russell Brand, Cyrille Regis and Tyson Fury. It also has regular columnists which includes Bear Grylls, Ant Delaney, GP Taylor, Carl Beech, Lyndon Bowring and Lee & Baz.
Sorted really is taking the Gospel to the ends of the earth as it's also available throughout the world through iPhone and iPad's.
To order your subscription of sorted today go to: www.sorted-magazine.com

2010 Events of the year Top events of 2010

"Here are the list of events that occurred in order from January to October. Jan.
A suicide bombing occurs at a volleyball game in northwestern Pakistan, killing at least 95, and injuring over 100.
A 7.0-magnitude earthquake occurs in Haiti, devastating the nation's capital, Port-au-Prince. With a confirmed death toll over 230,000. It is one of the deadliest on record.
Ethiopian Airlines Flight 409 crashes into the Mediterranean Sea shortly after take-off from Beirut Rafic Hariri International Airport, killing all 90 people on-board.
Feb.
An 8.8-magnitude earthquake occurs in Chile, triggering a tsunami over the Pacific and killing 497. The earthquake is one of the largest in recorded history.
Mar.
The Kasubi Tombs, Uganda's only cultural World Heritage Site, are destroyed by fire.
The ROKS Cheonan, a South Korean Navy ship carrying 104 personnel, sinks off the country's west coast, killing 46. In May, an independent investigation blames North Korea, which denies the allegations.

*see GoodnewsEverybody.com Korean of Korea Outreach
" Apr.
The President of Poland, Lech Kaczyński, is among 96 killed when their airplane crashes in western Russia.
A 6.9-magnitude earthquake occurs in Qinghai, China, killing at least 2,000 and injuring more than 10,000
Volcanic ash from one of several eruptions beneath Eyjafjallajökull, an ice cap in Iceland, begins to disrupt air traffic across northern and western Europe.
*see GoodnewsEverybody.com European: Icelander of Iceland Outreach

" The Deepwater Horizon oil platform explodes in the Gulf of Mexico, killing eleven workers. The resulting oil spill, one of the largest in history, spreads for several months, damaging the waters and the United States coastline.
A multi-day tornado outbreak across a large portion of the Southern United States. The outbreak was responsible for ten tornado-related fatalities. there were 88 confirmed tornadoes.
May.
Twenty-one are reported dead in Tennessee due to torrential rain and flooding. The Cumberland River, in Nashville crested at 51.86 feet in Nashville, a level not seen since 1937. Flooding left the Grand ole Opry house, Opryland resort, Oprymills mall, and the Bridgestone area and LP field in a tremoundus amount of water.
Afriqiyah Airways Flight 771 crashes at runway at Tripoli International Airport in Libya, killing 103 of the 104 people on board.
Air India Express Flight 812 overshoots the runway at Mangalore International Airport in India, killing 158 and leaving 8 survivors.
Jun.
Ethnic riots in Kyrgyzstan between Kyrgyz and Uzbeks results in the deaths of hundreds.[43]
*see GoodnewsEverybody.com Asian: Kyrgyzsts of Kyrgyzstan Outreach

"Jul.
Wikileaks, an online publisher of anonymous, covert, and classified material, leaks to the public over 90,000 internal reports about the United States-led involvement in the War in Afghanistan from 2004 to 2010.
Heavy monsoon rains begin to cause widespread flooding in the Khyber-Pakhtunkhwa province of Pakistan. Over 1,600 are killed, and more than one million are displaced by the floods.[
Aug.
Miners trapped in Chile.
*see GoodnewsEverybody.com Latino: Chilean of Chile Outreach

" Sept.
Seven people are reported to have been killed and around 100 are missing after a landslide in Oaxaca, Mexico.
Oct.
Thirty-three miners near Copiapó, Chile, trapped 700 metres underground in a mining accident in San José Mine, are brought back to the surface after surviving for a record 69 days."


Year in Review 2010: Earthquake in Haiti 12-30-10 (AP News)


"http://PoliticolNews.com -2009 Year in Review we highlighted the best of and the worst of news reports in politics, celebrities, and global world news"


" 1. The Great Recession reduces missionary sending and closes hundreds of Christian schools as layoffs hit World Vision, the Billy Graham Evangelistic Association, Focus on the Family, Asbury Seminary, CT, and many other ministries.
2. Orthodox Anglicans launch a North American province as the Episcopal Church drops its moratoria on gay clergy and same-sex unions. The ELCA narrowly approves clergy in same-sex relationships, prompting conservative Lutherans to create a rival body. Methodistsand Presbyterians maintain their bans.
3. Religious groups agitate for health-care reform. Pro-life Democrats and Republicans in the House surprisingly succeed at adding a ban on taxpayer-funded abortions to the House reform bill, largely thanks to Catholic clergy's lobbying.
4. The Obama administration permits federal funds for embryonic stem-cell research and overseas groups that promote abortion, while cutting funds for abstinence-only education.
5. Deadly Gojra riots in August prompt a government examination, and fresh international criticism, of Pakistan's notoriously abused blasphemy laws.
6. Swine flu causes Christian churches worldwide to modify services. Egypt slaughters all pigs, devastating the livelihood of its Christian minority.

*see GoodnewsEverybody.com Science: Biology, Animals, Biological Warfare, etc...
"
7. Multisite churches and video-venue campuses evolve from megachurch experiment to near-default option as large congregations expand.
8. Zondervan discontinues the controversial TNIV and announces that an updated NIV translation will debut in 2011.
9. Gaza war hinders reconciliation efforts between Messianic Jews and Palestinian Christians. Believers continue to flee Iraq; Somalia's Christians almost entirely vanish.
*see GoodnewsEverybody.com GoodnewsEverybody.com: African: Somali-Somalian of Somalia-Soomaaliya Outreach
"
10. Hispanic evangelical leaders debate boycotting the 2010 Census as a way to call attention to immigration reform. Meanwhile, the National Association of Evangelicals and other groups prepare for the immigration debate to reignite in 2010."

Year in Review: What Were They Thinking?- From Political Gaffes to Misbehaving Athletes, 2010 Was a Wild Ride for Some By SARAH NETTER Dec. 29, 2010 abcnews.go.com




"25. Fast Track Oil Exploitation in Western Amazon
21. Recession Causes States to Cut Welfare
17. The ICC Facilitates US Covert War in Sudan
16. US Repression of Haiti Continues
15 World Banks Carbon Trade Fiasco
14. Congress Invested in Defense Contracts
8. Bailed out Banks and America's Wealthiest Cheat IRS Out of Billions
7. Obama's Military Appointments Have Corrupt Past
6. Lobbyists Buy Congress
3. Toxic Waste Behind Somali Pirates
2. US Schools are More Segregated Today than in the 1950s
1. US Congress Sells Out to Wall Street

GoodnewsUSA.Info Government: Distrust



"(CNN)–This year, here at the Belief Blog, one of our most popular features was My Faith. It was a chance for people to explore and explain their faith – or faithlessness.
There were submissions from across the religious spectrum and a host of comments from our loyal readers.
Our top five stories for 2011, in no particular order, focused on a U.S. senator, a Muslim congressman, a recovering alcoholic who's an atheist, a labyrinth walker, and an unlikely patriot.
There was a sense this piece was going to do well because it was so well written and an interesting take, but we were stunned it did as well as it did. Comments and social network shares went crazy when this piece hit, as it clearly struck a nerve with readers. Marya Hornbacher was able to capture her awkwardness at the religiosity at an Alcoholics Anonymous meeting; regardless of where you stand on the religious spectrum, you could relate that feeling.
This piece featured Sally Quinn from The Washington Post's On Faith section. CNN photojournalist Jeremy Moorehead interviewed and filmed Quinn as she walked, and lay down in, the labyrinth she had built at her summer home. The piece was almost derailed by triple-digit temperatures on the day of the shoot, but Quinn and Moorehead powered through.
There was something surreal about filming this in Sen. Joe Lieberman's Washington home. We knew he had a book coming out on the topic of the Sabbath and thought it would be different to go and see how he and his wife prepared for the Sabbath. The entire time the crew and I were there, Hadassah Lieberman kept calling the senator "Joey."
When Mark Schloneger, a Mennonite pastor from Waynesboro, Virginia, wrote this piece, it stirred a hornet's nest of civil religion. Commenters questioned his patriotism when he explained, "I love my country, but I sing my loyalty and pledge my allegiance to Jesus alone." Schloneger even took to CNN TV to explain his views.
Rep Keith Ellison, D-Minnesota, was the first Muslim elected to serve in the U.S. House of Representatives. We had covered several of his events in Washington and worked with his staff for a long time to make this happen. The congressman allowed CNN all-platform journalist Chris Welch to follow him for a day in Minneapolis for this surprising and intimate look at his faith.
Other notable My Faith stories included Pastor Rob Bell on suffering, a priest who spent Christmas at the South Pole, and Leeana Tankersley on life as the wife of a Navy SEAL trying your faith.
What do you think – did we get the top five right? What were your favorites?

Sports


The year in sports had a lot of stories with global impact. There were events like the World Cup that attracted followers from the farthest reaches of the world. There were news stories like NBA free agency that had fans on the edge of their seats for a mere announcement. And there were triumphs and tragedies like we've never seen. It's hard to whittle the list down to just 10, but we tried to do that here.
" 1. Spain wins 2010 World Cup, July 11...

Resolutions


"SCOTT DEPOT, WV (ANS) -- Our personal lives often come under attack. There is turmoil throughout the world. Our nation is dealing with numerous problems. Nobody and no place seem to be problem free.
What I mention applies to most any age group in one or more ways. They are not in any particular order – just things to consider. Questions and possible answers for consideration.
1. Want to lose weight? Quit eating so much. Cut the calories. Eat nutritious food. Drink lots of water.
2. Want to make better grades? Turn the TV, phone, facebook and computers off. Turn everything off except a good light and read the books. Complete the assignments.
3. Want more energy? You're tired from sitting all day. Do some simple exercises like sit-ups, push-ups. Walk, run in place, ride a stationary bike, lift some weights. Walk on stairs, in your yard and on your street.
4. Want to learn more? Begin to read. Don't have many books? Read the dictionary and a Thesaurus daily. Read class books, encyclopedias, newspapers, read your children's schoolbooks.
5. Want friends? Be friendly. Choose friends wisely. Speak. Smile. Introduce yourself to anybody you want to meet.
6. Want a job? Start working for somebody who may not or cannot pay you. That's a job. Others may be looking for somebody who wants to work. And will pay you.
7. Want more money? Use what you do have wisely. Most of us would be much better off if we cut out soft drinks and all alcoholic beverages, tobacco and drugs of any kind. Even candy, ice cream and any food overly rich in fat and sugar.
8. Check on your friends. Are they helping you be a better person and are you helping them? We become much like our friends and the people with whom we associate.
9. If you have a job, do it to the very best of your ability and prepare for a better one. There may be another job just ahead for those who are prepared and not afraid to work.
10. Improve your reading, writing, listening and mathematical skills. If you want something, prepare to receive it.
11. Find out about the world and your purpose in it by becoming well acquainted with the content of the book of Genesis, the first book in the Bible. It is foundational. Words you can count on and live by.
12. Read three chapters each day from the Book of Psalms and one chapter from Proverbs. Memorize the Ten Commandments (Exodus 20:1-21 and Deuteronomy 5:1-22), Psalm 23 and the Lord's Prayer (Matthew 6:9-13). Study "The Sermon on the Mount" (Matthew, chapters 5, 6 and 7). Live according to Matthew 6:33, "But seek first the kingdom of God, and His righteousness, and all these things will be added to you."
13. Have a good Bible dictionary, note pad and pen close by. The Bible I have used for many years of study (and I've had several of them) is the Thompson Chair Reference Bible. Currently, I am using it in the New King James Version. I also use it in the King James, the New International Version and many others. With these two books, the Bible and the dictionary, Bible study becomes enjoyable.
This is a "Baker's dozen". That comes from an old practice of the bakers adding an extra roll to each dozen sold to avoid any risk of penalty for short measure.
Life can be better, no matter how bad it is or has been, when we begin to live with some goals firmly established in our minds. We all can be better and do better. Happy New Year -- all of 2011!
-30- "

E-mail Forward from Tom W. (Canada)

THE TOP TEN PREDICTIONS FOR 2010

1. The Bible will still have the answers.
2. Prayer will still work.
3. The Holy Spirit will still move.
4. God will still inhabit the praises of His people.
5. There will still be God-anointed preaching.
6. There will still be singing of praise.
7. God will still pour out blessings upon His people.
8. There will still be room at the Cross.
9. Jesus will still love you.
10. Jesus will still save the lost.

--Author Unknown

I am truly thankful that God is Faithful even when we are not.

*see GoodnewsEverybody.com Ministry: End Times, Prophecy, Prophetic, Rapture, Tribulation, etc...


*see Bible
Thank you for visiting SaldaPal! Please feel free to e-mail me (Sal) at saldapal@yahoo.com on any comments, suggestions (e.g. any new websites),complaints, or anytype of feedback to improve this website.



seekfind.org


*"...Seek and You'll Find..."- Matthew 7:7
---
Return to GoodnewsEverybody Holidays: New Year Homepage
Return to Sal's Homepage
Thank you for visiting my page at Angelfire. Please come back and visit again!