The Nightmare Before Christmas (1993)




See if your favorite person,
TV series or motion picture is
available: video/DVD/books




Tim Burton was a promising film school grad when Disney Studios signed him to a development contract. His first project for them was an animated short, "The Boy Who Liked Vincent Price," narrated by Price himself. Vincent Price and Tim Burton became instant friends; Price commenting in an interview later that Tim Burton was the first fan he'd met who truly "got" the Vincent Price persona. Price's final film appearance was in Burton's Edward Scissorhands as Edward's eccentric creator.

In 1984, Tim Burton directed two more shorts: "Frankenweenie" (a 30-minute short), and "Aladdin And His Wonderful Lamp" (60 minutes, from cable's Faerie Tale Theatre series, starring Robert Carradine, Valerie Bertinelli, Leonard Nimoy and James Earl Jones. Guess which one plays the genii).

Tim Burton's next story idea was for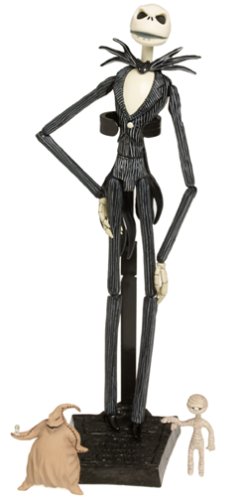 The Nightmare Before Christmas, but Disney executives didn't know what to make of it, and it was years before Burton was able to get the idea on film (in which the characters of Halloween kidnap Santa Claus and try to take over Christmas). His first feature ended up being "Pee-wee's Big Adventure," starring and co-written by Paul Reubens, with Cassandra Peterson (Elvira, Mistress of the Dark herself), Phil Hartman and others Monstervision review & host segments. The movie was based on the popular children's TV-series, which came to an end when Paul Reubens was arrested for enjoying himself in a porno theater a little too much, but we won't dwell on that - though Reuben's new bad-boy image allowed him to play a creepy vampire in the original Buffy the Vampire Slayer movie (she makes sure that he gets the point in it; one of Joe Bob's favorite campy dying scenes). Tim Burton did none of the writing for "Pee-wee's Big Adventure," had almost no creative input, and didn't make any more films until 3 years later. Danny Elfman did the music for "Pee-wee" and the two decided to do a creative new type of ghost story. The result was "Beetlejuice" (1988) Monstervision review & host segments.

"Beetlejuice" got Hollywood's attention and the following year he directed Batman (as well as sequel Batman Returns in 1992); next was "Edward Scissorhands" (1990, also produced & co-story);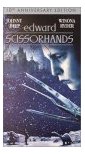 "The Nightmare Before Christmas" (1993, story & co-producer only, directed by Henry Selick - music by Danny Elfman, who also did Pumpkin King Jack Skellington's singing voice). He had first scripted "Nightmare Before Christmas" while at Disney but they thought it was so wierd, his contract wasn't renewed there. It's a demented little holiday tale about the leader of Halloweentown, who schemes to kidnap Santa Claus and take over Christmastown because it looks like more fun. Other voices include Chris Sarandon as Jack, Catherine O'Hara of "Home Alone" as Sally, and Glenn Shadix as the Mayor.
Disney eventually did make three tv-movies of their own called Halloweentown, "Halloweentown 2: Kalabar's Revenge," and Halloweentown High: Halloweentown 3, all starring Debbie Reynolds as a witch fighting an evil sorcerer for control of her hometown.
"Nightmare Before Christmas" is available on video and on DVD and videogames from Amazon.com

Next came Cabin Boy (1994, co-producer only, an under-rated fantasy/comedy drive-in movie); Ed Wood (1994, the hilarious story of Hollywood's strangest director, with Martin Landau as Bela Lugosi); "Mars Attacks!" (1996) Monstervision review & host segments; and Burton finished out the millennium with an R-rated cutting-edge version of Washington Irving's Sleepy Hollow (1999). Some critics called it "gorgeous and grisly." The budget was a bit too big to call it a Drive-In Movie, though you do get to see heads roll...

Action figures: Nightmare Before Christmas at Entertainment Earth. Tons available, which will you pick? CLICK HERE!
Nightmare Before Christmas: The Pumpkin King (2004)
The first of two (so far) videogames based on the movie; Amazon.com description:
He's Back! Get ready for a whole new Nightmare. Experience the world of Tim Burton's The Nightmare Before Christmas on your GBA. Once a holiday king, Oogie Boogie has so ruined his August holiday of celebrating bugs to the point where his holiday has completely ceased to exist. Therefore, he has decided that if he can't have his own holiday, then Halloween will do nicely. Meanwhile, Jack and the citizens of Halloween Town notice that unusual bugs have started to infest their township. Play as Jack Skellington - The Pumpkin King of Halloween Town. Encounter eerie locations and bizarre characters. Battle against Oogie Boogie's henchmen with an arsenal of unique weapons like bat boomerangs, jack o-lanterns and more.
The Nightmare Before Christmas: Oogie's Revenge (2005)
The latest of videogames based on the movie, set one year after the original film; Amazon.com description:
Take on Oogie Boogie and his henchmen armed with the amazing Soul Robber. Explore an amazing world with a visual experience like no other with unique gameplay styles and attack modes. Interact with a freakish cast of characters including Dr. Finklestein, Lock, Shock and Barrel and more. Tim Burton's The Nightmare Before Christmas: Oogie's Revenge is an action-adventure game that continues the story of Jack Skellington and his arch-nemesis, Oogie Boogie. Players take on the role of Jack, who must battle bizarre and vicious enemies in order to stop the diabolical Oogie Boogie from kidnapping the leaders of all the Holidays and establishing himself as king. Armed with the amazing "Soul Robber" and the ability to transform into other forms, Jack will have to use everything at his disposal to defeat this evil plan. Hollywood quality music and voice casting from the film create a truly cinematic experience
Frankenweenie (1984)
When was the last time you had to jump-start YOUR dog? Meet the Frankensteins - they have the most unusual pet on the block


Disney didn't know what to do with Tim Burton's first two shorts, and never released them in theaters other than at film shows (where they won awards). They were eventually sold to HBO, which used them as unbilled fillers between movies. That didn't stop Disney from promoting its official video this way:

"Disney presents a comic twist on a classic tale from Tim Burton, the director of the comedy hits Pee-wee's Big Adventure and Edward Scissorhands!

Meet Sparky, an ordinary family dog, who, through an extraordinary set of circumstances [Sparky's hit by a car and zapped back to life by the kid, after getting some replacement parts from the local pet cemetery] becomes Frankenweenie! He and the Frankenstein family [an all-American family living in the suburbs] share an exciting yet bizarre adventure that makes this one of the most outrageously funny films you've ever seen! It stars young Barret Oliver from The Neverending Story, with Home Alone's Daniel Stern and Shelley Duvall (Popeye's Olive Oil) as his parents. Let Frankenweenie give your funny bone a jolt -- it'll have your entire family it stiches!"
Story & directed by Tim Burton, script by Lenny Ripps. Filmed in glorious black & white, rated PG


Tim Burton films are available on video and DVD

Click here to hear Nightmare Before Christmas again

Or here for Edward Scissorhands themesong

Tim Burton's Corpse Bride

© Bill Laidlaw