The Flintstones (1994)




Live-action adaptation of the 1960s primetime cartoon series about a suburban family living in the stone age. "Yabba-dabba-doo! Everyone's favorite modern stone-age family comes to life in this live-action film based on the classic Hanna Barbera cartoon. The gang's all here: Fred (John Goodman), Wilma (Elizabeth Perkins), Barney (Rick Moranis), Betty (Rosie O'Donnell) and even Dino! Everyone's excited when Fred gets a big promotion and becomes a top executive at Slate and Company. But what Fred doesn't realize is that he's being set up by his new boss, Cliff Vandercave (Kyle MacLachlan), and Cliff's assistant, Sharon Stone (Halle Berry), to take the fall in a nasty embezzlement scheme. Can Fred figure out what's going on before it's too late?"
Additional cast:
Halle Berrie (of Planet Of The Apes fame), Elizabeth Taylor as Fred's bitchy mother-in-law, Richard Moll (the artist previously known as a one-eyed mutant in Adventures Beyond the Forbidden Zone), Loraine Newman of Coneheads, Jay Leno as host of "Bedrock's Most Wanted", Jonathan Winters (Commissioner Weston in The Shadow), and voice of Harvey Korman as the office dicto-bird. Cameos by Bill Hanna, Joe Barbera and Jean Vander Pyl (voice of Wilma in the original series). Directed by Brian Levant

Beware of vastly inferior re-cast sequel with no-name cast:
Flintstones 2: Viva Rock Vegas.
"Before she first met Fred Flintstone (Mark Addy), Wilma (Kirsten Johnston) was a rich but miserable girl in search of happiness. After abruptly leaving home in order to get away from her smothering mother (Joan Collins) and a shady playboy named Chip Rockefeller (Thomas Gibson) who had been courting her, Wilma winds up at a drive-in restaurant, where she meets Betty (Jane Krakowski) for the first time. Betty thinks Wilma is actually homeless and invites Wilma to live with her, and soon afterwards, Fred and Barney Rubble (Stephen Baldwin) ask the two girls out on a double date. It isn't before long Fred and Wilma begin to bond over a game of bowling, but Chip Rockefeller isn't out of Wilma's life just yet: deep in debt to a ruthless loan shark, Chip wants to get at Wilma's money, so he invites the two couples to his new casino in Rock Vegas, where he plans to do his best to put a stop to Fred and Wilma's blossoming love."
1960s TV Series, SEASON 1 of 6
0. THE FLAGSTONES (unaired pilot)
1. THE SWIMMING POOL
2. THE FLINTSTONE FLYER
3. THE PROWLER
4. THE BABYSITTERS
5. THE ENGAGEMENT RING
6. NO HELP WANTED
7. AT THE RACES
8. THE DRIVE-IN
9. HOT LIPS HANNIGAN
10. THE SPLIT PERSONALITY
11. THE SNORKASAURUS HUNTER
12. HOLLYROCK, HERE I COME
13. THE GIRLS' NIGHT OUT
14. THE MONSTER FROM THE TAR PITS
15. THE GOLF CHAMPION
16. THE SWEEPSTAKES TICKET
17. THE HYPNOTIST
18. THE HOT PIANO
19. THE BIG BANK ROBBERY
20. ARTHUR QUARRY'S DANCE CLASS
21. LOVE LETTERS ON THE ROCKS
22. THE TYCOON
23. THE ASTR'NUTS
24. THE LONG, LONG WEEKEND
25. IN THE DOUGH
26. THE GOOD SCOUT
27. ROOMS FOR RENT
28. FRED FLINTSTONE--BEFORE AND AFTER


SEASON 2


29. DROOP ALONG FLINTSTONE
30. FRED FLINTSTONE WOOS AGAIN
31. THE HIT SONG WRITERS
32. THE ROCK QUARRY STORY
33. THE LITTLE WHITE LIE
34. THE SOFT TOUCHABLES
35. FLINTSTONE OF PRINSTONE
36. THE BEAUTY CONTEST
37. THE MISSING BUS
38. SOCIAL CLIMBERS
39. THE HOUSE GUEST
40. ALVIN BRICKROCK PRESENTS
41. THE PICNIC
42. THE MASQUERADE BALL
43. THE X-RAY STORY
44. THE ENTERTAINER
45. THE GAMBLER
46. WILMA'S VANISHING MONEY
47. A STAR IS ALMOST BORN
48. OPERATION BARNEY
49. IMPRACTICAL JOKER
50. FEUDIN' AND FUSSIN'
51. THE HAPPY HOUSEHOLD
52. THIS IS YOUR LIFESAVER
53. FRED STRIKES OUT
54. THE ROCK VEGAS CAPER
55. THE MAILMAN COMETH
56. TROUBLE-IN-LAW
57. DIVIDED WE SAIL
58. KLEPTOMANIA CAPER
59. LATIN LOVER
60. TAKE ME OUT TO THE BALL GAME


SEASON 3


61. FRED'S NEW BOSS
62. DINO GOES HOLLYROCK
63. THE TWITCH
64. INVISIBLE BARNEY
65. BOWLING BALLET
66. BABY BARNEY
67. THE BUFFALO CONVENTION
68. HERE'S SNOW IN YOUR EYES
69. THE LITTLE STRANGER
70. LADIES DAY
71. HAWAIIAN ESCAPADE
72. NUTHIN' BUT THE TOOTH
73. HIGH SCHOOL FRED
74. DIAL S FOR SUSPICION
75. FLASH GUN FREDDIE
76. THE KISSING BURGLAR
77. THE BIRTHDAY PARTY
78. WILMA, THE MAID
79. THE HERO
80. FOXY GRANDMA
81. THE SURPRISE
82. MOTHER-IN-LAW's VISIT
83. FRED'S NEW JOB
84. THE BLESSED EVENT
85. CARRY ON, NURSE FRED
86. VENTRILOQUIST BARNEY
87. THE BIG MOVE
88. SWEDISH VISITORS


SEASON 4


89. DINO DISAPPEARS
90. GROOM GLOOM
91. FRED'S MONKEYSHINES
92. THE FLINTSTONE CANARIES
93. GLUE FOR TWO
94. BIG LEAGUE FREDDIE
95. SLEEP ON, SWEET FRED
96. OLD LADY BETTY
97. KLEPTOMANIAC PEBBLES
98. DADDIES ANONYMOUS
99. DADDY'S LITTLE BEAUTY
100. BEDROCK HILLBILLIES
101. LITTLE BAMM-BAMM
102. PEEK-A-BOO CAMERA
103. ANN-MARGROCK PRESENTS
104. TEN LITTLE FLINTSTONES
105. ONCE UPON A COWARD
106. FRED EL TERRIFICO
107. FLINTSTONE AND THE LION
108. CAVE SCOUT JAMBOREE
109. LADIES NIGHT AT THE LODGE
110. ROOM FOR TWO
111. REEL TROUBLE
112. BACHELOR DAZE
113. SON OF ROCKZILLA
114. OPERATION SWITCHOVER


SEASON 5


115. PEBBLES'S BIRTHDAY PARTY
116. HOP HAPPY
117. CINDERELLASTONE
118. MONSTER FRED
119. ITTY BITTY FREDDY
120. BEDROCK RODEO ROUND-UP
121. A HAUNTED HOUSE IS NOT A HOME
122. DR. SINISTER
123. THE GRUESOMES
124. THE MOST BEAUTIFUL BABY IN BEDROCK
125. DINO AND JULIET
126. KING FOR A NIGHT
127. INDIANROCKOLIS 500
128. ADOBE DICK
129. FRED'S FLYING LESSON
130. FRED'S SECOND CAR
131. CHRISTMAS FLINTSTONE
132. THE HATROCKS AND THE GRUESOMES
133. TIME MACHINE
134. MOONLIGHT AND MAINTENANCE
135. SHERIFF FOR A DAY
136. DEEP IN THE HEART OF TEXAROCK
137. SUPERSTONE
138. THE ROLLS ROCK CAPER
139. FRED MEETS HERCUROCK
140. SURFIN' FRED


SEASON 6


141. THE HOUSE THAT FRED BUILT
142. NO BIZ LIKE SHOW BIZ
143. DISORDER IN THE COURT
144. THE RETURN OF STONY CURTIS
145. THE GREAT GAZOO
146. CIRCUS BUSINESS
147. RIP VAN FLINTSTONE
148. SAMANTHA
149. THE GRAVELBERRY PIE KING
150. THE STONEFINGER CAPER
151. THE MASQUERADE PARTY
152. SHINROCK-A-GO-GO
153. ROYAL RUBBLE
154. SEEING DOUBLES
155. HOW TO PICK A FIGHT WITH YOUR WIFE WITHOUT REALLY TRYING
156. TWO MEN ON A DINOSAUR
157. FRED GOES APE
158. THE LONG, LONG, LONG WEEKEND
159. THE TREASURE OF SIERRA MADROCK
160. CURTAIN CALL AT BEDROCK
161. BOSS FOR A DAY
162. FRED'S ISLAND
163. JEALOUSY
164. DRIPPER
165. THE STORY OF ROCKY'S RAIDERS
166. MY FAIR FREDDY

    Flintstones movies are occasionally scheduled on the Sci-Fi Channel and USA Network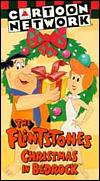 How the Flintstones
Saved Christmas (1996)

.

.

Flintstones availabilty on video, on DVDs and books from Amazon.com including the recent movies

Trivia question: In what US state is flint the official stone?

Fun fact:
Harvey Korman is the only actor who "appeared" in the original Flintstones cartoon series (as the alien Great Gazoo that only Fred could see), the first movie (as the voice of the Dicta-bird) and the second movie (as Col. Slaghoople)

Return to TV listings at MonsterVision, or Sci-fans

June 13, 1964, TV Guide cover shown at top is copyright TV Guide.

Click here to hear the original tv-series Flintstones themesong

How many people does it take to change a light bulb in a large corporation?
Nobody knows. Policy is still being written, a "new skill" day needs to be scheduled, a pro needs to be hired to teach proper installation, OSHA rules need to be checked, the task needs to be properly delegated to the appropriate union, and of course there has to be a budget approval for the change.
Don't believe me? The 5 step process at the BBC