ADDRESS:
AL. CUZA STREET, bl. CRISTAL
6200 GALATI
PHONE:00 40 36 411222
FAX:00 40 36 414929
E-Mail: azl@rls.roknet.ro
iatgl@rls.roknet.ro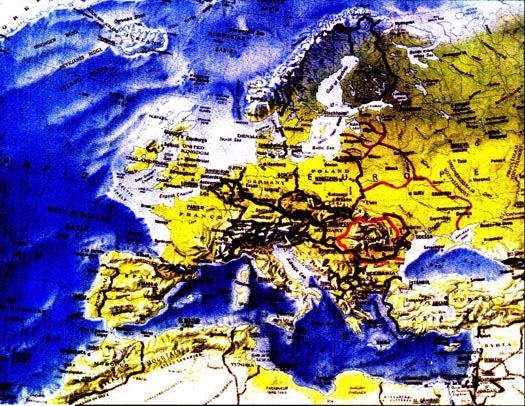 Romania lies at a major crossroad in Europe and is easy to reach from any cardinal point, by trans- European railways and roads, by air or on waterway(the Danube and the Black Sea).

Position: South-East of Central Europe, at the crossing of the commercial roads of Europe and East.

Relief: Mountains (33%), Hills and Plateaus(33%), Plains(34%)

Climate: Temperate Continental, with oceanic influence from the West, Mediteranian from the South-West, excesive continental from the North-East. Mean annual temperatures: ranging between 8*C in the North and 11* in the South. Average annual rainfall does not exceed 700l/m2.

Natural Resources: Total area arable land(39.6%), forests (27%), pastures and hayfields (19.9%), vineyards and orchards (2.5%), waters and lakes (3.8%), other Lands (6.2%). Subsoil resources: oil(the 2nd biggest producer in Europe and the 7th biggest in the world in 1937), natural gas(9th biggest producer in the world in 1990), coal, iron-ore, non-ferous ore(copper, lead, zinc,a.s.o.), gold and silver ore,salt, etc.

Human Resources: Many Romanians are known throughout the world due to their professional walue(for instance, Dr. Palade - Nobel Prize for medicine) and a highly qualyfied workforce.