Dr. Charles Thornton - A Breed Pioneer
BACK TO HISTORY

Dr. Charles R. Thornton of Missoula, Montana, is credited with the first import in 1925, from Edward Rindt of Austria. Bred prior to shipping, Senta v. Hohenbruck whelped a litter of seven on July 4, 1925
Dr. Charles R Thornton from Missoula, Montana his " Bredrite Kennels" His " every use" strains of breeding stock gradually became widespread in this country. All of his dogs were imported and from the basic and best bloodlines obtainable in Germany and Austria.
Pictured above. Senta Von Hohenbruch.
Thornton's import which produced the first documented German Shorthaired Pointer litter in the US.
Dr. Charles Thornton traveled west from Ohio in 1905 he was an ardent sportsman and he was among the first to introduce Chinese and Hungarian pheasants to Western Montana. Dr. Thornton was a breeder of fine German Shorthaired Pointers. Dr. Thornton imported and bred German Shorthaired Pointers to hunt the wild pheasants. At one time, Dr. Thornton had more than 30 German Shorthaired Pointers in his kennels.
Pictured above. Lady Robb Brickwedde. Whelped June 3rd, 1942.
Bred by Charles Thornton (Pal V. Waldhausen x Dreizenhein V. Brickwedde) Seiger Lore Granddaughter
Although German Shorthaired Pointer may have existed through German Settlers in the United States long before the imports of Dr. Charles Thornton. Dr. Thornton's dogs were the first recorded litter of German Shorthaired Pointers Whelped on American Soil. This litter was registered June 5th, 1926 in an issue of the American Field Publishing co. Dr. Thornton had become interested in German Shorthaired Pointers after reading an article in a sporting magazine where he saw three pictures of Edward Rindt's "Everyuse" German Shorthaired Pointers. Dr. Thornton decided he must have a couple of these all-purpose gun dogs. Dr. Thornton contacted Mr. Rindts and purchased a female by the name of Senta Hohenbruck and a male dog by the name of Rumpf V Hohenbruck. Senta had been bred to Treff v Hohenbruck (Treff owned and bred by Edward Rindt's) before leaving Austria. It took an approximate 8 months from Thornton's initial contact with Edward Rindt's of Bruck an der Leitha, Austria for Senta to arrive in Montana by train. He found only the bitch Senta and later learned that Rumpf V Hohenbruck was killed the day of export.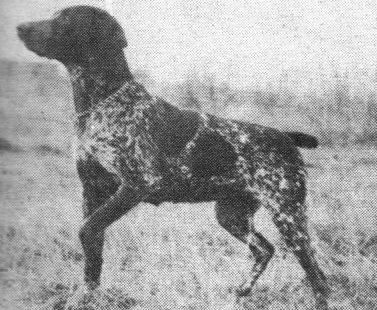 Pictured above. Montana Bill. from Dr. Thornton's second litter.
Senta Von Hohenbruck, arrived in the United States where she whelped 7 puppies from the sire, Treff. The pups were born on July 4, 1925. Dr. Thornton kept 3 females for breeding stock and the others were sold. Dr. Thornton greatly admired the German Shorthaired Pointer and stated they were the greatest gun dog ever produced. Dr. Thornton believed that German Shorthaired Pointers should be winning in the field and on the bench. Dr. Thornton's dogs and breeding's soon became available throughout the United States.
Pictured above. Pictured above. Ch. Dallo V.D. Forst Brickwedde. Whelped May 2nd, 1937.
Many old Michigan kennel lines came from Thornton breedings. Timm v Altenau was one of those dogs. Timm v Altenau was purchased from Dr. Charles Thornton by Mr. Hjalmar Olsen of Fieldborn Kennels. Sight unseen. The second owner of Timm was Mr. William Erhler who is behind many of the Rheinberg dogs. Schnellberg Kennels had great success with Dual Champion Valdo v Schlesburg. Timm v Altenau was Valbo's, great grandsire. Tim was also behind Sieglinde v Meihsen dam of the first BIS Ch. Sportsman' s Dream and many other great dogs and Michigan Kennels.
Pictured above. Seigers Lore. One of Thorton's greatest German imports. By: Tasso v Winterhauch out of Seigers Halli. Whelped August 20th 1928. Breeder: H. F. Seiger. Germany
Thornton breeding's embraced half-brothers and half-sister breedings to Reichs-und-Welt Sieger Heide vd Beeke: a three quarter brother to K.C. Bodo v.d. Radbach. the Prinz v Schlosshof inheritance of cleverness and sharpness the heavy leverage on the strain of Mars Altenau, Artus Sands and Edelmann Giftig. When in a pedigree there occurs a American-whelped Hohenbruck, Waldhausen, Brickwedde, or Altenau. Assume "Thornton Breeding"
SOURCE MATERIAL:


Field Dog Studbook: American Field Registration Page - 1926
Thornton & litter photo: GSP News 1960. Cle & Shirley Carlson. Saint Paris Ohio.
The 25th History Booklet: written by Clark Lemely.
Missoula History: Establishment of Thornton Hospital.
Seigers Lore, Montana Bill, Senta Von Hohenbruck: GSP Activities (Out of Print): Editor: George J. Ruediger. GSPCA Breed Committee.