Garfield United Methodist Church 1904 - 2003
In March of 1904 the Reverend Robert MacKenzie, who was preaching in the Garfield School, called the ladies of the congregation to meet for the purpose of organizing a Ladies Aid Society. The first 25 cents was earned by sewing carpet rags at the first meeting. These energetic ladies continued their activities and soon began to notice financial progress being made. After three years of labor together, the idea of building a church was suggested.
Early in 1904 a Church Board was organized with Mr. Sylvester Haynes being elected as the first chairman. Mr. Haynes donated the land for the church building and work began. The lumbering crew of C. House cut down donated trees and the Packard Mill sawed them into lumber. Mrs. Elaf Johnson walked seven miles to take a train to Bay City, Michigan to purchase pews. The gentleman from whom she purchased the pews gave her $1 for each mile she walked. By late fall of 1904 the church building was being dedicated. At the time, the motto selected by the Ladies Aid Society was "Never Say Fail".
In 1932, under the guidance and leadership of Reverend Splane, a full basement was put under the church. In 1934, under Reverend Ethan Bray's ministry, the entrance was changed from the north side to the east side. A furnace was also installed and the church was wired and lit by electricity for the first time. In 1940 two rooms were added and the basement was enlarged. The church congregation donated 500 hours of labor and the reopening of the church was celebrated with a homecoming on October 12, 1941.
In 1949, while Reverend Clarence Turbin was minister, the painting of Christ was commissioned, and on July 17, 1949, it was unveiled in the sanctuary. In 1964, indoor toilet facilities were constructed.
Over the years a new front entry was added, new siding and roofing, the bell tower and basement were waterproofed. The church was completely rewired, insulation was put in, new ceilings in both the sanctuary and the basement, new windows, new carpeting, circulating fans were installed. New cupboards were built in the basement, new pews were bought through donations and an electric organ was donated. This was all made possible by the grace of God and the same "Never Say Fail" spirit that our founders had.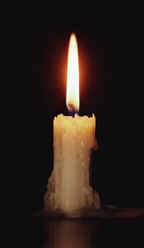 Back To Home Page
John 3:16 - Christian Links
Greeting From The Pastor
Special Events
Bazaar * Luncheon * Bake sale