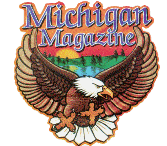 DR. MIKES -STAY WELL- SOUP
Share on Facebook As Seen On Michigan Magazine and featured in THE BEST OF THE BEST From MICHIGAN Cookbook!
2 tablespoons olive oil
3 pounds chicken, boned, skinned, all visible fat removed, diced (save bones and carcass)
Jeffery's Secret Spice Blend
1 1/2 cups chopped onions
1 cup diced carrots
1/2 cup chopped green onions
2 tablespoons minced garlic
1/4 cup fresh parsley leaves
2 tablespoons chopped fresh basil
4 bay leaves
2 cups assorted chopped fresh vegetables (such as beans, zucchini, yellow squast, or cabbage)
1 1/2 cups torn spinach leaves, cleaned and stemmed
Pinch of crushed red pepper, or to taste
3 quarts chicken stock
2 cups cooked fine or broad noodles
Chopped chives for garnish
DIRECTIONS
In a large saucepan, heat olive oil. season chicken with Spice blend. When oil is hot, add chicken, bones and carcass: sauté about 5 minutes, or until meat and bones are brown. Add onions, celery, carrots, green onions, garlic, parsley, basil. and bay leaves, seasoned with Spice Blend. Sauté vegetables 5 minutes Add chopped vegetables spinach, and crushed red pepper and sauté 1 minute. Add stock and bring liquid to a boil. Reduce heat and simmer, uncovered, 25 minutes. Add noodles, bring back to a boil, and simmer 5 minutes. Remove from heat and discard carcass and loose bones. Season with Spice Blend and pepper, if needed. Ladle soup into a bowl and garnish with chopped chives. Serves 6-8
---
JEFFREYS SECRET SPICE BLEND
All chefs, it seems, have a secret spice blend. Here is mine. Use it as a salt substitute as it is, or you can vary the amounts and choice of spices to create your own. A nutritional extra of this recipe is that it adds no additional calories, fats or sodium.
2 tablespoons chili powder
2teaspoons ground fennel seed
2 teaspoons ground mustard seed
1-teaspoon cayenne pepper
1-teaspoon cinnamon
1-teaspoon dried mint
1-teaspoon dill weed
1-tablespoon black pepper
1-tablespoon onion powder
1-tablespoon garlic powder
2 tablespoons paprika
1-teaspoon ground cumin
Combine all ingredients: keep in closed container.
---
Broadcast live streaming video on Ustream
Michigan Magazine TV Mugs
by Barry Stutesman
Find more
mugs
&
unique gifts
at CafePress
---
Find Michigan Magazine on YOUR TV! Share Michigan's Backroads with us each week on RFD TV....We've got upcoming shows in YOUR NECK OF THE WOODS! Place your zip code Here and well tell you exactly where to find us where ever you are!....See ya soon!
---