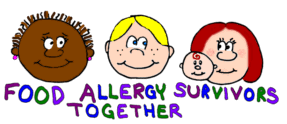 Free, Family-Friendly, Fun: FAST
Online since 1997!
A Growing Trend and Concern: Natural Flavorings A new 2018 article takes a look at why perhaps so many companies are adding this ingredient to their products.
FAST is an online-only support group for people of all ages who have been touched by food allergies. Whether you're a parent of a child with allergies, an individual with them, or a caring friend, you're welcome here!
Please take a moment to join the mailing list, a small, on-topic forum. It's a great place to turn to, to both give and receive support.
There's also an update on my health that may be helpful to read, as it relates to some things I have posted here.
In Loving Memory of
FAST Co-founder, Nancy