<![if !vml]>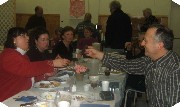 <![endif]>Heart to Heart Ministry is a fellowship of believers who seek to walk with God in obedience to Torah (His directions).
.
The congregation meets every Saturday morning at 10 AM. Also every Saturday afternoon at # PM we meet in Antigonish, Nova Scotia for a Bible study time (currently we are taking a slow, deep walk through the Book of Acts) H2H also has a Monday night Bible study in Westville.
.
<![if !vml]>
<![endif]>Our teachings are available by email and we love to talk to folk by phone (in the USA and Canada) to share what we are learning in our re-focus of living the whole Bible way.
.
Our address is
1882 Munroe St, Westville, Nova Scotia, Canada. (right next door to Heaven)
.
902-396-4759 is our phone number but if you email us -we can call you and it won't cost you anything.
.
We celebrate the 7 Feasts of the Lord with special times of worship and teaching during the Passover Time and the Feast of Succot (Tabernacles).
.
A love of ours is to have "family members" from around North America come to visit with us -the door and a bedroom is always available.
.
Email us if you would like to be on a list for our weekly teachings
hearttoheart@ns.sympatico.ca