Beth Blake, of Australia shares her story,

her confidence in God, and his plan for her life.
~ HUGS ~
Everyone was meant to share
God's all-abiding love and care;
He saw that we would need to know
A way to let these feelings show.
So God made hugs - a special sign
And symbol of His love divine,
A circle of our open arms
To hold in love and keep out harm.
One simple hug can do its part
To warm and cheer another's heart.
A hug's a bit of heaven above
That signifies His perfect love.
Jill Wolf
Here you will meet my Australian friend "Huggy-Bear." I met "Huggy" in a Christian Chat Room; She is always one of the first to make people feel welcome. When she hugs, you know the girl means it! Beth is one PK that loves the Lord, and expresses His love for others. She is a compassionate 'listener' – and a kind-hearted friend! We may never meet in person, this side of heaven, but here or there, I am looking forward to some good laughs with this girl; She's a hoot! Meet my friend Beth Blake:
jj daniel
Hi … I'm Huggy (both by name and nature)
I was born in a country town about 140 miles north west of Brisbane on 16 July 1956. My family moved to Brisbane when I was 20 months old and I have been a "city girl" ever since!
My father was a Methodist Minister until his "retirement" in 1979 (do ministers/pastors ever retire???) and went to be with His Lord in October 2000. My mum (aged 84), because of poor health, only manages to get out to visit family, church and a monthly "friendship circle" these days. I live with her and come in handy as chief cook and bottle-washer plus nurse, chauffeur, accountant... you name it, I'm IT. I have two elder brothers (with families of their own), both of whom live within about a 15 minute drive away.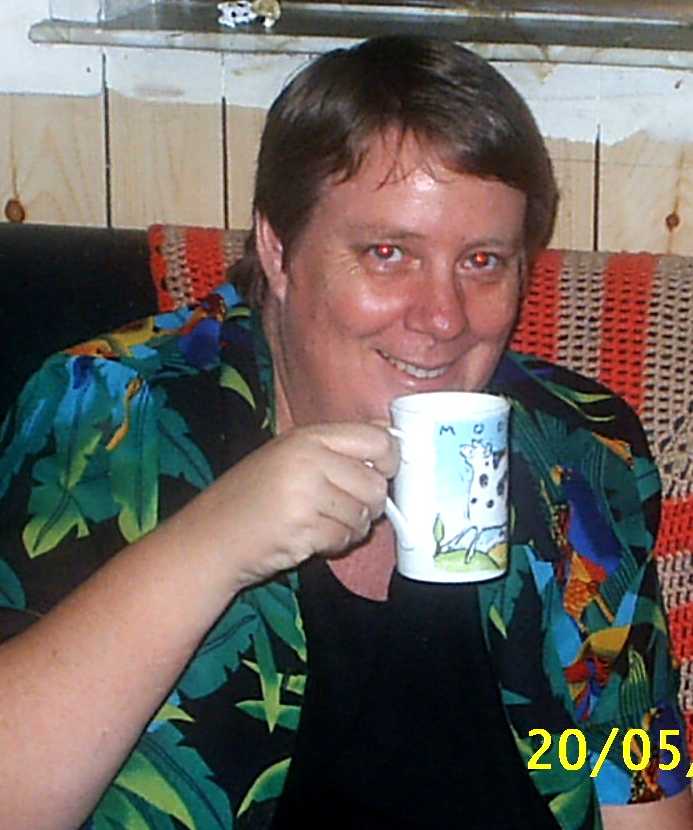 I am an Administrative Officer (glorified "secretary" really, although the job is never boring) at a large … by Australian standards anyway … state (public) high school of 1500 students. I have been there since January 1982 (the third year of the school's operation). Prior to transferring out to the school that is only a 4-minute drive from home, I worked in the Personnel Section of the head office of our Education Department in the city for 7 years.
I became a Christian in my late teens at a church youth camp. Because I had grown up in a Christian home where I always felt enveloped in God's love, my "conversion" was not a dramatic experience … more like God tapping me on the shoulder saying … "Well Beth … isn't it about time you became a lot better acquainted with me???"
I belong to The Hills Uniting Church and am a "behind the scenes" type of person and enjoy serving our Lord in any area where I'm needed. (lol … I make average to good coffee… I'm not a coffee drinker! … fantastic cups of tea and I'm a GREAT washer upperer!!!!) I enjoy being editor of our church's quarterly magazine.
Other than my family, my interests primarily revolve around my church, its activities and the people in it. I love Queensland Pops Orchestra Concerts, going to the theatre (plays and movies), eating or going out with friends, going away for a weekend occasionally with "the girls", amateur photography and drives in the country or mountains. As you can tell from this web page, I like Teddy Bears. I enjoy chatting and have been super-blessed by the close friendships I have formed in Church USA.
I have done quite a bit of travelling … and love it! Overseas trips have included a Christian Youth Safari (when I was young!) to the US; New Zealand; Europe, England, Scandinavia and the US/Canada (all one trip); Pacific cruise on the Fairstar, and a 7½ week driving and B&B tour with a girlfriend around the UK. I have also seen quite a bit of my own beautiful country. However, over the last 9 years, I have been "grounded" as I bought a house and now have a mortgage (ugh!).
As you would probably realize after reading this, I have never been married. I am blessed and so thankful to God that I have such a fabulous group of wonderful friends (and family) who love and support me in all areas of my life.
Over the last few months, there has been a restlessness in my soul and a recurring message to me that "God has a plan for your life … and it's going to be a goodie!" I see signs that He is slowly extricating me from my "comfort zone" and I look forward to working with Him and seeing His plan for me come to fruition in His time.
James 1:17; Ephesians 3:20; 2 Peter 1:3 "Through my divine power, I have given you everything you need for life and godliness. Don't limit me to your previous experiences; I want to do new things in your life. My plans are far beyond your wildest dreams!"
Ephesians 3:16-19"I pray that out of his glorious riches He may strengthen you with power through his Spirit in your inner being, so that Christ may dwell in your hearts through faith. And I pray that you, being rooted and established in love, may have power, together with all the saints, to grasp how wide and long and high and deep is the love of Christ, and to know this love that surpasses knowledge - that you may be filled to the measure of all the fullness of God."
Grace and Peace to you all!
Beth