BABIES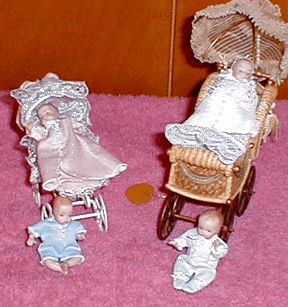 These wonderful porcelain dollhouse babies are made and dressed by talented Annie Bruder. Pictured are babies called Little Squirt with the exception of the baby in the sleepers; she's Randy. Clothing available include rompers, two piece sunsuits, kimonos, sleepers and a Christening dress and lace bonnet. They are available in various colors and are removable so they can go on either baby.
Dressed baby
$25.00
Baby in Christening Dress
$32.00
Items of clothing
$10.00
Please e-mail for availability of colors and babies.
Email: deecliff@earthlink.net