Other Cloth Insignia Not Shoulder Sleeve Insignia
Second World War
Aviation Cadet Insignia
Army
Aviation Cadet Sleeve Insignia
The aviation cadet insignia was worn on the lower right sleeve of the overcoat, coat and shirt four inches above the cuff. In 1926 aviation cadets were prescribed a blue brassard (armband) with a golden orange winged prop. In 1928 the brassard was replaced by a blue circular cloth insignia three inches in diameter with the same golden orange winged prop design to be worn on the sleeve.(1) A smaller version of the same insignia was worn on the left side of the garrison cap. Photographs show that some cadet wore the aviation cadet insignia in the position of a shoulder sleeve insignia on the left shoulder. There are also aviation cadet insignia with a black rather than blue background. These black background insignia are common and were in active use during the war. There has been much speculation but few documented facts regarding the significance of the two background colors. Those who were to qualify as officers were called cadets and those enlisted men in the program were called aviation students.
A Garrison Cap with Aviation Cadet Cap Insignia (on black twill) and blue and gold branch piping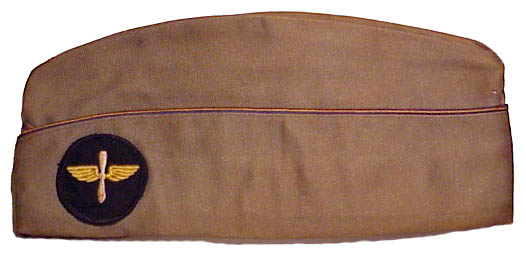 Other Cloth Insignia Associated with Aviation Cadets
Cadet Sleeve Insignia Air Corps Training Center
Randolph Field, Texas (2)
Civilian Instructor (3)
A Photograph of Aviation Cadets at Randolph Field, Texas
Notice the distinctive shoulder sleeve insignia and the garrison cap Insignia.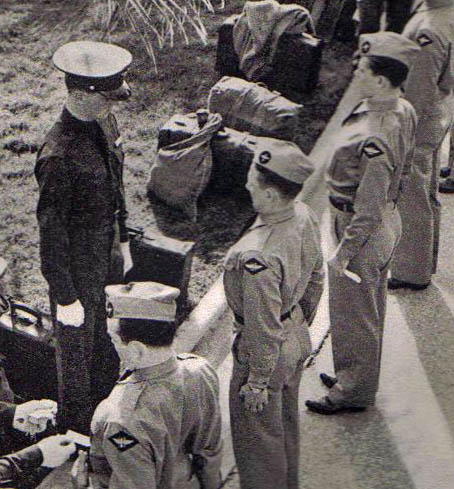 In 1928 the Army introduced a slate blue uniform for flying cadets (later aviation cadets). This uniform was worn during World War Two by upperclassmen in the program as a distinction and is pictured in the above photograph, worn by the cadet on the left.
There are a number of other insignia associated with World War Two aviation training programs that were used by instructors or trainees. In many cases the instructors were not members of the Armed Forces.
NOTES:
Quartermaster Specification Drawings showing Insignia for the Sleeve (1922 with revisions to 1934) illustrates the patch titled "Flying Suits, A.C." blue woolen cloth with embroidered golden-organ thread.
Courtesy: Scott and John McCoy
Courtesy: Scott and John McCoy
Back to Other Insignia
Index to Site
Back to Home Page