American Military Patches, Other Insignia and Decorations of World War Two by Dr. Howard G. Lanham c.2001
Other Insignia Not Shoulder Sleeve Insignia
Second World War
Army Headgear Insignia
Garrison Cap
General
| | |
| --- | --- |
| | |
| Officer | Enlisted Man |
Garrison caps were worn by specialized troops; e.g., air corps and mechanized, prior to 1941. The campaign (Montana peak) hat was worn by most troops until 1941. The campaign hat was difficult to maintain and costly. The garrison cap, on the other hand, was inexpensive and when folded up was easily to store. In 1941 the garrison cap was prescribed for all troops. Garrison caps had cords in the color of enlisted man's branches. All company and field officers wore cords of silver and gold that recalled the color of hat cords worn by officers since 1858. General officers wore gold cords and warrant officers brown and silver cords. Officers and warrant officer wore grade insignia and enlisted men wore distinctive insignia on the cap's left side. For a brief period of time officers wore their grade insignia centered on a circle of material in the colors of their service branch. This practice was dropped at some point either before or just after the onset of hostilities and is not seen in wartime images.
Miscellaneous
Enlisted Man wearing
Large Armored Insignia
Enlisted Man wearing
Small Engineer Insignia
Toward the end of the war garrison caps were issued without branch piping. The manufacture of new distinctive insignia was also suspended. These developments may have contributed to images of enlisted men wearing various non-reguation insignia on garrison caps in place of the distinctive insignia. Among the insignia worn were collar disks of both the U.S. and branch type and even officer's branch insignia. The small branch insignia may be so called sweet heart pins or the center part of a three piece collar disk, modified to serve as a cap badge. During World War One similar badges were worn with a small silver US superimposed on the center. Miniature wing badges were also worn on garrison caps.
Aviation Cadet
| | |
| --- | --- |
| Aviation Cadet | Cap Pin (1) |
The aviation cadet cap insignia was an Air Force branch insignia similar to that worn on officer's collars, but larger. It measures one and one-half inches wide.
A Garrison Cap with Cloth Aviation Cadet Cap Insignia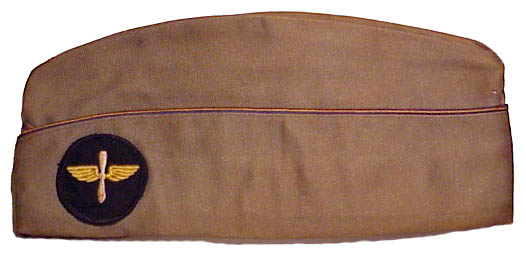 There are also cloth garrison cap insignia with a machine embroidered winged propeller on a black circle and the branch piping typical of an enlisted cap.
Other Cloth Insignia
New York Guard Garrison Cap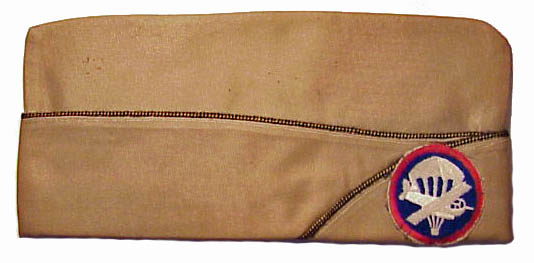 Airborne Officer's Garrison Cap with Silver and Black Piping
The Airborne Patch was worn on the Right and Grade Insignia on Left.
Airborne Enlisted Garrison Cap with Red Artillery Piping
The Airborne Patch was worn on the Left.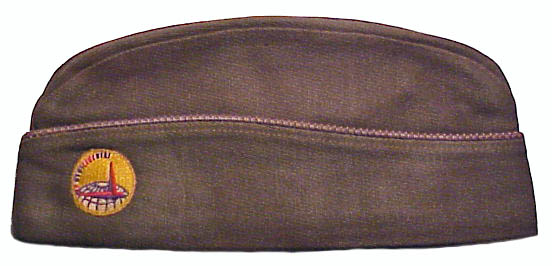 Army Air Force Enlisted Man's Garrison Cap
with Air Forces Ferrying Command Patch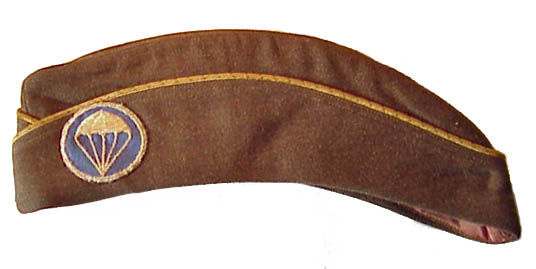 Enlisted Women's Army Corps Olive Drab Garrison Cap with Older Version Airborne Patch
This was part of a uniform group of an Identified WAC assigned to the Airborne Training Command
Those working as parachute riggers wore this patch as a distinction.
Female Noncombatant Garrison Cap with Officer Piping (Courtesy of Ken Pugh)
The noncombatant garrison cap is unusual. The insignia on it was also used as a collar insignia. It is interesting that the piping is the black and gold of an officer. Noncombatants did not have military rank.
| | |
| --- | --- |
| | |
| Thunderbird School | Airborne |
Cloth insignia were worn on garrison caps. Some of these are fairly well known and others poorly documented. In general these insignia are smaller than regulation shoulder sleeve insignia, measuring about 2 inches. Airborne insignia are covered on another page. Some aviation cadets wore cloth garrison cap patches, including those of private programs such as the Trunderbird School.
NOTES:
Courtesy of Jay Graybeal
MORE: Distinctive Insignia
Back to Other Insignia
Index to Site
Back to Home Page