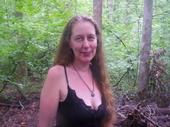 Greetings! I'm ~~*Kumari*~~...I am a witch, healer, & priestess with a traditional & eclectic training in the Craft...I am also a professional psychic tarot reader...and craft my own line of original magickal oils...my goal is to share some creative aspects of a path centered in earth-based spirituality...your journey to self-empowerment & enlightenment has begun... open your mind...open your heart...breathe...relax...may you find...
"strength & beauty, power & compassion, honor & humility, mirth & reverence within you..."
(~*~)
~*VISIT MY PAGAN BELIEFS & PHILOSOPHY PAGES*~
THE GODDESS SPEAKS...
a neo-pagan version of "The Charge of the Goddess"
FOLLOW YOUR *BLACK* HEART
where Love, Sex & Power find Beauty, Purity & Innocence

Welcome to *~~WillowStar~~* Pages...a journey into the mysteries...explore what life, the universe and everything mean to you...here you'll find handcrafted magickal oils, reasonably priced in-depth psychic tarot readings, witch musings, links to *cool* stuff...and whatever else my wild pagan brain decides to put here...so remember, when you least expect it...expect it...and don't forget to sign my guestbook near the bottom of the page!!!...
(~*~)
*~~WILLOWSTAR~~*

MAGICKAL*AROMATHERAPY*OILS
The power of scent is an amazing thing...it affects our mood, our disposition, even our way of being in the world...I have created a line of magickal aromatherapy oils to enhance your spiritual practice (if you have one) and your life...each original blend is crafted in sacred space...charged with positive energy...and blessed with love & light...create a little *magick* in your life, with these glorious gifts of nature...
(~*~)
Here is a current list of my original oil blends...I also do custom blends on a request basis...the contents in each one (1) dram bottle is highly concentrated...a little goes a long way...the cost for each bottle is $10...please email me to indicate which magickal oil blends you are choosing...then click on the "buy now" button below to choose the quantity and place your order...
you will receive my catalog and info on how to use your oils with each order...enjoy!
WHEEL OF THE YEAR
Imbolc, Ostara, Beltane, Midsummer, Lammas, Mabon, Samhain, Yule
ASTROLOGICAL
Aries, Taurus, Gemini, Cancer, Leo, Virgo, Libra, Scorpio, Sagittarius, Capricorn, Aquarius, Pisces
RITUAL
Goddess/Lunar, God/Solar, Angel
MAGICKAL
Health/Healing, Peace, Prosperity/Abundance, Love, Protection/Purification
THE ELEMENTS
Air, Fire, Water, Earth, Spirit
PSYCHIC * TAROT * READINGS * BY

~~*KUMARI*~~
I have been reading tarot for 26 years, and read professionally at the Maryland Renaissance Festival, with the Tarot Guild, from late August to late October...
I also do private parties & public events...and in-person one-on-one readings...so if you live in the DC/Maryland/Virginia area...and are interested in hosting a fun, entertaining, and enlightening event...or would like an in person reading...please email me for more info...
I am here to help you on your path to self-discovery...the choices you make in this lifetime reveal where you've been...where you are...and where you're going...if you don't like what's going on in your life...KNOW you have the POWER to CHANGE it...
I use the gifts of the tarot, intuition and psychic awareness...to help you...help yourself...and my forte is guiding folks in making wise choices, especially when at a crossroads and the best direction is not clear...so if you would like more insight into your chosen path...via a very accurate, professional, in-depth reading...by email...for just $30...please follow the instructions below...
**~INSTRUCTIONS~**
First, please submit your payment for your reading...
After you have submitted your payment, please Email ~*Kumari*~ Here with your reading request, and make sure you include your name, your question, and birthdates of all individuals involved, as well as your email address...
I look forward to hearing from you!

(~*~)
Bright Blessings!

"...sing, feast, dance, make music & love..."
I'd love to hear from you! Please sign my guestbook!

View My Guestbook
Sign My Guestbook

(~*~)
"...may we all stay crazy, and live the bitchen life!" ~robin williams