My Idol : Emilio Estefan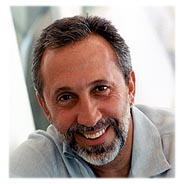 "Emilio is an inspiration in my life, I am starting school in January, 2001. I will be studying Composition , arrangement and Music Production. My Ambition is to become a great songwriter and a successful producer in the near future. Thanks to Emilio Estefan I have been inspired that in the LATINO Music Industry I can become somebody."
- - Maria Bonilla - -
Godfather of the Miami Sound
Estefan, 45, was the first to envision the fusion of Latin and disco music with English lyrics--or, as he likes to call it, "a cross between rice, beans and hamburger"--that came to be known as the Miami Sound. Undeterred by industry executives who said, "Dump the timbales" or "It will never sell," the Cuban immigrant put together a local band called the Miami Sound Machine in the early '80s. The lead singer was his then girlfriend Gloria. The group's 1985 smash hit Conga transformed Gloria Estefan into the first Latin female crossover superstar.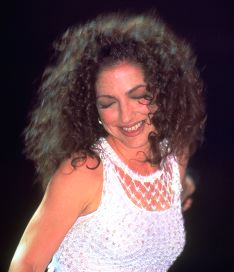 While Gloria went on to sell 70 million albums worldwide, Emilio began exploring songwriting and producing. In 1995 he formed the Crescent Moon label and started signing acts such as Cuban bassist Cachao, known as the Father of Mambo, whom major labels had ignored. A string of Grammy nominations eventually followed; so did non-Latino artists like Madonna and Will Smith, seeking to add some tropical flavor to their songs. "Emilio's ears and vision are absolutely incredible," says Tommy Mottola, CEO of Sony Music, which distributes the Crescent Moon label. "He's in front of the curve all the time."
And at the head of a $200 million empire that includes interests in music publishing and real estate. He and Gloria--who were recently ranked No. 31 on the Forbes list of the world's richest entertainers--live in an opulent oceanfront mansion where Picassos hang next to paintings by Cuban artists. But Estefan isn't slowing down. His latest venture is a deal with Studio U.S.A. to produce sitcoms and made-for-TV movies. Says Studio U.S.A. president Ken Solomon: "Emilio is really one of the leaders in the world in bringing Latin performers to the mainstream."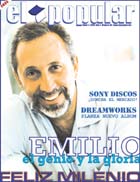 Emilio Estefan Jr. To Be Honored As LARAS Person Of The Year
Tribute comes in addition to Estefan's six Latin GRAMMY Awards nominations

Emilio Estefan Jr., the powerhouse entrepreneur, producer, songwriter and industry titan, was announced as the first-ever LARAS Person of the Year honoree by Latin Academy/Recording Academy President/CEO Michael Greene and Latin Academy Sr. VP/Executive Director Mauricio Abaroa. The honor recognizes both Estefan's musical and philanthropic contributions and marks the beginning of a tradition that will become a regular part of Latin GRAMMY festivities. The honor will be presented in a star-studded gala concert and tribute dinner on September 11 at the Beverly Hilton Hotel in Beverly Hills during Latin GRAMMY Week festivities. The Latin GRAMMYs are scheduled for September 13 at Staples Center in Los Angeles.

"Emilio has demonstrated endless, tireless dedication to expanding Latin musical roots, rhythms and traditions around the world," said Greene. "His conviction and devotion is unmatched and can be seen in the incredible wisdom and support he has given the Latin Academy from the start. We wish to thank Emilio and applaud his never-ending efforts to bring Latin music to the mainstream."

The honor was announced just prior to Estefan's six Latin GRAMMY Awards nominations, tops among all nominees, which were made public at a July 7 press conference in Miami. His nominations include production nods in the Record of the Year and Album of the Year categories for his work with singer Carlos Vives.

Five-time GRAMMY winner Emilio Estefan Jr. came to the U.S. from Cuba as a teenager. He could not yet speak English, but he communicated through his passion for music. Since then, Estefan has created a powerful foundation crossing over Latin music and Latin attitudes to non-Hispanic populations both domestically and internationally. Estefan has demonstrated an uncanny ability to walk the tightrope between mainstream accessibility and cultural authenticity — a talent most evident in his work.

Estefan started Foreign Imported Productions & Publishing and Crescent Moon Records, a joint venture with Sony Music Entertainment, Inc. As President of Artist Development Worldwide for Sony, Emilio oversees all activities of Crescent Moon, and serves as liaison for all Sony labels.

Estefan is also heavily involved in various philanthropic causes. He and his wife, singer Gloria Estefan, founded the Gloria Estefan Foundation, Inc. which empowers young people by offering financial support to promote good health, education and cultural development. Most notably, the Estefans are one of the most generous financial supporters of the Miami Project to Cure Paralysis, part of the University of Miami School of Medicine. The Miami Project is the world's most comprehensive research center dedicated to treating people with spinal cord injuries and finding a cure for paralysis. He has also donated his time and effort to organizations such as the American Red Cross, AMFAR and the March of Dimes.

Proceeds from the LARAS Person of the Year tribute dinner will provide essential support for the Latin Academy's educational and cultural programs.

| Guestbook | | Contact Me | | Chats | | Poems | | Links |

| About Me | | Pix Of Frenz | | Net Frenz | | Music | | My Idol |