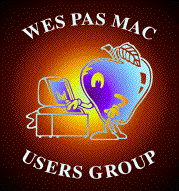 Wes Pas Mac is a group dedicated to learning and promoting computing on a Macintosh. We strive to help each other and share our knowledge and skills. Our policy is to respect the rights of software publishers and manufacturers and to discourage improper use of copyrighted material. Our group does not sell or endorse specific computer products.
Meetings take place at:
Embassy Hills Civic Center
9509 Palm Ave.
Port Richey, Fl 34668
Main Meeting: 4th Thursday of the month
Demos and presentations
7-9 PM
AM meeting: 2nd Wednesday of the month
Q & A
10:30- 12:30
Officers for the year 2001:
President: Roy Griffith
V. President: Bill Johnson
Secretary: Gil Hunt
Treasurer: Sam Caruso
Program Director: Vacant
Ambassador:Erma Tucker
Membership Director: Bill & Doris Lebell
Librarian: Bev Peterson and John Murray
Publicity Director: Mary Ann Harris


Visit our Yahoo Groups web discussion site. Members only!



View My Guestbook
Sign My Guestbook

Apple, the Apple logo and Macintosh are trademarks of Apple Computer, Inc., registered in the U.S.A. and other countries.
Wes Pas Mac Users Group is an independent user group and has not been authorized sponsored or otherwise approved by Apple Computer, Inc.