Deutschsprachiger Chor Bangkok
Besuchen Sie uns unverbindlich - wir haben jeden Dienstag (ausgenommen Schulferien) eine Probe. Auch nicht deutsch sprechende Sänger werden keine Probleme haben: Wir singen in Deutsch, Englisch, Latein und weiteren Sprachen.Wir haben Mitglieder verschiedenster Nationalitäten.
Please join our Choir, we are singing in many different languages!
We meet every Tuesday at 7.30 p.m. at the nice Restaurant "Swiss Corner" . On this Link you will also find a map to the location.
Unser Probelokal: Restaurant "Swiss Corner" Mooban Sammakorn, Ramkamhaeng Soi 112
Auf diesem Link finden Sie noch einen genaueren Plan als der folgende.
Ein Besuch würde uns freuen!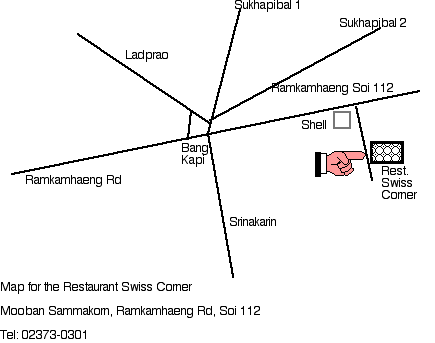 This page was renewed on: October 20, 2002
For Information, complains and support please send an Email to Albin Ruffner