Rebop's Vintage Photos, Page 2.
Hand tinted French postcard of a Borzoi and Lady, the dots on her dress added after the photo was printed.
A 1917 tinted photo postcard depicting a striking young lady and her colllie dog. Dressed as a Greek maiden (the lady) and wearing a garland of laurel in her hair she sits with her tan and white collie on a grassy knoll.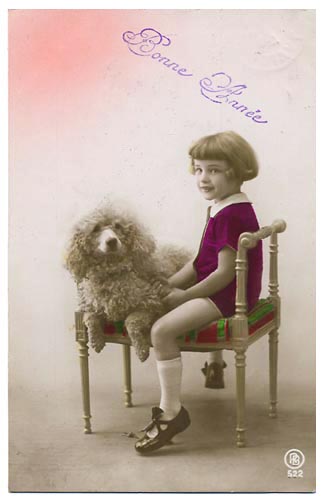 POODLE DOG sitting on a bench with a Girl on a NEW YEARS GREETING Hand Tinted Photo Postcard, postmarked 1922.
LANDSEER DOG with a Scared Little Girl on a Tinted Photo Postcard. This little girl seems to be frightened but the big LANDSEER seems to be very curious about the girl's apparent fright.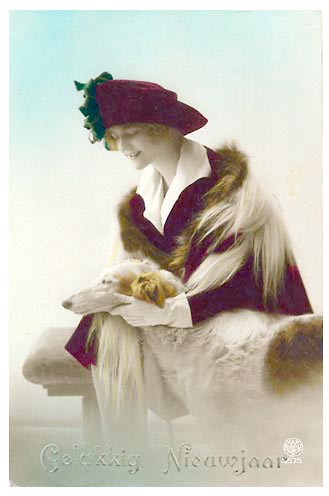 BORZOI with a beautiful GLAMOUR LADY in a Red hat and matching fur cape on a hand tinted French Photo Postcard.
Tinted Photo 1905 Cute Child With Huge Dog.
This tinted real photo postcard was used 1931 in Belgium, and shows " two babies".
Tinted Photo of Great Dane and Lady, Italian.
German Tinted Photo Postcard with a little girl in a Blue dress and a sitting Landseer dog who seems very content!
Boy plays circus with dog. 1910 French tinted postcard.
1920's Tinted Postcard of Lady Knitting with Cat in Her Arms.
Vintage Photo Postcard, Kitten Relaxing in Luxury.