TOLCOM
PLAY AIRSOFT ON LAND WHERE THE REAL MILTARY TRAINS!
TOW MISSILE GROUP FROM NATIONAL GUARD TRAINS AT TolCom,2002.>
THIS IS NOT PAINTBALL HERE, BUT MILITARY SIMULATION. There are a growing number of paintball places that welcome airsoft. Visit those fine establishments if a paintball experience is what you want with airsoft.

But TOLCOM spreads out over 300 private acres on private land used by formal military as well as reenactment groups. Footsloggers in the wilds of New England doing battle where the REAL warriors do it, only not at the same time of course.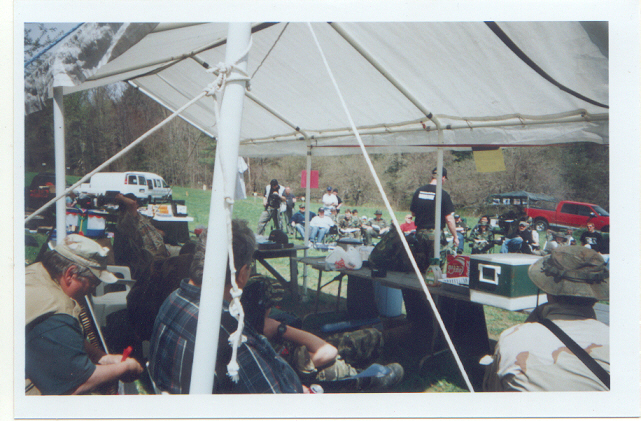 AIRSOFT 1.0 HELD IN THE SPRING WAS AN INFORMATIONAL GATHERING TO ACQUAINT NEASG PLAYERS WITH THE RULES AND METHODS OF BATTLE. Jolly Green on the left. El Jefe, and LT. watch the presentations.
AirSoft-TolCom is not for everyone and is rather exclusive. We have events and mini events regularly especially in the coolness of fall and even into the winter months. Find out how you can play at the formost airsoft mil-sim location in New England by emailing the address below.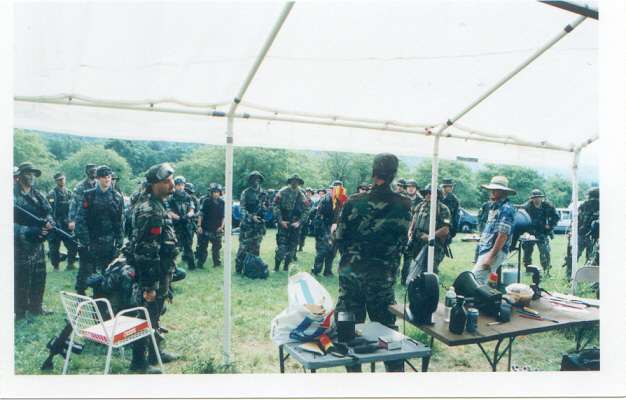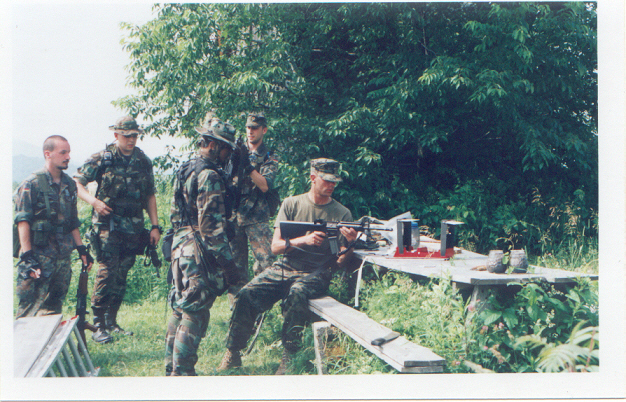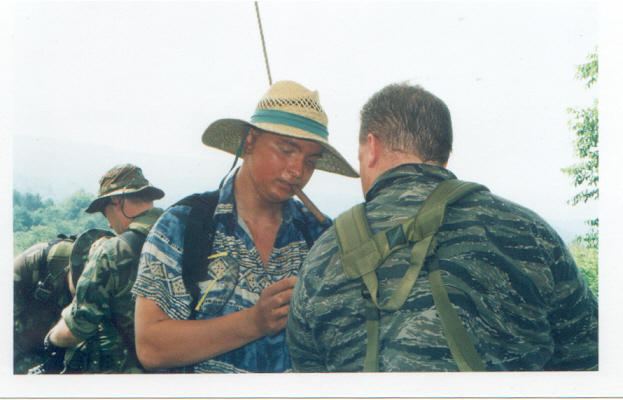 Blowing snow II had a lot of action that continued from last year. L-R Dark Knight fills in the guys with the strategy of the day. Next, Pawn measures muzzle velocity of the days devices. The "Drug Czar" that was kidnapped gets his instructions.
WE ARE IN WESTERN MASSACHUSETTS, HALFWAY BETWEEN BOSTON AND NEW YORK CITY. IT TAKES LONG ISLANDERS ABOUT TWO HOURS TO GET HERE. WE ARE 30 MILES FROM BOTH HARTFORD AND SPRINGFIELD AND 72 MILES UP RT 8 FROM BRIDGEPORT CT.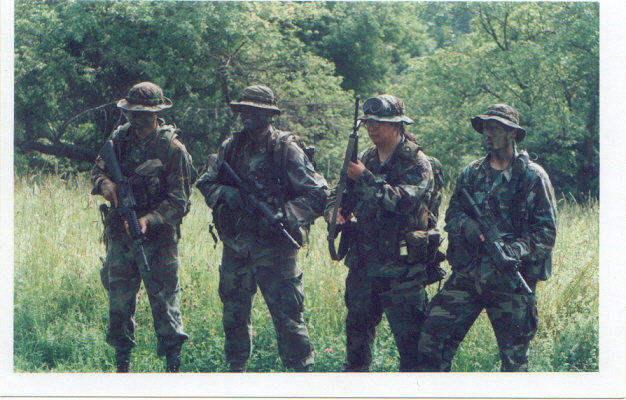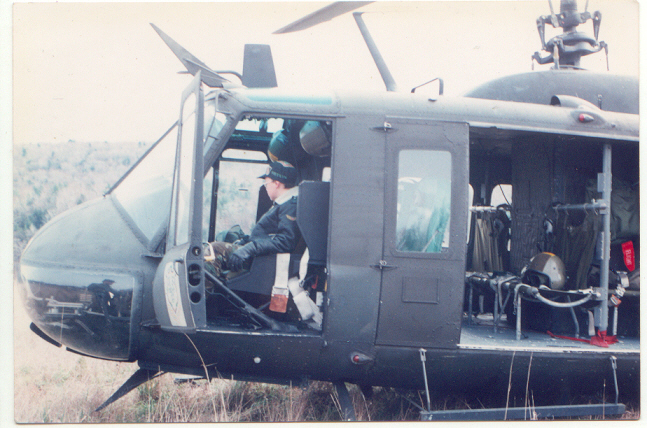 Green Mountain Rangers led the ambush of the drug czars motorcade. Who would have thought that the dark, brooding Ranger on the left, the heir apparent of TolCom Milsim, is the same little boy who 11 years earlier and 300 feet father south in the same field, tries out a National Guard chopper.
TolCom is operated as a hobby specifically to raise money to pay taxes and keep this property open to mil-sim enthusiasts of all stripes. This site is the property of airsoft enthuisiasts who are endebted to the owners of this land for their largess in allowing these activites to occasionaly take place.

Then there was BROKEN ARROW....
A LAND OF ENDLESS SKY...and endless airsofters, more than 127, the largest event yet at TolCom and the high point in October, 2002. Here a company receives orders for the day.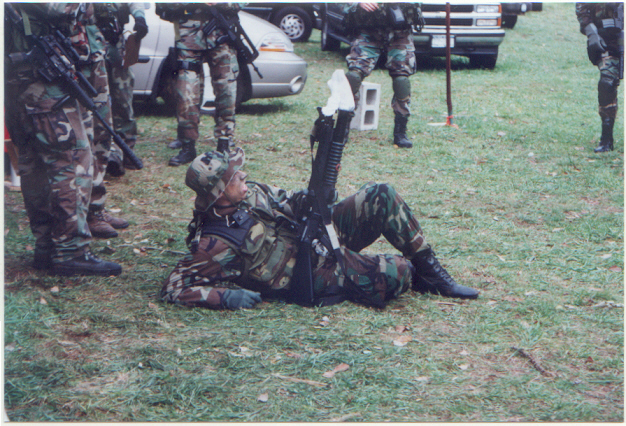 L to R. BROKEN ARROW. "Bos Wounded Rule" developed by a GMR member is a frequently used method of handling and recycling wounded and "dead" soldiers and involves a white sock placed over business end of the device. Meanwhile, Jolly Green, TOLCOM Chief of Staff ,and the most sought after organizer in NEASG, stands next to his "rescue ship" while a player gets a refill of .20 BBs for the battle., JG retrieves "The Lost Boys" often from miles away, after they had been transported by boat to a meeting point. TolCom is a big woods cut off by a public reservoir to the south making orientation and compass skills a must.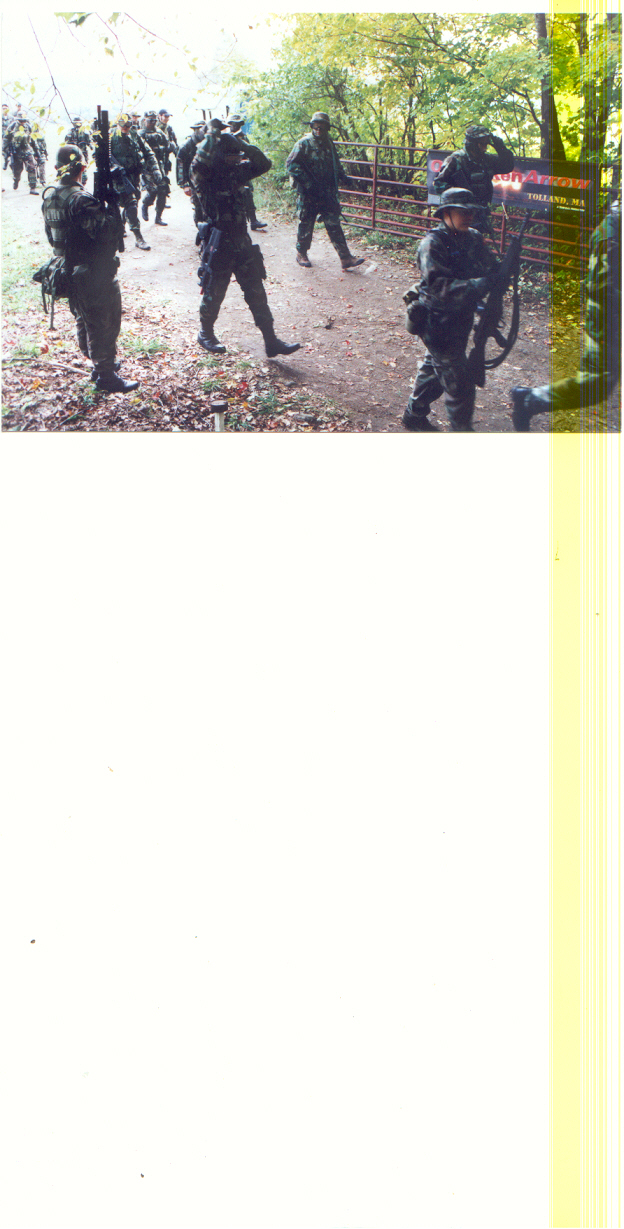 At the main gate, elements of BROKEN ARROW head into the wilderness. Finesse and tactical training in squad movements plus always knowing where you are and where you are suppose to be supplant the rapid trigger time found in smaller fields.
FOR INFORMATION CONTACT TOL-COM chief of staff, at kenaiphoto@aol.com